Subscription
Shipping Address
Order Date

This subscription's skin care system will get replaced.

${ address.name }




${ address.products }

${ displaySubscriptionName(address) }




${ displayProducts(address) }

${ displayAddress(address) }
${ formatDate(address.scheduleDate) }

${ address.name ? address.name : displaySubscriptionName(address)}
${ address.products }
${ displayProducts(address) }
Shipping Address
${ displayAddress(address) }
Delivery Date
${ formatDate(address.scheduleDate) }
This subscription's skin care system will get replaced.
5 Ways to Stop Hair Loss
Is your hair falling out at a frightening pace? Find out how to stop hair loss and the best ways to rejuvenate your strands for healthy, vibrant-looking hair.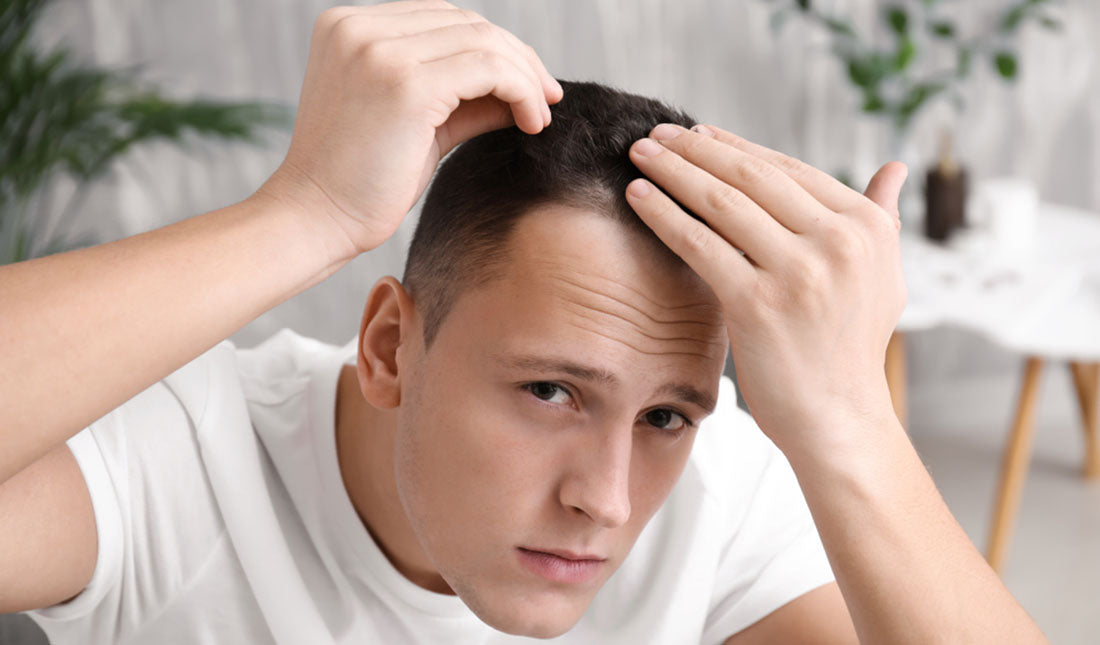 Did you know that hair loss is perfectly normal? In fact, most people lose anywhere from 50-100 hairs a day.
When you notice hair falling out in big clumps, that's when things start getting a little scary. Hair is such a huge part of our identity that the mere thought of going bald has many of us scrambling to find out how to stop hair loss and hold on tightly to this key part of ourselves.
While there are many ways to slow down and even stop hair loss, not all methods are guaranteed to work. It mostly depends on the reason for your hair loss in the first place.
Here are a few things you need to know about how to stop hair loss:
Identifying the root cause of your hair loss is key to successfully treating the issue
Eating a healthy, balanced diet can support strong hair and help reduce hair loss
Hair loss treatments such as Rogaine can effectively stop hair loss in some people
There are now all sorts of hair loss treatments, devices and procedures that can potentially stop hair loss. But do they work? Below, we'll explore a few of the best ways to stop or slow hair loss.
CONTROL EYE BAGS
1. Get to the Root of the Issue
Before you splurge on expensive hair loss treatments or gimmicky devices, try to identify the underlying cause of your hair loss. There are several things that can potentially cause hair loss in men and women, such as hormonal changes, medications, medical conditions and genetics.
To help you pinpoint the cause of hair loss faster, consider scheduling an appointment with your primary care doctor. They will likely refer you to a board-certified dermatologist who can identify the root cause of your hair loss and treat the problem successfully.
2. Be Gentle with Your Hair
If you have thin and fragile hair, you need to be extra careful with your hair care routine. Being too rough with your hairbrush or using products with harsh chemicals can weaken strands and cause breakage.
To give your hair the care it deserves, start by choosing a gentle shampoo. If you're noticing signs of balding, consider using a shampoo for thinning hair to encourage growth. Otherwise, just try to avoid shampoos containing sulfates, which can strip the hair of its natural oils and weaken the hair follicles.
One final tip: Don't brush your hair when it's wet. When hair is wet, it's weak and fragile. Wait for it to dry completely and use a wide-tooth comb to gently work out any knots.
3. Maintain a Balanced Diet
One of the best things you can do for your hair—and your body in general—is to eat a healthy, balanced diet. If your diet is lacking, your hair won't receive the important nutrients it needs to stay healthy strong and—well—on your head.
To maximize hair health, load your plate with fresh fruits, vegetables and protein. It also doesn't hurt to take a multivitamin and drink lots of water. Not only will your balanced diet help reduce hair loss, it's also likely to give you clear and glowing skin.
4. Rethink Botox
You've probably heard that Botox can help fight wrinkles and reduce signs of aging, but did you also know that it can help with hair loss? Botox has many off-label uses, one of which involves injections to the hairline to strengthen hair and give it a fuller-looking appearance.
However, be aware that the opposite can also hold true. In a 2016 study published in Skin Appendages Disorders, scientists reported on a new type of alopecia called botulin-induced frontal alopecia (BIFA), a form of hair loss near the hairline which occurred after patients received Botox injections to the forehead (see claim: "We report the cases of 5 females who developed regression of the frontal hairline after several treatments with BTXA for forehead wrinkles.")
Take the skin care quiz
5. Try a Hair Loss Treatment
If you still can't figure out how to stop hair loss, you can always try a hair loss treatment such as Rogaine. Now available in formulas for both men and women, Rogaine has been shown to be effective in treating hereditary hair loss in both men and women.
The secret to Rogaine's success is an ingredient called Minoxidil, a topical medication that can treat male- and female-pattern baldness (aka, androgenetic alopecia). In a 2015 study published in Skin Pharmacology and Physiology, patients with androgenetic alopecia who applied Minoxidil twice daily experienced significant hair regrowth after 24 weeks of treatment (see claim: "5% MTF twice a day promotes hair density and width in both frontotemporal and vertex regions in men with moderate stages of AGA.")
Shift Your Focus
Although hair loss can be incredibly scary, it doesn't need to be the end of the world. There are plenty of people—both men and women—who are rocking the bald dome these days.
If you need an additional confidence boost to make up for hair loss problems, consider focusing on improving your skin instead. With clear, blemish-free skin, no one will think twice about your hair—or lack thereof.
References
Di Pietro, Antonino, and Bianca Maria Piraccini. "Frontal Alopecia after Repeated Botulinum Toxin Type A Injections for Forehead Wrinkles: An Underestimated Entity?" Skin Appendage Disorders, vol. 2, no. 1–2, Sept. 2016, pp. 67–69. PubMed Central, doi:10.1159/000448380.
Hillmann, Kathrin, et al. "A Single-Centre, Randomized, Double-Blind, Placebo-Controlled Clinical Trial to Investigate the Efficacy and Safety of Minoxidil Topical Foam in Frontotemporal and Vertex Androgenetic Alopecia in Men." Skin Pharmacology and Physiology, vol. 28, no. 5, 2015, pp. 236–44. PubMed, doi:10.1159/000375320.
---