Subscription
Shipping Address
Order Date

This subscription's skin care system will get replaced.

${ address.name }




${ address.products }

${ displaySubscriptionName(address) }




${ displayProducts(address) }

${ displayAddress(address) }
${ formatDate(address.scheduleDate) }

${ address.name ? address.name : displaySubscriptionName(address)}
${ address.products }
${ displayProducts(address) }
Shipping Address
${ displayAddress(address) }
Delivery Date
${ formatDate(address.scheduleDate) }
This subscription's skin care system will get replaced.
How to Talk to a Girl at the Gym—A Guide for Men
Got your eye on someone at the gym? Find out how to talk to her. Who knows? She might end up being your swole-mate.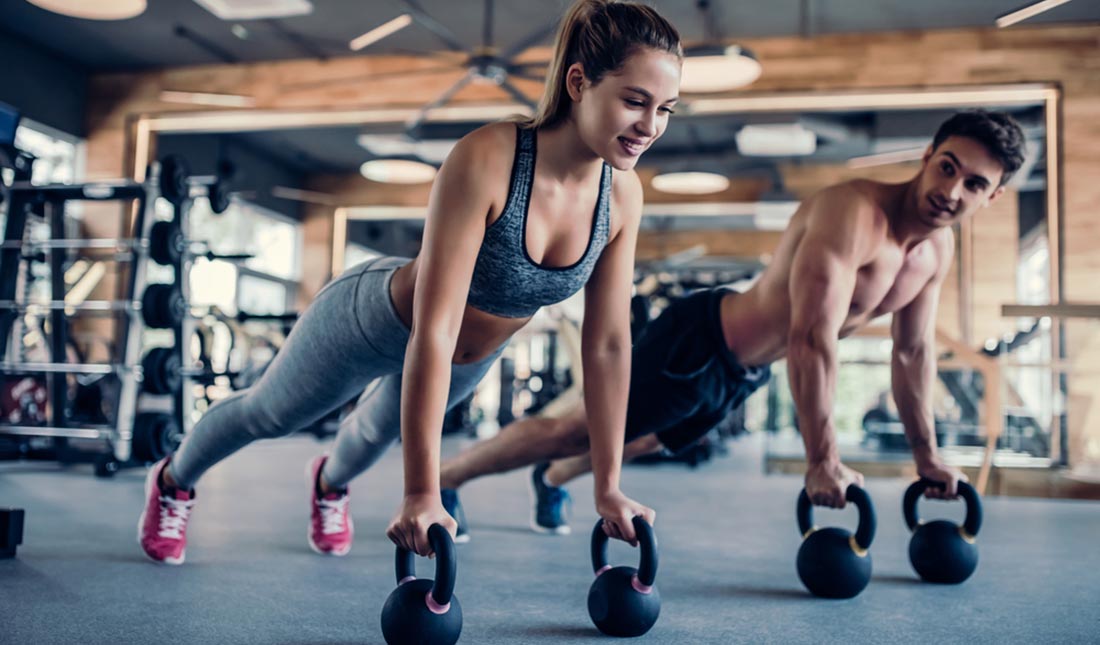 "I met the love of my life at the gym" is a phrase that you probably don't hear too often, and for good reason. People go to the gym to get fit, not to get asked out on a date.
Now, we know what you're thinking. What if the cute girl you see every day at the gym has made eye contact with you several times? What if she's given you a shy smile that is begging you to approach?
Then, we'll just say this—tread carefully, guys.
There is a right way to talk to a girl at the gym and a lot of wrong ways. If you don't want to come across as creepy or annoying, we highly recommend following our advice below on how to talk to a girl at the gym.
Before you make a move, consider the following things.
Before you approach a girl at the gym, make sure that you smell decent
Reading her non-verbal cues is key to knowing whether or not it's okay to approach
Be respectful of her workout
Can you talk to a girl at the gym? Well, yes, but there are rules. Here's how to talk with a girl at the gym without being disrespectful.
1. Practice Good Hygiene
Approaching a woman while you're sweaty and stinky can have mixed results. According to a 2007 study published in the journal Nature, some women may perceive a man's scent as being sweet and pleasant, while others perceive it as being foul and repellent (see claim: "…variously perceived by different individuals as offensive ("sweaty, urinous"), pleasant ("sweet, floral") or odourless.")
TRY MEN'S SKIN CARE
Do you really want to roll the dice and walk up to a woman smelling like urine? If you're not willing to take that chance, we recommend dipping into the locker room to get rid of your body odor.
If re-applying your deodorant isn't doing the trick, hop in the shower and use your bar soap to cleanse your smelly parts (you know what we're talking about). You'll feel much more confident walking up to her knowing that you don't smell like a dead animal.
2. Read Her Non-Verbal Cues
Knowing when and how to talk to a girl at the gym largely comes down to how well you can read her non-verbal cues. That's unfortunate, given how guys seem to be terrible at reading women.
According to a 2008 study published in the journal Psychological Science, young men are more likely to confuse non-verbal cues of friendliness with cues of sexual interest compared to women (see claim: "…men who viewed images of friendly women misidentified 12 percent of the images as sexually interested. Women mistook 8.7 percent of the friendly images for sexual interest.")
Although reading non-verbal cues is difficult, there are some ways to tell whether or not she's open to talking at the gym. If she makes eye contact with you and smiles at you, that's a good indication that she's willing to engage. If she has her headphones in and she looks super-focused, let her be.
3. Don't Approach Her with Unsolicited Advice
If you're racking your brain for ideas on how to approach a girl in a gym, we'll tell you one strategy that has an almost 100 percent fail rate: Giving her unsolicited advice.
Guys, she doesn't want to be told that she'll reach her goal faster if she strength trains. She doesn't want to be grilled on her eating plan either, so pump the brakes before you lecture her on counting macros. It's not sexy, and it's certainly not a good ice-breaker.
The only exception to this rule is if you are truly concerned that she might hurt herself by using improper form and, even then, she may not appreciate the advice. Consider yourself warned.
TAKE THE SKIN CARE QUIZ
4. Time It Right
There are good and bad times to chat with a girl at the gym. For instance, a good time is when she is in-between sets or when she's just finishing up with her workout.
A bad time would be during the middle of her workout when she's trying to focus. You wouldn't try to strike up a conversation with a guy when he's in the middle of bench pressing, right? Then give her workout the same respect by allowing her to focus without interruption.
5. Be Careful with Your Compliments
If you want to compliment a girl at the gym, that's fine. Just be smart about it.
Stay away from compliments that praise her physical beauty. Instead, try complimenting her form or how strong she is.
No matter what you compliment her on, be sure to say it with sincerity. Most people can easily spot the difference between genuine and fake praise.
Finding Your Swole-Mate
Figuring out how to talk to a girl at the gym can be tricky business. If you mess up, you'll only make it awkward for the both of you.
To maximize your chances of success, try to read her body language and take it slow. Give an encouraging smile, see how she responds to it and go from there.
Most importantly, be respectful. If she's clearly sending you stay-away vibes, there's always Tinder.
References
Keller, A., Zhuang, H., Chi, Q. et al. Genetic variation in a human odorant receptor alters odour perception. Nature 449, 468–472 (2007).
Indiana University. "The Untrained Eye: Confusing Sexual Interest With Friendliness." ScienceDaily. ScienceDaily, 2 April 2008.
---
// © Copyright 2023 Tiege Hanley