Subscription
Shipping Address
Order Date

This subscription's skin care system will get replaced.

${ address.name }




${ address.products }

${ displaySubscriptionName(address) }




${ displayProducts(address) }

${ displayAddress(address) }
${ formatDate(address.scheduleDate) }

${ address.name ? address.name : displaySubscriptionName(address)}
${ address.products }
${ displayProducts(address) }
Shipping Address
${ displayAddress(address) }
Delivery Date
${ formatDate(address.scheduleDate) }
This subscription's skin care system will get replaced.
How to Treat Sunburn
Need a sunburn treatment fast? Find out how to minimize the pain and inflammation from your sunburn with these fast-acting sunburn treatments.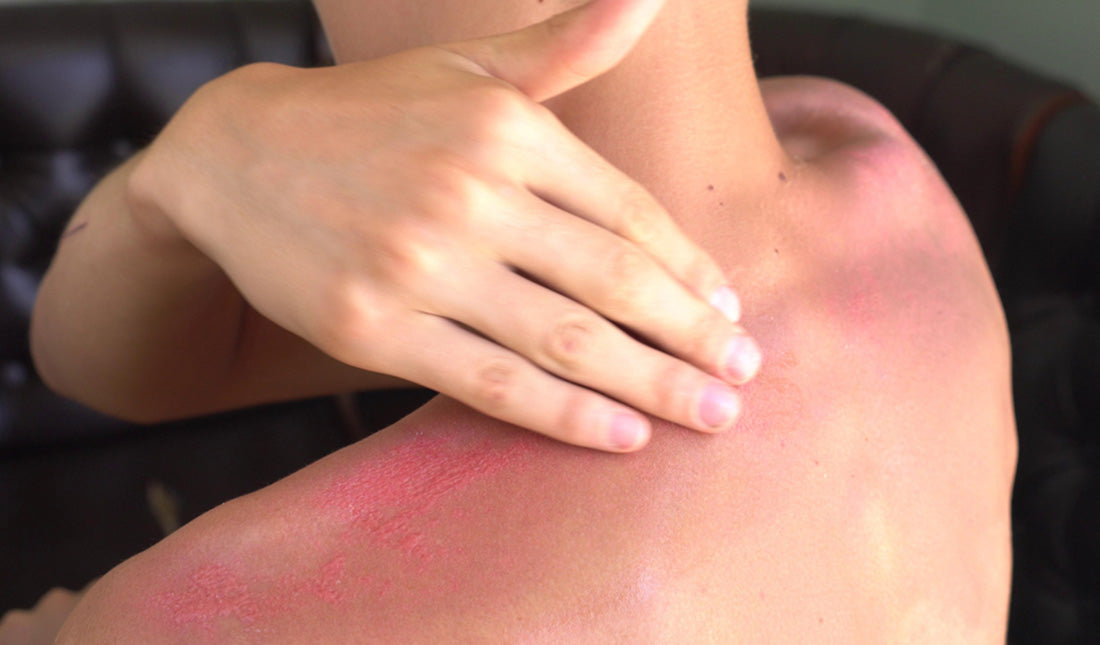 Well, it happened. You got sunburned. We'll go ahead and give you the benefit of the doubt and assume that you already know the consequences—namely, how sunburn speeds up skin aging and puts you at greater risk for skin cancer.
So, let's move on and figure out what you can now do about your painful sunburn. To save you from your misery, we'll go over the best sunburn treatments that can help stop the painful burning in its tracks.
First, here are a few things you need to know about sunburn treatments:
To treat a sunburn, focus on cooling down the skin and reducing the pain/inflammation
Sunburns with severe blistering may require medical attention from a professional
The best sunburn treatment is prevention
If you act fast, you can minimize the pain and potentially speed up the healing time. Here are the steps you should take to treat your sunburn the right way.
1. Cool Down Your Skin
For quick relief, take a cold bath or shower to soothe inflamed skin. Once you're out of the shower, apply a water-based moisturizer while your skin is still slightly damp.
Why a water-based moisturizer? According to a 2017 review published in Clinical Medicine & Research, water-based moisturizers can provide a cooling effect on the skin, which may help with sunburn relief (see claim: "Water-based moisturizers provide cooling effect from water evaporation on the skin surface…")
Of course, this doesn't mean you need to ditch your daily moisturizer with SPF. Once your sunburn has been cooled down, you can swap it back in and stick with your regular skin care routine.
2. Pop a NSAID
If your sunburn happened within the last couple of hours, pop a nonsteroidal anti-inflammatory (NSAID) such as aspirin or ibuprofen. Taking a NSAID will help reduce some of the inflammation, swelling and pain from your sunburn.
Just don't be fooled into believing that your sunburn is healed due to your lack of symptoms. In a 2004 review published in the American Journal of Clinical Dermatology, researchers concluded that although NSAIDs could reduce the symptoms of sunburn, the current studies and reviews clearly showed that they couldn't speed up the healing time (see claim: "The majority concluded that either corticosteroids, NSAIDs, antioxidants, antihistamines or emollients were ineffective at decreasing recovery time.")
3. Stay Hydrated
Since a sunburn can cause you to dehydrate quicker, it's especially important for you to drink extra fluids while your sunburn heals. Replenish your fluids—and your electrolytes—by drinking a combination of water and sports drinks.
Although replenishing electrolytes probably isn't necessary for minor sunburns, it's incredibly important if you suffered a severe sunburn. Second-degree sunburns can result in massive fluid loss, which in turn can cause an electrolyte imbalance.
If your sunburn was bad enough to result in sunburn blisters, make sure that you drink a sports drink or two with electrolytes added to them. This will prevent symptoms such as muscle weakness, cramps and abnormal heart rate on top of your existing sunburn symptoms.
4. Apply a Soothing Aloe Treatment
Aloe vera is one of the most popular sunburn treatments for a reason. Packed with anti-inflammatory and moisturizing benefits, the clear gel from the aloe vera plant is well-known for its healing abilities.
According to a 2007 study published in the journal Burns, research supports the use of aloe vera as an effective treatment for burn wound healing, especially for first- and second-degree burns (see claim: "…cumulative evidence tends to support that aloe vera might be an effective intervention used in burn wound healing for first to second degree burns.") Furthermore, aloe vera can reduce the amount of sunburn peeling and, thus, help prevent sunburn scars in the process.
5. Protect Your Sunburned Skin
Though it might go without saying, you need to protect your skin from further sun damage after sustaining a sunburn. Be sure to get out of the sun immediately and stay indoors while your sunburned skin heals.
It's also a good idea to wear loose-fitting clothing for a week or two. This will help prevent uncomfortable chafing and reduce the amount of peeling you might experience.
6. Know When to See a Doctor
Every sunburn is bad in the sense that it causes permanent damage to the skin and increases your risk of skin cancer. However, there is no question that some sunburns are far worse than others.
If you experience blistering over large parts of your body, you should seek medical attention. This is especially the case if your blistering is accompanied by fever, chills, dizziness and nausea.
Prevention Is the Best Sunburn Treatment
Hands down, the best sunburn treatment is preventing them from happening in the first place. While you can't go back in time and erase the sunburns of your past, you can prevent future sunburns by being proactive about sun protection.
References
Purnamawati, Schandra, et al. "The Role of Moisturizers in Addressing Various Kinds of Dermatitis: A Review." Clinical Medicine & Research, vol. 15, no. 3–4, Dec. 2017, pp. 75–87. PubMed Central, doi:10.3121/cmr.2017.1363.
Han, Amy, and Howard I. Maibach. "Management of Acute Sunburn." American Journal of Clinical Dermatology, vol. 5, no. 1, 2004, pp. 39–47. PubMed, doi:10.2165/00128071-200405010-00006.
Maenthaisong, Ratree, et al. "The Efficacy of Aloe Vera Used for Burn Wound Healing: A Systematic Review." Burns: Journal of the International Society for Burn Injuries, vol. 33, no. 6, Sept. 2007, pp. 713–18. PubMed, doi:10.1016/j.burns.2006.10.384.
---
// © Copyright 2023 Tiege Hanley