Subscription
Shipping Address
Order Date

This subscription's skin care system will get replaced.

${ address.name }




${ address.products }

${ displaySubscriptionName(address) }




${ displayProducts(address) }

${ displayAddress(address) }
${ formatDate(address.scheduleDate) }

${ address.name ? address.name : displaySubscriptionName(address)}
${ address.products }
${ displayProducts(address) }
Shipping Address
${ displayAddress(address) }
Delivery Date
${ formatDate(address.scheduleDate) }
This subscription's skin care system will get replaced.
How To Wash a Beard in 5 Steps
For many men, a beard is the ultimate status symbol, but how do you clean it properly? Here's a handy guide on how to wash a beard and why it's worth the extra work.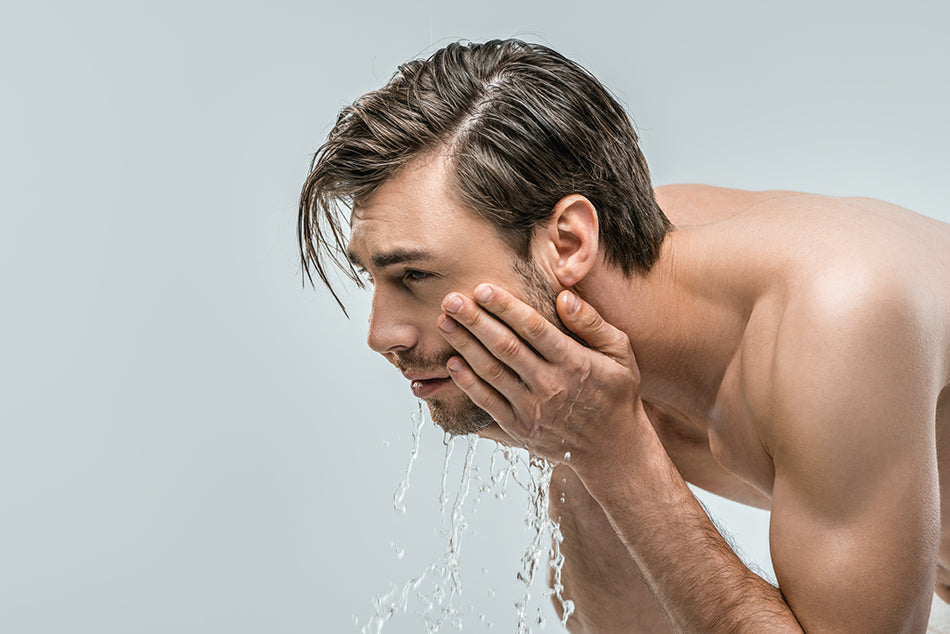 After weeks of dedication to growing your beard, you've finally achieved the perfect look, but now it's up to you to keep it looking good. No matter if you're rocking a royale, donning a ducktail or bringing a Balbo to the party, it takes some extra work to maintain optimal aesthetics and texture. One of the most important parts of a facial hair maintenance regimen is proper washing and conditioning. Here's a step-by-step guide on how to wash a beard properly, and why it's worth the additional effort.
Isn't a Shower Enough?
If you're like most people, you adhere to a regular showering regimen, and that's a good start towards keeping your beard clean, but you still have some extra work to do. Normal shampoos and face washes are good for body hair and skin, but they might not have the natural components you need for a soft, healthy and luxurious beard. While you don't need to take the additional time to properly wash your facial hair every day, it's a good idea to do it a few times each week. Now you know why it's important to give your face some further attention, it's time to take a look at how to do it.
CONTROL EYE BAGS
1. Get Your Beard Wet
Like any washing task, the first step in washing your beard is to get the hair wet and use a lot of water. While it's important to use the right amount of liquid, you should also pay careful attention to monitor the temperature. You might like to take scalding showers, but that's not the optimal setting, as you'll dry out your beard's hair follicles. When caring for your beard, use lukewarm water, as it will open your pores, increase blood flow and effectively remove any accumulated dirt and oil.
2. Apply Your Beard Wash
Once you have appropriately dampened your face, it's time to lather up like you would with a face wash. Before you put any product on your hair, it's important to know the different types of beard wash. While there are many different brands out on the market, they generally fall into two categories: liquid shampoos or solid bars.
If you're working with a liquid beard shampoo, put a small amount in the palm of your hand and gently work it into the hair. Start with a dab the size of a quarter and increase if you have a thicker or longer beard. There's no point in using too much wash, as you'll only be wasting a relatively expensive hair care product.
Solid bars look much like regular body soap, and the application process is basically the same. Start by getting the bar wet, and begin rubbing it into your beard for 15 seconds, increasing the time if you have fuller facial hair. Once you've applied the wash, work it into a thick lather.
3. Massage Your Beard
Now that you have a decent lather going, it's time to help it do its work by giving your beard a vigorous massage. Dirt and oil can find its way all throughout your facial hair, and the massage helps to distribute the shampoo evenly for a thorough clean. Use your fingertips and really dig in deep with a scrubbing motion. By doing this, you'll also help cleanse your skin and avoid dryness, acne and other unpleasant conditions.
Take the skin care quiz
4. Leave It Alone
With the shampoo applied and scrubbed into a decent lather, it's time to let it relax and do its thing for a few minutes. If you're in a hurry, you can rinse everything out immediately, but you won't get the maximum benefit out of your shampoo's ingredients. Hopefully you started your shower with your beard care regimen so you can spend this time doing your other cleansing activities; otherwise, you can enjoy the hot water or belt out your favorite showering song. Your patience will be rewarded as the essential oils and other moisturizers have time to penetrate each hair.   
5. Time To Rinse
As your shower comes to a close, it's time to rinse the shampoo from your beard, and you'll want to be thorough. If you adjusted the water temperature while you were showering, bring it back to lukewarm so you maintain consistency and keep your pores open. Use the same massaging motion you used while lathering to work the lather out of your hair. Once you think you've removed everything, give it another round of massage, as you don't want any leftover beard wash to remain.
6. After-Shower Care
Once you've left the shower, it's time to finish your beard care regimen, which starts by patting it dry with a towel. Don't be too vigorous while you're drying, as you could affect your hair's natural growth pattern. You want to make sure everything has completely dried out before proceeding, as any product you put in might not have the desired effect on wet hair. A hairdryer can accelerate the process, but you'll also damage your hair, so avoid it whenever possible. With everything dried, you can apply beard oil and let it soak in before finishing with a leave-in conditioner and combing it straight.
How To Pick the Right Beard Shampoo
Now that you know how to wash your beard, all you need to do is choose the right shampoo to meet your needs. You could make your own, but there are plenty of great products out on the market if you don't have the time. When choosing between shampoos, pay careful attention to the ingredient list and look for all-natural ingredients:
Castor oil
Aloe vera
Beeswax
Tea tree oil
Shea butter
Coconut oil
Biotin
Argan oil
Vitamins
Essential oils
While you're reading the ingredient list, you should also keep an eye out for a few chemicals that could have a negative effect on your hair or cause other health consequences:
Propylene glycol
Sodium lauryl sulfate
Triethanolamine (TEA) and diethanolamine (DEA)
Formaldehyde
Parabens
Scent is another consideration you'll have to make when choosing between different beard shampoos, and it's a matter of personal choice. While some people like a neutral profile that doesn't overwhelm the senses, others prefer scents such as sandalwood or citrus. If you choose to go with a scented product, make sure it's derived from natural essential oils and isn't too intense.
You might be tempted to use your regular shampoo on your beard instead of investing in another hair care product, but that would be a mistake. The hairs on top of your head are much different than those on your face, and the two types of shampoo reflect those differences. Scalp shampoos are designed to strip away the skin oils that would otherwise leave your hair greasy, but your beard needs oil to remain healthy. The best beard shampoos are much milder, which allows your natural oils to enrich the otherwise brittle whiskers on your cheeks, chin and upper lip. 
Take Care of Your Face
Whether you're a veteran beardsman or a rookie grower, you owe it to yourself to take proper care of your facial hair with regular beard wash treatments. Even if you're follicly-challenged on your face, let Tiege Hanley help you look your best with our uncomplicated men's skin care kit, featuring a full lineup of facial skin care products designed especially for men. To learn more about our full lineup, contact us today using our easy online form.
---
// © Copyright 2023 Tiege Hanley