Subscription
Shipping Address
Order Date

This subscription's skin care system will get replaced.

${ address.name }




${ address.products }

${ displaySubscriptionName(address) }




${ displayProducts(address) }

${ displayAddress(address) }
${ formatDate(address.scheduleDate) }

${ address.name ? address.name : displaySubscriptionName(address)}
${ address.products }
${ displayProducts(address) }
Shipping Address
${ displayAddress(address) }
Delivery Date
${ formatDate(address.scheduleDate) }
This subscription's skin care system will get replaced.
How to Wear a Scarf for Men
Tired of wearing your scarf in the same old style? Learn how to kick your cold weather style up a notch with these expert tips on how to wear a scarf for men.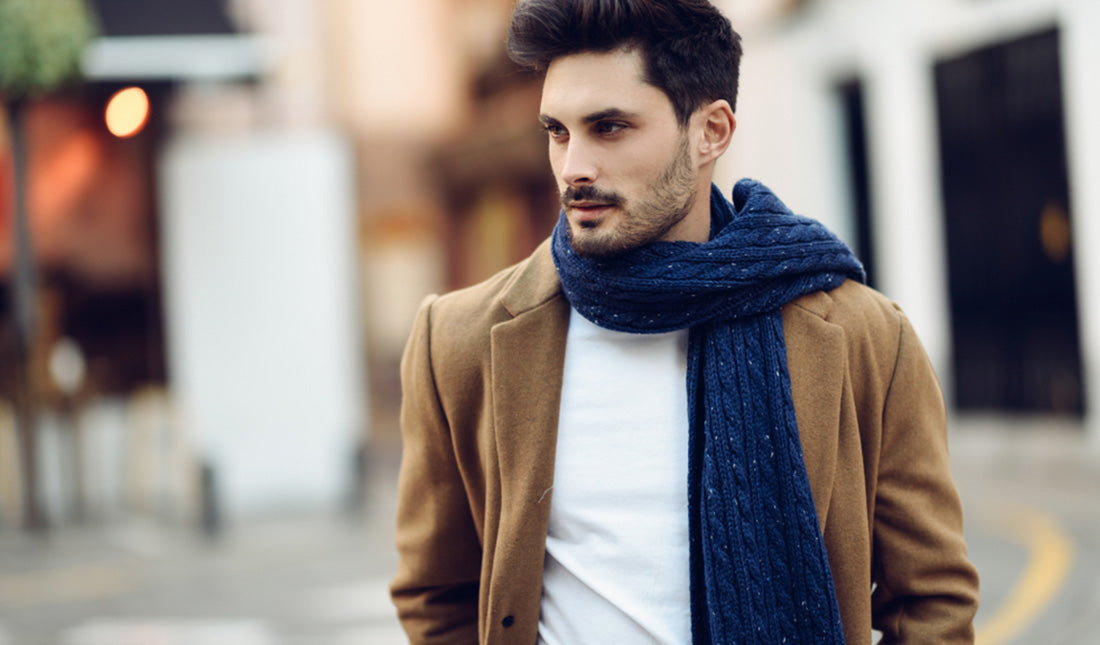 Knowing how to wear a scarf for men should be easy, right? It's just a simple, rectangular piece of fabric. How hard can it be?
As it turns out, guys get their scarves wrong all the time. Some pick the incorrect scarf weight for the season. Others have no idea how to tie their scarf to match the vibe of their outfit.
We don't want your style to get knocked down a few points over a small piece of fabric. That's why we're diving into the ins and outs of how to wear a scarf for men.
Here are a few things you need to know about wearing a scarf:
When it comes to scarves, bigger is not always better
Always invest in well-made scarves made from merino wool, cashmere or linen
Play around with scarves in bold colors for your smart casual attire
Ready to start wearing a scarf like a style god? Here's how to choose the right scarf and begin styling it like a pro.
TRY MEN'S SKIN CARE
How to Choose the Right Scarf
First, let's talk about how to pick the right scarf that complements your outfit. Just like your dating life or your skin care routine, choosing a scarf doesn't need to be complicated. Follow these tips, and you'll soon be the master of cold-weather style:
1. Consider the Season
If you want to wear a chunky knit scarf, don't do it in the middle of August or even early September when it's still plenty warm outside. Choose a seasonally appropriate scarf by considering the weight and the fabric.
For late spring and summer, stick to lightweight scarves with breathable fabrics, such as cotton. Not only will this appear more stylish, it will also help prevent stubborn neck acne, which can be a problem in those with acne-prone skin.
2. Don't Be Cheap
Regardless of the season, you should try to pick well-made scarves made from natural fabrics over cheaper options. In addition to looking better than the cheap stuff, quality scarves made from natural fabrics will be better at keeping stink at bay. 
According to a 2007 study published in Textile Research Journal, synthetic fabrics such as polyester are associated with higher odor-intensity compared to natural fabrics such as wool (see claim: "Odor intensity was strongly associated with the fiber type, with polyester fabrics rating high in odor intensity and cotton and wool mid-low odor intensity.")
3. Experiment with Color
Black and grey scarves are versatile and easy to style, but don't shy away from scarves in bolder hues. A colorful scarf not only adds interest to your outfit, it's a prime opportunity to show off your personality.
Which bold hue should you choose? If you want to score a hot date, consider choosing a red scarf. According to a 2010 study published in the Journal of Experimental Psychology, women are more attracted to guys who wear the color red because it makes them appear more powerful and sexually attractive.
Red looks particularly amazing when it's paired with grey and black. Pair it with blue jeans, a grey crewneck sweater and a black topcoat for a dashing look this winter.
4. Pick the Right Length
You don't want to drown in your scarf (although, that would be rather warm). At the same time, you also don't want your scarf to be too small, which can make your entire outfit look awkward.
To choose the right scarf size and length, look for a scarf you can wrap around your neck at least twice. The ideal scarf length for most guys is 55 to 60 inches, while bigger guys may need a 70-inch scarf.
Take the skin care quiz
How to Wear a Scarf for Men—3 Must-Know Styles
How you choose to tie your scarf can have a huge impact on your entire look. An intricate knot can show off an artsy vibe, while simple and elegant knots are best reserved for your weekday attire.
Thus, it helps to know at least one or two common scarf knots to suit the vibe you're going for. If you want to wear your scarf the right way this season, here are a few basic scarf styles worth learning:
1. The Drape
Let's start with the easiest style of them all: The drape scarf. This style is where you drape the scarf around the neck and allow the ends to hang loose down your front.
While the drape scarf style can be worn with casual attire, it's perhaps best suited for wearing with more formal looks. Try wearing this style tucked into your topcoat for the ultimate weekday look.
How to wear: Like we said, just toss it around your neck and you're good to go. It could not get any simpler.
2. The Overhand
Another simple yet stylish scarf knot, the overhand scarf knot is good for keeping your neck warm and toasty during autumn and winter. It also looks dapper no matter what you wear it with, from elegant suits to chunky sweaters.
How to wear: Start by draping the scarf around your neck, with one side slightly longer than the other. Take the longer end and loop it underneath the shorter end. Center the knot and keep the style loose.
3. The Parisian
Also called the European knot, the Parisian knot is a stylish scarf knot that will instantly class up your smart casual look. Wear this style when you want to look extra-sharp while you're peddling to your 9-5 or when you simply want to impress your girl on date night.
How to wear: First, make sure that you start with a long and thin scarf (around 72 inches). Fold the scarf in half and drape it around your neck. Stick both ends of the scarf through the loop and pull the end to adjust the knot.
The Takeaway
Knowing how to wear a scarf for men isn't as intuitive as some might think. Sure, you could just throw any neutral-colored scarf over your shoulder and call it good. But if you want to be a scarf-wearing pro, following the tips above is crucial to mastering your cold-weather style.

References
McQueen, Rachel H., et al. "Odor Intensity in Apparel Fabrics and the Link with Bacterial Populations." Textile Research Journal, vol. 77, no. 7, July 2007, pp. 449–56. SAGE Journals, doi:10.1177/0040517507074816.
University of Rochester. "Women attracted to men in red, research shows." ScienceDaily. ScienceDaily, 3 August 2010.
---
// © Copyright 2023 Tiege Hanley