Subscription
Shipping Address
Order Date

This subscription's skin care system will get replaced.

${ address.name }




${ address.products }

${ displaySubscriptionName(address) }




${ displayProducts(address) }

${ displayAddress(address) }
${ formatDate(address.scheduleDate) }

${ address.name ? address.name : displaySubscriptionName(address)}
${ address.products }
${ displayProducts(address) }
Shipping Address
${ displayAddress(address) }
Delivery Date
${ formatDate(address.scheduleDate) }
This subscription's skin care system will get replaced.
6 Ways to Look Better on Zoom Calls
Learn how to do a few simple things to look really good on Zoom. From great skin care advice to room-lighting hacks, these six tips will help you ace your next video conference.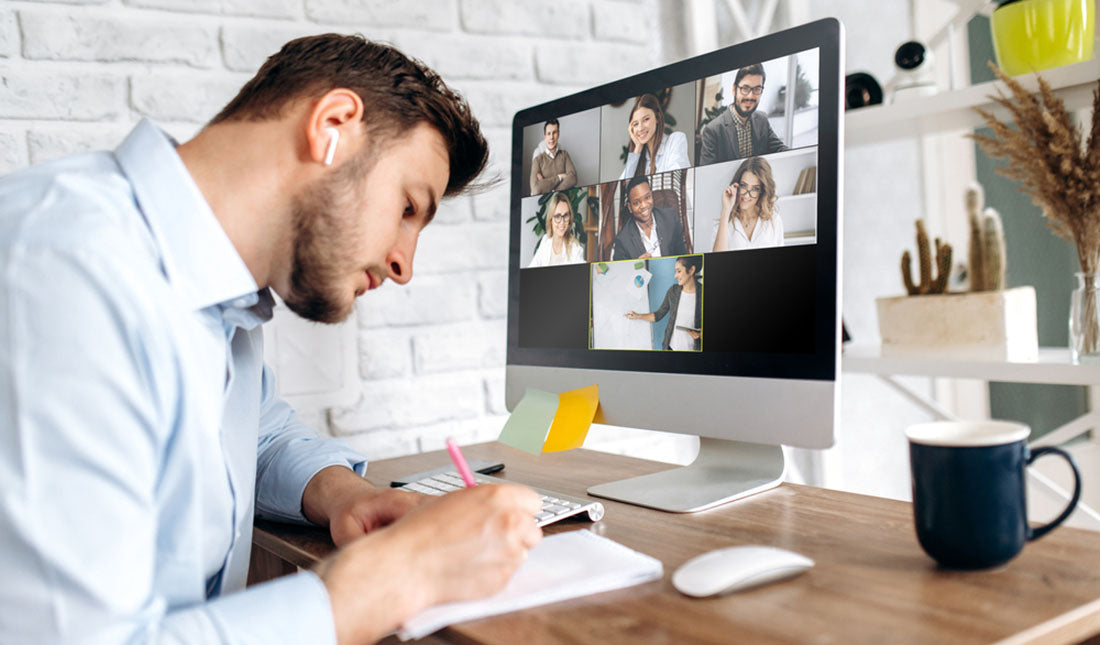 As far as video calling apps go, Zoom is arguably the best of the bunch.
It's affordable, it's intuitive and it offers an array of virtual backgrounds which you can use to disguise your messy room.
The list goes on.
But let's not kid ourselves here.
Like most video calling apps, Zoom can make a person seriously question their attractiveness.
Is that what I look like in real life? Yikes…
If you've ever clicked on a Zoom link and been horrified at your own appearance, rest assured that there are things you can do to look better on a video call.
With a solid skin care routine and a few lighting hacks, you too can unlock the secret of how to look good on Zoom.
Before we dive in, here are a few things you should know about Zoom:
An uncomplicated skin care routine is the single-best thing you can do to look good on Zoom.
Adding an eye cream and a translucent powder to your routine can make you look healthy and vibrant on-screen.
Avoid sitting with your back to the window and wearing busy patterns on video.
Want to improve your appearance on-screen?
Here are six tips to help you look your best on Zoom:
1. Start a Skin Care Routine
Starting a simple skin care routine is one of the best things you can do to look good on Zoom and in-person.
You don't need a 12-step routine or anything.
Start with the basics and tack on more skin care products as you see fit:
Wash:
Tired of looking greasy on-camera?
Start and end your day with a mild facial cleanser.
A high-quality facial cleanser can help remove excess oil from the skin, resulting in a shine-free appearance on- and off-screen.
Exfoliate:
If your skin is dull and sallow-looking, consider incorporating a twice-weekly face scrub into your skin care routine.
When used sparingly, a gentle face scrub can do wonders for your complexion.
It works by removing the buildup of dead skin cells that can make skin appear dull and lifeless.
The American Academy of Dermatology offers some great tips to help you use at-home exfoliation safely and effectively.
Moisturize:
Though it may seem counterintuitive, you should always follow your daily cleanse with a moisturizer.
A decent moisturizer will keep your skin healthy and hydrated.
During the day, we recommend using a daily moisturizer with SPF to protect skin from UV rays.
2. Take Care of Dark Circles
Those Monday morning check-ins with your boss on Zoom can be brutal.
If you need to disguise the evidence of a late night, a powerful eye cream is a must-have in your skin care arsenal.
Pro tip: Look for an eye cream with vitamin B3 (Niacinamide).
According to a 2010 review published in The Journal of Clinical and Aesthetic Dermatology, vitamin B3 not only reduces signs of aging, it can also decrease sallowness and discoloration of the skin (see claim: "…niacinamide has the potential to act as an antioxidant, can improve epidermal barrier function, decrease skin hyperpigmentation, reduce fine lines and wrinkles, decrease redness/blotchiness, decrease skin yellowness (sallowness), and improve skin elasticity.")
CONTROL EYE BAGS
3. Dust a Light Powder on Your T-Zone
Still dealing with super-shiny skin on your Zoom calls?
Here's a cool trick used by TV anchors and actors: Apply a small amount of translucent powder to your face.
Using a high-quality powder on your T-zone (the oily area that includes your forehead, nose and chin) can help absorb the excess oil that makes your skin reflective and shiny.
A translucent powder will go on completely clear and give your complexion a matte finish that works well with your unforgiving webcam.
4. Find the Light
Don't be that person—the one who has his or her face covered in a shadow during a Zoom meeting.
This unflattering shadow is usually the result of sitting with your back to a window.
For the best lighting, sit facing the window.
This will give you a soft, flattering light that illuminates your face.
If you don't have a window with natural light, you can also install lights behind your webcam to achieve the same result.
TAKE THE SKIN CARE QUIZ
5. Dress for Success
Unless you're attending a virtual job interview, you probably don't need to dress to the nines for a Zoom call.
That being said, putting a little thought into your attire can go a long way in making you look better on a video call.
When it comes to dressing for Zoom calls, a general rule of thumb is to avoid busy patterns and saturated colors.
Solid colors look best and won't distract your audience from what you're saying.
6. Be Careful of Angles
The camera on your webcam has a wide angle, which can stretch your face and give it a distorted appearance.
To avoid this unflattering look, make sure that you aren't too close to your webcam.
Sit at least one step back from the webcam and have it pointed slightly downwards at you.
Because let's face it: No one wants to see up your nostrils, especially if it's been a while since you trimmed your nose hair.
Getting Camera-Ready
There you have it: how to look good on Zoom without putting in too much effort.
With these simple Zoom tips, you can be camera-ready for your next video call.

References
How to Safely Exfoliate at Home. American Academy of Dermatology: https://www.aad.org/public/everyday-care/skin-care-secrets/routine/safely-exfoliate-at-home.
Levin, Jacquelyn, and Saira B Momin. "How much do we really know about our favorite cosmeceutical ingredients?." The Journal of clinical and aesthetic dermatology vol. 3,2 (2010): 22-41.
---
// © Copyright 2023 Tiege Hanley