Subscription
Shipping Address
Order Date

This subscription's skin care system will get replaced.

${ address.name }




${ address.products }

${ displaySubscriptionName(address) }




${ displayProducts(address) }

${ displayAddress(address) }
${ formatDate(address.scheduleDate) }

${ address.name ? address.name : displaySubscriptionName(address)}
${ address.products }
${ displayProducts(address) }
Shipping Address
${ displayAddress(address) }
Delivery Date
${ formatDate(address.scheduleDate) }
This subscription's skin care system will get replaced.
3 Methods to Remove Nose Hair & What to Avoid
Not all nose hair removal methods are created equally. Find out which nose hair removal methods are best and which ones you should avoid at all costs.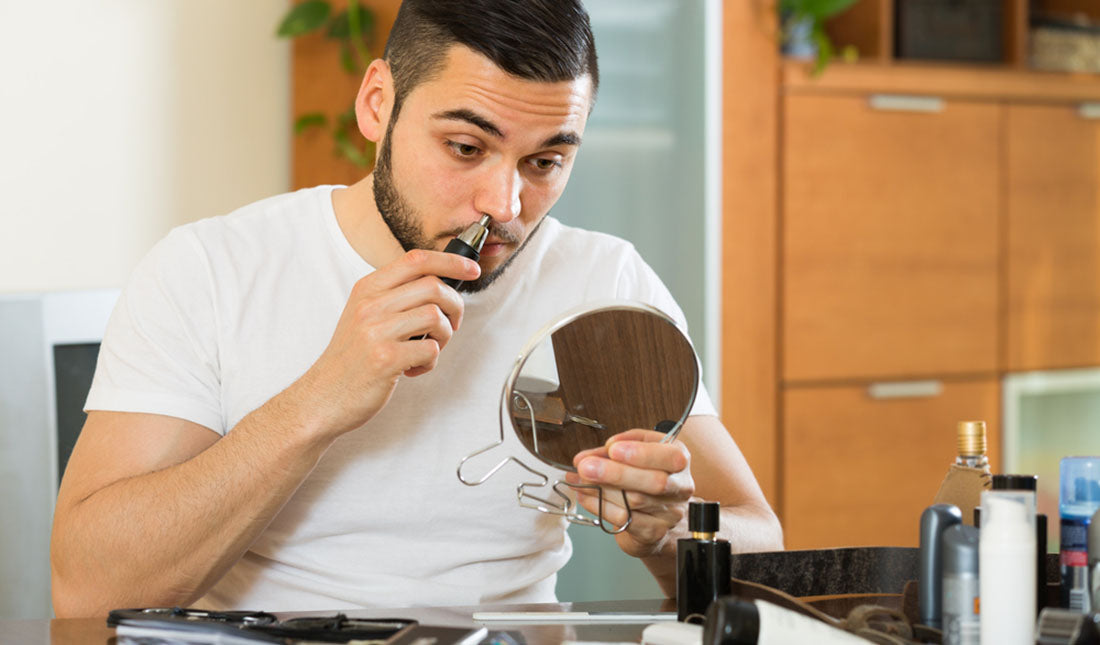 We'll just come right out and say it: Nobody likes the nose hair peeking out the bottom the nostrils. Though it does play a vital function in the body by filtering out foreign particles, nose hair can also ruin the romantic mood and squash your dating game.
Fortunately, it's entirely possible to achieve a happy balance. There are several nose hair removal techniques that can help you keep the bristles inside your nostrils in check without going to extremes.
It's important to understand that not all nose hair removal methods are created equally. To avoid causing yourself unnecessary pain or winding up in the hospital, there are some techniques you should steer clear of.
Here are several things you should know about nose hair removal:
Using trimmers and grooming scissors are the best ways to remove unwanted nose hair.
Some hair removal techniques (such as waxing and tweezing) come with greater risks and should be avoided when removing nose hair.
Nose hair is one of your body's prime defense mechanisms against the outside environment. Thus, nose hair should not be completely removed.
CONTROL EYE BAGS
Best Nose Hair Removal Methods for Men
If you think that your nose hair is gross and unsightly in your 20s and 30s, we've got bad news to share: It's likely going to get worse as you age. You can blame this on androgens (male sex hormones), which our hair follicles become more sensitive to as we get older.
By getting a handle on your nose hair early, you can keep it under control as you age. Here are some of the best options for nose hair removal:
1. Electric Trimmer
A high-quality electric trimmer for your nose hair is well worth the investment. They do all the work for you by trimming hair with their rapidly spinning blades. Comfortable and safe, electric trimmers are a must for any well-groomed gentleman.
2. Manual Trimmer
A manual nose hair trimmer is a nice alternative to the electric nose hair trimmer. It achieves the same results, only with slightly different execution.
Manual nose hair trimmers cut nose hairs by a twist or squeeze of your hand. They're super portable, safe and easy to use. The only downside is that they need regular cleaning and maintenance.
3. Grooming Scissors
Grooming scissors aren't your everyday, junk-drawer scissors. They come with a rounded tip so that you don't jab yourself in the nose and leave yourself open to infection.
Even with this safety feature, you can still mess up and cause yourself pain. To trim your nose hair properly, be sure to stand in good lighting and go slowly.
Avoid These Nose Hair Removal Methods
In an effort to improve your grooming routine, it's easy to make mistakes. Fortunately, we're here to keep you from making a painful—and potentially serious—mistake with your nose hair trimming methods. Stick to using the nose hair removal methods above, and stay away from the following methods at all costs:
1. Tweezing
Plucking your nose hairs one-by-one with tweezers isn't just incredibly painful—it can also lead to ingrown hairs and nasty skin infections. The tiny bumps that result from painful plucking often appear similar to pimples in the nose because they may be red and filled with pus.
Even worse, you could be putting yourself at risk of a nasty staph infection. According to a 2018 study published in Frontiers in Microbiology, up to 30 percent of people are carriers of Staphylococcus aureus bacteria (see claim: "Up to 30% of the human population are asymptomatically and permanently colonized with nasal Staphylococcus aureus.")
When tiny cuts in the skin are created via waxing, staph bacteria in the nose can lead to infection. This infection is usually characterized by honey-yellow crusting on the inside of the nostril.
Take the skin care quiz
2. Waxing
Similar to the act of tweezing, waxing your nose hairs can damage the skin and inflame the hair follicles in the nostrils.
The other problem with waxing is that it removes a lot of nose hair in one fell swoop. Though this may have been your original goal, removing too much nose hair takes away one of your body's key defense mechanisms of keeping out foreign particles.
If you suffer from seasonal allergies, removing too much nose hair can compromise your body's ability to defend itself from airborne allergens. According to findings in a 2011 study published in the International Archives of Allergy and Immunology, people with little nose hair have an increased risk of developing asthma than those with bushier nostrils (see claim: "Our findings suggest that the amount of nasal hair providing a nose filtration function has a protective effect on the risk of developing asthma in SR patients.")
3. Depilatory Creams
Depilatory creams are cream-based products that contain chemicals which destroy keratin protein in your hair, causing it to fall off. Though some guys can get away with using a depilatory cream to remove hair on their back or chest, putting this stuff in your nose just isn't a good idea.
Nair for Men and other popular depilatory creams contain harsh chemicals that can burn the sensitive skin inside your nose. Plus, inhaling the strong scent of the cream isn't going to feel good on your mucus membranes.
4. Laser Hair Removal
Again, removing all of your nose hair isn't recommended. Laser hair removal for your nose is also semi-permanent, which means that you'll be stuck with your bad decision for longer than waxing or tweezing your nose hair. Stick to one of the three options above, which are proven to be safe and effective.
Final Words
No matter which method you choose to remove your nose hair, you'll need to do it somewhat regularly. You can easily make it a habit by incorporating your nose hair upkeep into your regular skin care regimen. With a regular trimming of your nose hair, you can keep your hair confined to the inside of your nostrils and avoid scaring off your date.
---