Subscription
Shipping Address
Order Date

This subscription's skin care system will get replaced.

${ address.name }




${ address.products }

${ displaySubscriptionName(address) }




${ displayProducts(address) }

${ displayAddress(address) }
${ formatDate(address.scheduleDate) }

${ address.name ? address.name : displaySubscriptionName(address)}
${ address.products }
${ displayProducts(address) }
Shipping Address
${ displayAddress(address) }
Delivery Date
${ formatDate(address.scheduleDate) }
This subscription's skin care system will get replaced.
How to Get Rid of Nose Pimples & Nose Acne in 5 Steps
Pimples and bumps on and inside your nose ruining your day? Get rid of nose pimples for good with these five easy steps!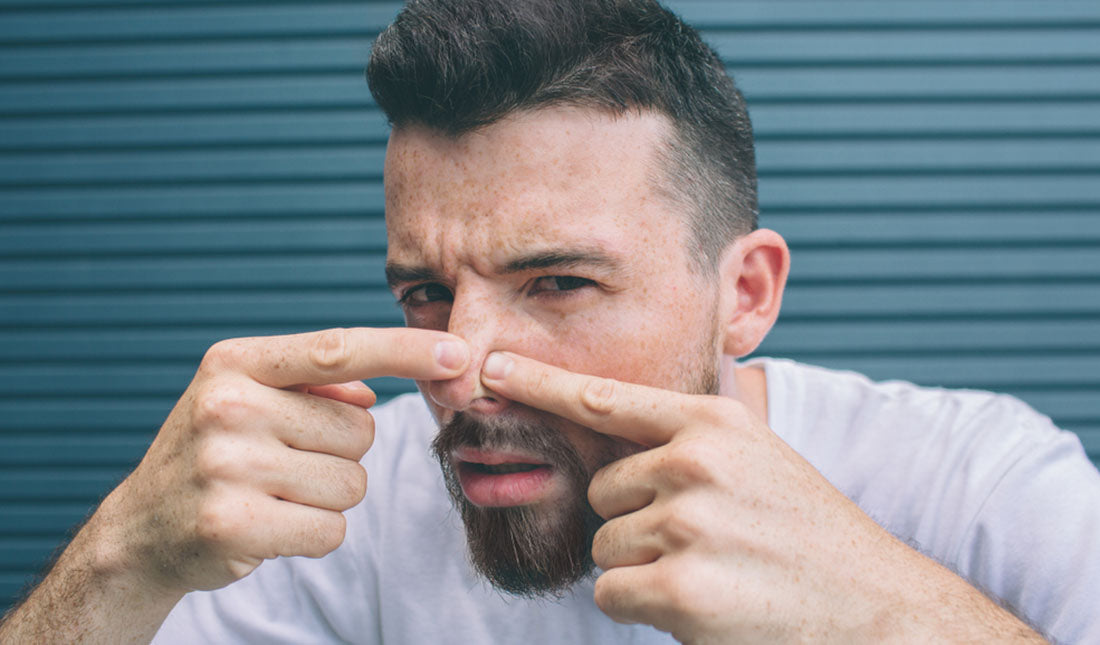 Even though you probably know that picking your pimples isn't good for you, pimples on the nose can be especially tempting. The pores on your nose are large and just asking to be squeezed.
What's worse than having a pimple on your nose? Having a pimple inside your nose.
Before you attempt to pop or pick your nose pimples , you should know that there is a much safer and more effective way to eliminate them for good.
Here are several things you should know to get rid of pimples on or in the nose:
Never pick at your nose pimples, especially if they are inflamed.
Reducing the swelling is the first step to treating papules and pustules on the nose.
Sometimes, pimples in the nose can be a sign of an infection or a cold sore.
A powerful face wash and acne cream containing acne-fighting ingredients are an effective treatment for your nose pimples
Is it Acne or Acne Rosacea?
Before we dive into treatments for your nose pimples, it's important to figure out whether it's actually a regular nose pimple or acne rosacea.
Those who have rosacea often experience painful, red bumps that closely resemble acne.
What is the difference between acne and acne rosacea?
It might be tricky, but the easiest way is to tell the difference between them is by taking a closer look at which types of comedones you have.
If you have a large number of closed comedones (whiteheads) and open comedones (blackheads), you're probably dealing with acne.
If you have more inflammatory acne (papules, pustules, nodules and cysts), it could be either acne or rosacea.
The other key difference between the two is how each type of pimple becomes inflamed.
In acne vulgaris, pimples become inflamed due to bacteria (P. acnes) in the pore, while acne rosacea is caused by common rosacea triggers (heat, stress, alcohol, etc.) which inflame the skin.
Actual Tiege Hanley customer testimonial:

"Over a 3 year period, I probably spent over two grand in skin care and still had acne. I decided to reach out and request to be a part of the

 

Tiege Hanley Acne trial

 

and I have been blown away. After two weeks, my skin was clear. It's not the acne cream alone that cleared it up, but how all of the products work together as a whole." Kyle B., NJ.
GOT ACNE?
Step #1: Identify the Type of Pimple
If you're like many guys who struggle with the large size of their pores, you probably zero in on your nose.
The nose has larger pores compared to other parts of your face.
This makes it prone to clogging and breakouts, especially in the form of blackheads and whiteheads.
However, blackheads and whiteheads aren't the only type of pimple that can appear on the nose.
As we touched upon in our discussion of acne vulgaris and acne rosacea, you can also develop painful pustules and papules in your nose when pores become clogged and inflamed.
Likely causes of pimples inside your nose include:
Blocked Pores
Genetics
Ingrown Nose Hair
Nasal Vesibulitis 

(a rare type of bacterial infection at the opening of the nose)

Nasal Furuncles

(boils) 

and Cellulitis
Cold Sores
Knowing which type of pimple you have and what is causing it is important because it can influence your acne treatment method.
If your nose pimple is inflamed and has redness or swelling, be sure to pay close attention to the next step.
Step #2: Reduce Swelling with Ice
If you're dealing with an inflamed pimple on the nose, your next plan of attack should be to reduce the swelling of the bump.
This will help decrease the overall size of your papule or pustule, making it less noticeable and shortening its lifespan.
The best way to decrease inflammation and swelling is by icing the irritated skin with an ice cube.
You can also follow an acne diet plan that focuses on foods aimed at reducing skin inflammation.
Step #3:  Wash Using a Gentle Facial Cleanser
After the swelling has gone down, wash your face twice daily with a facial cleanser containing Willow Bark Extract.
A popular ingredient in many facial cleansers and toners, Willow Bark Extract offers several skin care benefits that can help eliminate nose pimples.
According to a 2010 study published in the journal Phytotherapy Research, Willow Bark Extract has anti-inflammatory properties and a pain-relieving effect that can benefit acne sufferers (see claim: "Willow bark extract has been used for thousands of years as an anti-inflammatory, antipyretic, and analgesic.")
As a component of Salicylic Acid, it can also increase cell turnover through natural exfoliation.
Take the skin care quiz
Step #4: Exfoliate
Exfoliation is an essential part of every guy's regular skin care regimen.
Scrubbing your face twice a week will reduce the buildup of oil and dead skin cells that clog nose pores to help prevent future breakouts.
Just be careful with your existing pimple. If it's inflamed, scrubbing too hard may worsen it. Use a gentle face scrub and be sure to avoid over-exfoliating.
A face scrub should be used no more than twice a week, even if you have an oily skin type.
Step #5: Apply Acne Cream
Finally, it's time to bring out the big guns. We're talking about Salicylic Acid, a powerful beta-hydroxy acid which naturally exfoliates and soothes inflamed skin.
Salicylic Acid can penetrate deep into a guy's thick skin to remove excess oil and debris.
In a 2009 study published in the Journal of Cosmetic Dermatology, Salicylic Acid was also shown to be equally as effective as Benzoyl Peroxide, only less likely to cause irritation (see claim: "…results suggest that the [Salicylic Acid derivative] could be a treatment option to consider in mild to moderate acne vulgaris patients that are intolerant to benzoyl peroxide.")
When applying Salicylic Acid, we recommend using it in your acne cream.
Unlike your face wash, which washes off the active ingredient, an acne cream is meant to keep the active ingredient on your face for maximum effectiveness.
After that, simply follow up with your daily skin moisturizer to help combat any potential drying effects from Salicylic Acid.
Give this treatment a few weeks and you'll likely notice a significant reduction in your nose pimples.
Keep Nose Pimples at Bay
The best way to treat and prevent nose pimples is by sticking to a regular skin care routine.
It doesn't need to be complex. Just a daily face wash, moisturizer and acne cream are usually enough to keep mild to moderate acne at bay.
Have you tried Tiege Hanley's Acne Treatment System? Couple it with our uncomplicated men's skin care kit to get the best of both worlds when it comes to achieving smooth, clear skin.
Give it a shot and let us know if you're one of the many guys who are now raving about Tiege Hanley!
References
US National Library of Medicine, Journal of Cosmetic Dermatology:
---