Subscription
Shipping Address
Order Date

This subscription's skin care system will get replaced.

${ address.name }




${ address.products }

${ displaySubscriptionName(address) }




${ displayProducts(address) }

${ displayAddress(address) }
${ formatDate(address.scheduleDate) }

${ address.name ? address.name : displaySubscriptionName(address)}
${ address.products }
${ displayProducts(address) }
Shipping Address
${ displayAddress(address) }
Delivery Date
${ formatDate(address.scheduleDate) }
This subscription's skin care system will get replaced.
Meditation for Men: A Beginner's Guide
The benefits of meditation for men speak for themselves. Learn why meditating daily is key to optimizing your life feeling better.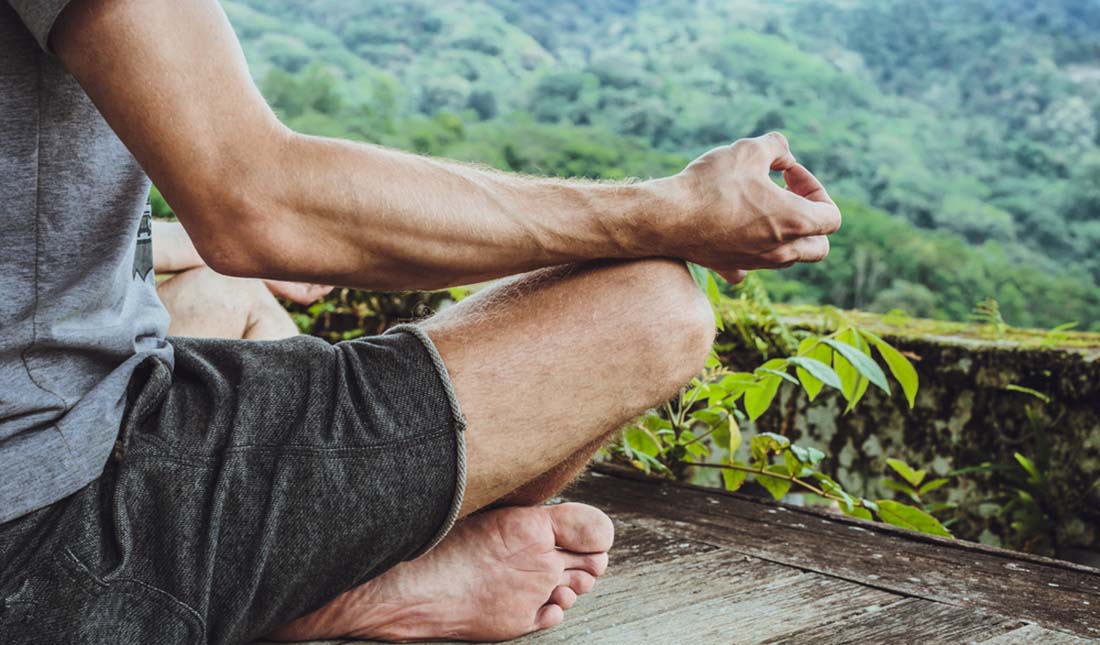 Am I doing this right?
Is this pointless?
Meditation must not work for me…
If you've ever had these thoughts while meditating, you're not the only one.
Lots of guys have tried their hand at meditating, only to give up after a few sessions.
Although meditation for men offers a wide range of health benefits, it's not some magic solution to all of life's problems.
If you want to finally crack the meditation code and start reaping the benefits, follow this beginner meditation guide for men.
Before we dive in, here are three things you should know about meditation for men:
Meditation can reduce stress, improve emotional response and change a person's physiology.
To reap the benefits, you need to push through the more challenging aspects of meditation.
Consistency is key to forming habits and sticking to meditation.
TRY MEN'S SKIN CARE
Why Should Guys Meditate?
Meditation can improve your life in almost every way, and that's not an exaggeration.
An ever-growing body of research has shown that meditation can do everything from boost brain function to improve your quality of sleep.
Meditation has even been shown to change a person's physiology.
According to a 2013 study published in the journal Psychoneuroendocrinology, researchers found that mindfulness meditation positively altered gene expression in subjects by reducing pro-inflammatory genes (see claim: "…we detected…decreased expression of pro-inflammatory genes (RIPK2 and COX2) in meditators compared with controls.")
Additional research has found that mindful meditation can change brain structure.
In a 2011 study, participants who practiced meditation for eight weeks improved gray matter in the hippocampus—the part of the brain responsible for memory, creativeness, compassion and self-awareness (see claim: "The results suggest that participation in MBSR is associated with changes in gray matter concentration in brain regions…")
Other benefits of mindful meditation for men include reduced stress, increased willpower, optimized immune system, better attention span, increased emotional control—the list is endless.
Why Is Meditation So Hard?
Because you're not consistent.
Meditation is a lot like following a skin care routine or sticking to a fitness regimen. You need to show up every day before you start seeing results.
You wouldn't go into a gym and expect to lift 200 lbs. right away, would you?
Meditation works much the same way.
It's going to be frustrating in the beginning. That's how forming a new habit works.
In the next section, we'll teach you how to meditate and share a few pointers to help you stick with your practice.
How to Meditate: Tips for Beginners
Remember, you're practicing a brand new skill here. Be kind to yourself and don't give up the moment the going gets tough.
Follow these meditation tips and you'll be better prepared when you run into the more common obstacles:
Choose a Good Time and Place
First things first: Choose a time and a place to meditate that is quiet, comfortable and low on distractions.
In other words, don't try to meditate on a hard patio or at your desk during the busiest hour of your workday.
Ideally, you'll meditate in the same location every day to help you get in the habit.
However, sometimes it's not possible to meditate in the same spot.
If you're traveling or can't make it to your usual meditation spot, find a quiet place where you're less likely to be disturbed.
Get Comfortable—But Not Too Comfortable
You should be comfortable as you meditate, but not so comfortable that you might fall asleep.
Sitting is the recommended position for meditation because it provides the optimal mix of balance, posture and focus.
Choose a chair or a bench and sit with your back straight.
Floor cushions also work well for meditation.
TAKE THE SKIN CARE QUIZ
Set a Timer
As a beginner, we recommend using a timer to control when your meditation sessions start and end.
If you don't use a timer, you'll constantly be wondering how long you've been meditating and whether it was long enough.
Even worse, you may be tempted to get up and cut off your practice early.
Set your timer for 5-10 minutes to start with (longer or less, as needed) and commit to meditating until the buzzer dings.
Pick an Anchor
Next, pick your anchor, or focus point.
Your anchor in meditation is the thing you focus on to help you stay in the present.
This can be your breathing, the sound of a ticking clock, a mantra—anything that helps you stay grounded.
If you catch yourself thinking about dinner or work, gently pull yourself back to your anchor.
Practice Daily
Try to meditate every day for at least 30 days.
If you miss a day, don't beat yourself up about it.
However, you should start your 30 days over again.
The reason being is that you need to give yourself enough time to form a habit.
Strength Training for Your Brain
Mindful meditation is like working any other muscle.
That's why scientists often refer to it as "strength training for the brain."
And like weightlifting, you can't lift the heavy stuff right off the bat.
Go easy on yourself and accept that your mind is going to be a jumbled mess sometimes.
Stick with it, though, and you'll never want to miss a day of meditation again.

References
Kaliman, Perla, et al. "Rapid Changes in Histone Deacetylases and Inflammatory Gene Expression in Expert Meditators." Psychoneuroendocrinology, vol. 40, Feb. 2014, pp. 96–107.
Hölzel, Britta K., et al. "Mindfulness Practice Leads to Increases in Regional Brain Gray Matter Density." Psychiatry Research: Neuroimaging, vol. 191, no. 1, Jan. 2011, pp. 36–43.
---
// © Copyright 2023 Tiege Hanley