Subscription
Shipping Address
Order Date

This subscription's skin care system will get replaced.

${ address.name }




${ address.products }

${ displaySubscriptionName(address) }




${ displayProducts(address) }

${ displayAddress(address) }
${ formatDate(address.scheduleDate) }

${ address.name ? address.name : displaySubscriptionName(address)}
${ address.products }
${ displayProducts(address) }
Shipping Address
${ displayAddress(address) }
Delivery Date
${ formatDate(address.scheduleDate) }
This subscription's skin care system will get replaced.
Men's Annual Physical Exam—What to Expect and How to Prepare
Due for your annual physical exam? Find out how to make the most of a men's physical annual exam and what routine tests you can expect.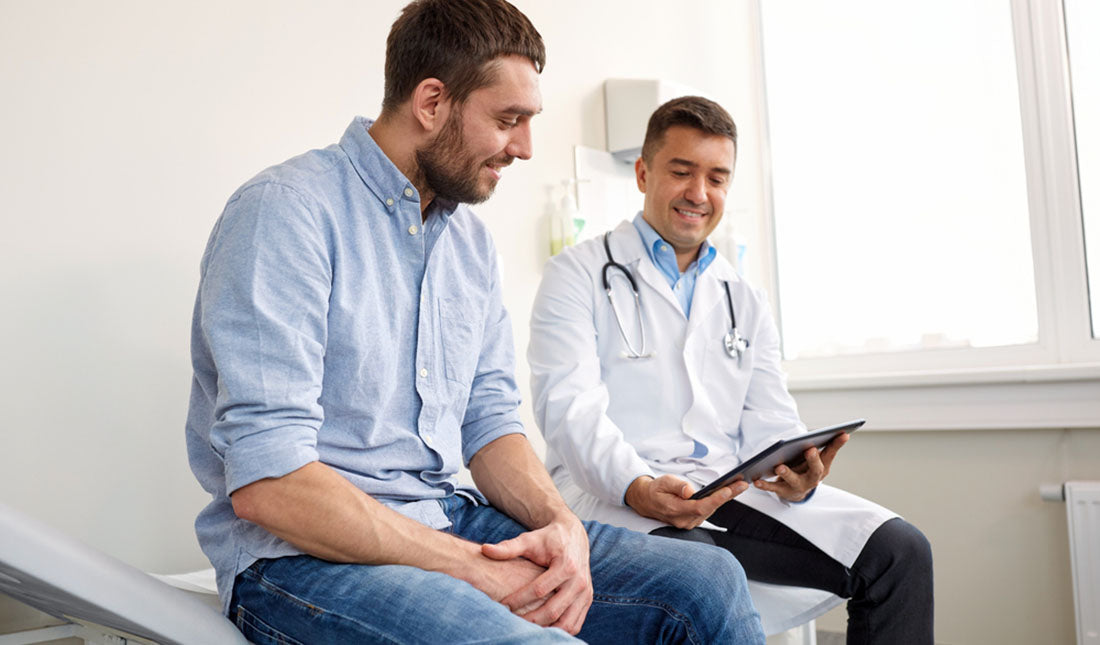 Annual physical examinations are essential for keeping your body running like a well-oiled machine. Paying a yearly visit to the doctor allows you to address specific health concerns, reduce the likelihood of chronic illness and keep your body in optimal health as you age.
Unfortunately, a lot of guys go out of their way to avoid seeing a doctor, even when the situation clearly warrants it. For some, nothing short of detached limbs and the possibility of bleeding out will get them to step inside a health care facility. 
Whether it's the fear and anxiety of seeing a doctor or the damaging "machismo" attitude that holds guys back from getting an annual physical exam, one thing is certain: Routine health care can make a huge difference to a guy's overall health and well-being.
To take some of the uncertainty and stigma out of men's annual physical exams, we're covering everything you need to know about getting a yearly physical. By the end, you'll hopefully feel more confident scheduling an appointment with your doctor and acing your next physical examination.
Here are three things you need to know about getting an annual exam:
Physical examinations give you the opportunity to build a relationship with your doctor and see someone who is familiar with your medical history.

Most annual physical exams for guys are relatively painless and uneventful.

With a good doctor and complete honesty on your part, annual physical examinations are key to achieving better health and well-being.

TRY MEN'S SKIN CARE
Why Every Guy Should Get an Annual Physical Exam
Unfortunately, the stereotype about guys avoiding the doctor is true. According to a 2017 National Health Interview Survey by the Centers for Disease Control and Prevention (CDC), guys are more than twice as likely as women to go more than two years without seeing a doctor or health care professional. This inconsistency is important because when guys do eventually go the hospital, it's often for serious conditions such as cardiovascular disease or an aggressive form of skin cancer that went unnoticed for far too long.
Though you may be perfectly healthy and fit, there are several reasons why you shouldn't put off your yearly visit to your doctor. Annual physical exams play an important role in your overall health and well-being by giving you the opportunity to do the following:
Establish a Relationship with Your Doctor—

If you happen to get diagnosed with something scary a few years from now, you'll be grateful to have a doctor whom you know and trust guiding you through the next steps. They'll be familiar with your entire medical history and can therefore make the best decisions to benefit your health.

Discuss General Health, Nutrition and Medications—

You don't need to have a life-threatening condition to seek medical guidance. Guys who regularly skip out on their annual physical exam miss out on the opportunity to talk to their doctor casually about general health concerns. From discussing

common skin care concerns

to asking about specific medications, your physical exam is a good time to bring up any health issues that have been weighing on your mind.

Identify Areas of Improvement—

When it comes to health, everyone has room for improvement. Whether you need to ditch a smoking habit, learn how to cook healthier meals for yourself or

take better care of your skin

, a health care provider can help you create a long-term strategy to achieve your health goals.

Stay Current on Vaccinations—

Seeing a doctor every year will ensure that you're up-to-date on all your vaccinations, including seasonal vaccinations against the flu and other adult immunizations. Thanks to improvements in healthcare technology, you may even be able to get text messages sent to your phone that remind you to come in for both your annual exam and any vaccinations you may need.

Take Advantage of Preventative Health Screenings—

According to

statistics from the CDC

, heart disease is the number one cause of death for men in the United States and one of the major risk factors for the disease is high LDL cholesterol. By seeing a doctor every year, you can stay on top of preventative health screenings such as checking blood cholesterol levels and

getting screened for skin cancer

.
If you're overweight or obese, getting an annual physical is especially important and shouldn't be put off. According to a 2017 study published in the International Journal of Epidemiology, society has greatly underestimated the harmful effects of being overweight. 
In the study, researchers assessed 27,747 father and child pairs and 32,452 mother and child pairs. By analyzing the data this way, researchers were able to eliminate "reverse causation biases"—meaning, they could eliminate data from cases where disease caused low BMI rather than BMI causing the illness.
The study found that children with higher BMI had lower education, lower employment status, reduced physical activity and higher blood pressure (see claim: "Offspring with higher BMI, and their parents, had higher blood pressure, lower education, lower physical activity and lower employment status.")
If you're carrying around a few extra pounds, taking advantage of preventative screenings can make all the difference. Many health problems related to high BMI (such as high cholesterol and diabetes) can potentially be detected early through a physical examination, leading to far better health outcomes.
What to Expect at a Men's Physical Exam 
Upon arriving for your doctor's appointment, you'll be checked in and handed paperwork to fill out. This paperwork will ask you questions about both your own medical history and your family's medical history.
Next, you'll be called in by a nurse to get your height, weight and temperature. From there, you'll be seated in an exam room to have your pulse and blood pressure taken.
Once the nurse completes these initial tests, he/she will give the information to your doctor and you can expect your physical examination to be broken up into the following three parts:
Brief Overview of Your Medical History—

The doctor will first go over your medical history that you marked in your paperwork and ask you questions about habits related to smoking, drinking, drugs, exercise and diet. Be honest and answer to the best of your knowledge. This is a good opportunity to mention any health concerns or symptoms you've been experiencing.

Physical Examination—

You'll be asked to change into a medical gown that makes it easy for the doctor to check your man parts. In addition to general inspection of your manhood, the doctor will ask you to turn your head to the side and cough while they hold your testicles to check for a hernia. They'll also check your heart and lungs, peek into your eyes, ears and throat, prod your abdomen (checking for size and position of internal organs) and test your motor functions/reflexes. They may take a look at your skin to

check for strange-looking moles

.

Preventative Screenings/Laboratory Tests—

Depending on age and your medical history, the doctor may perform additional tests and health checks. For example, guys who are above the age of 35 and/or have an increased risk of heart disease may have a blood sample taken to check blood cholesterol levels. If you are at an increased risk of diabetes, this can be checked via blood sample as well. Other commonly-ordered tests for guys can include screenings for prostate cancer, abdominal aortic aneurysm and sexually transmitted disease.
How to Prepare for Your Annual Physical Exam
A men's annual physical exam isn't a pass/fail test. Even so, it helps to come prepared to your physical exam so that you can get the most out of your appointment. 
To best prepare for your physical, here are a few things you can (and should) do in advance:
Consider Your Medical History—

The doctor needs to know about your entire medical history to make the best decisions for your health. This includes things such as your vaccination history, any medications and supplements you're taking, allergies, surgeries, etc. Also, be sure to write down (or even take a picture of both front and back) the type of medication/vitamins you're taking and bring it to the appointment with you. 

Compile Your Family's Medical History

—In addition to your own medical history, your doctor will need to know your family's medical history as well. This is to identify any genetic conditions that may run in your family. For instance, if several of your family members have suffered from a heart attack or stroke, your doctor will likely want to get your blood tested to establish a baseline for your cholesterol levels. If your blood tests reveal that you have poor cholesterol levels, you and your doctor can work together to improve them by the time your next checkup comes around.  

Bring a List of Questions—

Once you step into the exam room, it's easy to forget all the questions you were going to ask your doctor.

Write down a list of questions in advance and bring them to your visit. Questions related to your diet, your exercise regimen and your mental health are all worth asking your doctor about. By writing them down, you can make sure to bring up all your health concerns with your doctor and make the most of your visit.
Write Down Your Symptoms—

On a similar note, be sure to write down any symptoms you've been experiencing lately. The less your doctor has to prod you for information, the more successful your appointment will be. If the pain in your knees is ruining your weekly soccer game, they can point you to a physical therapist or orthopedic doctor to get you back in the game. Keep in mind that your symptoms also don't need to be strictly physical to be worth mentioning to your doctor. Let them know if you've been feeling tired, sad and irritable, which are all classic symptoms of depression in guys. 

Wear Easy-to-Remove Clothing—

For a physical exam, you'll likely be asked to undress and change into a gown. This is so the doctor can listen to your heart, check your man parts and perform an abdominal exam. To make it easy on yourself, wear clothes that you can easily remove and put back on after the exam is over.

Consider Fasting—Call your doctor and ask if you should fast before your physical examination. This is in case they want to do a total lipid profile, which is a fasting blood test that checks your cholesterol and triglycerides. If you are above the age of 35 or have a higher risk of cardiovascular disease, there is a good chance that your doctor will request this test.
Finally, don't forget to bring your insurance card and I.D. to your appointment. The front desk will ask you for these items to make copies of them to keep on file.
Take the skin care quiz
How to Make the Most of a Men's Annual Physical Exam
We've hopefully made it clear that your annual physical exam is important to your health. To make the most of your visit, here are three things you need to do:
Be Honest—

When asked about drug usage or sexual activity, one of the worst things you can do is lie to your doctor. Remember that your doctor is there to help you, not judge you. To help you achieve or maintain optimal health and wellness, they must have a complete and accurate picture of your medical history. Doctors are bound by the Health Insurance Portability and Accountability Act of 1996 (HIPAA) to protect patient privacy. In other words, they can't narc on you. It's also in your best interest health-wise to tell them about your weed or binge-drinking habit because these substances can mix poorly with certain medications.


Be Accurate—

No one expects you to remember the exact time and day you began noticing your knee pain or started to feel abnormally fatigued. However, it does help to give your doctors the most accurate picture of your health history as possible. Rather than offer a vague description of your knee pain, give them more context. Does it hurt only when you run? Does it feel as though it's buckling underneath you? The more accurate your description, the more clues your doctor has to work with.


Be Calm—

So, your doctor found a suspicious-looking mole and "doesn't like the looks of it." Or maybe, your lipid panel came back with poor numbers. Before you go into full-panic mode, take a deep breath and realize that poor test results aren't necessarily a death sentence, but rather an opportunity to get back on the right track. Try not to stress too much about your poor results and, instead, let them be a wakeup call to

wear a daily moisturizer with SPF

or eat a healthier diet.


Finding the Right Doctor Is Key
Above all else, finding the right primary care provider is key to a successful appointment. Medical knowledge and experience alone do not make a great doctor. The best health care professionals are those who listen to their patients and recognize what each individual needs in terms of treatment. 
Remember: You know your body best. If something doesn't feel right to you, don't hesitate to get a second opinion from another doctor. By taking control of your own health, you can improve nearly every aspect of your life for the better. 
External sources: Summary Health Statistics; National Health Interview Survey; Men and Heart Disease Fact Sheet; International Journal of Epidemiology; 
---
// © Copyright 2023 Tiege Hanley