Subscription
Shipping Address
Order Date

This subscription's skin care system will get replaced.

${ address.name }




${ address.products }

${ displaySubscriptionName(address) }




${ displayProducts(address) }

${ displayAddress(address) }
${ formatDate(address.scheduleDate) }

${ address.name ? address.name : displaySubscriptionName(address)}
${ address.products }
${ displayProducts(address) }
Shipping Address
${ displayAddress(address) }
Delivery Date
${ formatDate(address.scheduleDate) }
This subscription's skin care system will get replaced.
6 Key Ingredients for Men's Acne Cream (Updated March 2020)
The ideal acne cream for men is packed with powerful ingredients that are formulated specifically for a man's skin. Tiege Hanley explains the formulation of our acne cream for men and its skin care benefits.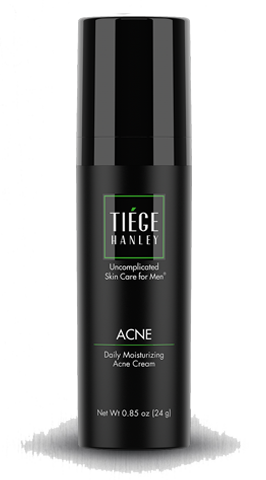 Finding a men's acne cream that is right for your skin can be daunting.
We know that most guys don't have time to research every ingredient listed in their skin care products, which is why we've done the heavy lifting for you.
At Tiege Hanley, we only use ingredients that are backed by the latest science to ensure that our acne products are both safe and effective for a man's skin.
Here are three of the things you ought to know:
The Tiege Hanley Daily Moisturizing Acne Cream is a proven, all-in-one acne-fighter and moisturizer.
Our active ingredient, Salicylic Acid, is a raw material derived from plants that is gentle on skin but tough on acne.
It's not just about killing acne-causing bacteria. Our acne cream is packed with powerful ingredients that were carefully chosen to promote wound healing, reduce the chances of scarring and moisturize the face.
GOT ACNE?
Salicylic Acid
If there's an ingredient that you recognize on this list, chances are good that it's Salicylic Acid.
This acne-fighting ingredient is used in many acne products. Why? Because it's extremely effective at stopping acne in its tracks.
Salicylic Acid is a beta hydroxy acid (BHA) and is more oil-soluble compared to alpha hydroxy acid (AHA), which is water-soluble.
This simply means that Salicylic Acid can penetrate deeper into the skin to kill acne and prevent future breakouts.
This characteristic is doubly important for men's skin care products.
Our skin is thicker than a woman's skin, which is why we need ingredients such as Salicylic Acid that can penetrate deep into the pores.
Actual Tiege Hanley customer testimonial:

"Over a 3 year period, I probably spent over two grand in skin care and still had acne. I decided to reach out and request to be a part of the

 

Tiege Hanley Acne trial

 

and I have been blown away. After two weeks, my skin was clear. It's not the acne cream alone that cleared it up, but how all of the products work together as a whole." Kyle B., NJ.
Sodium Hyaluronate
We included this moisturizing, anti-aging powerhouse in our acne cream for a few simple reasons.
First, it counteracts the potential dryness that Salicylic Acid may cause by locking in moisture.
Secondly, Sodium Hyaluronate is effective at reducing water loss in the skin, which is associated with signs of skin aging.
Keeping the skin supple and hydrated is important not only for reducing the signs of aging, but also for preventing future breakouts caused by excessively dry skin.
Calendula Extract
Calendula Extract comes from the Calendula plant. Another powerful anti-inflammatory ingredient, Calendula Extract promotes wound healing and soothes red, inflamed skin.
Calendula Extract also has antibacterial and antifungal properties, which can help fight acne-causing bacteria in those with mild-to-moderate acne.
Kukui Nut Oil
The Kukui tree is Hawaii's state tree for a good reason.
The nuts produced from this tree have been used for centuries by Hawaiians for their medicinal properties.
The role of Kukui Nut Oil in skin care products is to keep the skin moisturized and protected.
It contains omega-3 fatty acids, which are shown to reduce inflammation and provide a protective barrier for the skin.
Unlike other oils, Kukui Nut Oil can penetrate deep in the skin. As noted earlier, this is crucial in men's skin care products.
Kukui Nut Oil is also considered a "dry oil," which means that it won't appear greasy or clog pores.
Take the skin care quiz
Plantain Extract
Before you confuse this ingredient with the banana, it's important to note that Plantain Extract is an herb that comes from a different species.
Despite its beneficial medicinal properties, this plant is considered a noxious weed.
Don't let that turn you away from the amazing antibacterial and antioxidant-rich properties of this herb.
Plantain Extract contains Allantoin, a powerful ingredient that soothes inflamed skin and encourages new cell growth.
Alfalfa Extract
Alfalfa Extract comes from the alfalfa plant (Medicago sativa L.) and has been used in Chinese medicine for thousands of years.
This ingredient contains powerful vitamins and minerals that benefit the skin, such as Vitamins A, D, E and K.
The vitamins and minerals in Alfalfa Extract not only provide anti-aging benefits to the skin, but also play a key role in moisturizing.
For acne sufferers, keeping the skin moisturized (without overdoing it) is essential to preventing future breakouts.
Final Thoughts
Unless you're one of the lucky few men who never get pimples or blemishes, shopping for an acne cream is probably in your future.
It's just a simple fact of life that most of us need some sort of acne treatment in addition to our regular skin care regimen.
But finding an acne cream that reduces acne without harming your handsome mug can be difficult.
That's why we at Tiege Hanley have made treating your acne incredibly simple.
Our acne cream contains safe ingredients with no artificial fragrances or dyes.
Best of all? We send it straight to your doorstep each month.
No shopping, no hassle—just clear, handsome skin.
---
// © Copyright 2023 Tiege Hanley