Subscription
Shipping Address
Order Date

This subscription's skin care system will get replaced.

${ address.name }




${ address.products }

${ displaySubscriptionName(address) }




${ displayProducts(address) }

${ displayAddress(address) }
${ formatDate(address.scheduleDate) }

${ address.name ? address.name : displaySubscriptionName(address)}
${ address.products }
${ displayProducts(address) }
Shipping Address
${ displayAddress(address) }
Delivery Date
${ formatDate(address.scheduleDate) }
This subscription's skin care system will get replaced.
Pros and Cons of Using a Sunscreen Stick on Your Face
Thinking about trying a sunscreen stick for the first time? Learn about the pros and cons of using a sunscreen stick on your face.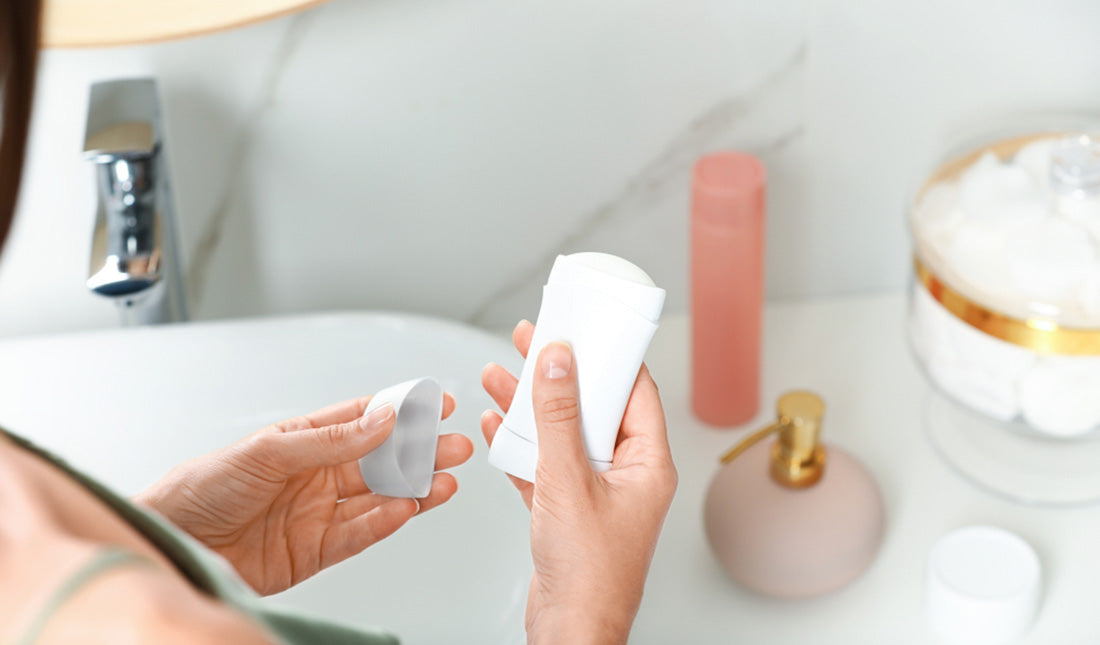 When it comes to sun protection for your face, you have a dizzying number of options to choose from these days.
And honestly, you should have lots of options.
After all, the best sunscreen for your face is one that you'll use day-in and day-out.
When used correctly, sunscreen sprays, sticks and lotions are all effective at reducing the harmful effects of the sun's UV rays.
However, we want to highlight the pros and cons of one sunscreen product in particular: the sunscreen stick.
A relative newcomer to the market, the sunscreen stick is a mess-free option that could be a game-changer for your face.
But is it right for you?
Here are three things you should know about using a sunscreen stick on your face:
Sunscreen sticks offer a lightweight and convenient option for sun protection.
Applying a sunscreen stick may result in greater sun protection around the eyes.
Sunscreen sticks can be difficult to apply evenly on the skin.
Pros of Using a Sunscreen Stick on Your Face
Easy to swipe on and throw in your bag, the sunscreen stick has a lot going for it.
Here are just a few advantages of using a sunscreen stick on your face.
1. It's Mess-Free
Tired of sunscreen bottles exploding in your carry-on or gym bag?
If so, you're going to love using a sunscreen stick.
Since it comes in stick form, applying a sunscreen stick is much drier and far less messy compared to your typical sunscreen lotions and creams.
In other words, no more mess or globs of sunscreen getting everywhere except your skin.
GOT WRINKLES?
2. It's Lightweight
If you have acne-prone skin, you may be better off using a sunscreen stick for your face.
Unlike creams and lotions, which are great for dry skin, sunscreen sticks are lightweight and tend to benefit those who struggle with acne breakouts.
Then again, it all depends on the ingredients in your sunscreen product.
For instance, our daily SPF moisturizer is formulated for all skin types and won't cause acne breakouts.
3. Easier Application Around the Eyes
When it comes to protecting the delicate skin around the eyes, sunscreen sticks may have an advantage over traditional sunscreen and SPF moisturizers.
In a 2019 study published in PLOS, researchers found that individuals who used sunscreen and daily moisturizers with SPF tended to miss more of their face when applying sunscreen (see claim: "11.1% missed with sunscreen compared to 16.6% for SPF moisturizer. This difference was primarily due to decreased coverage of the eyelid regions…")
SPF moisturizer users in particular frequently missed the area around the eyes, which is prone to premature aging induced by sun exposure.
Sunscreen sticks have an advantage because they're easy to apply to small, targeted areas such as the eye region.
Regardless of which SPF product you're using, knowing how to apply it correctly is key to gaining proper sun protection.
Cons of Using a Sunscreen Stick on Your Face
Although sunscreen sticks are useful, they aren't for everyone.
Here are a few reasons why you may not want to jump aboard the sunscreen stick hype train.
1. Difficult to Spread Evenly
One annoying thing about sunscreen sticks is that you'll probably need to work a little harder to apply it.
Not only is it difficult to spread a sunscreen stick evenly on the skin, you'll also need to go over the same spot multiple times to ensure proper protection.
According to experts from the American Academy of Dermatology, you should take at least four passes on the same area with your sunscreen stick.
2. It Looks Like Deodorant
If you buy a sunscreen stick, don't be surprised when you accidentally swipe your deodorant on your face or your sunscreen stick on your armpits.
It happens—and it's annoying every time.
TAKE THE SKIN CARE QUIZ
3. It Goes on Clear
Sunscreen sticks tend to go on completely clear.
While some people may consider this an advantage (no white streaks!), it can also make it extremely difficult to know which areas you've already covered with sunscreen and which areas you may have missed.
After about 30 minutes in the sun, you'll probably find out exactly which spots you missed in a not-so-fun way.
The Takeaway
Most dermatologists will agree that the best SPF product for your face is one that you'll wear consistently.
For many, that product is a sunscreen stick, while for others, it's a moisturizer with SPF.
No matter which SPF product you choose, remember to follow the golden rules of sunscreen: apply more than you need and then reapply every two hours.
References
Lourenco, Elizabeth A. J., et al. "Application of SPF Moisturisers Is Inferior to Sunscreens in Coverage of Facial and Eyelid Regions." PLOS ONE, vol. 14, no. 4, Public Library of Science, Apr. 2019, p. e0212548. PLoS Journals.
American Academy of Dermatology
---
// © Copyright 2023 Tiege Hanley