Subscription
Shipping Address
Order Date

This subscription's skin care system will get replaced.

${ address.name }




${ address.products }

${ displaySubscriptionName(address) }




${ displayProducts(address) }

${ displayAddress(address) }
${ formatDate(address.scheduleDate) }

${ address.name ? address.name : displaySubscriptionName(address)}
${ address.products }
${ displayProducts(address) }
Shipping Address
${ displayAddress(address) }
Delivery Date
${ formatDate(address.scheduleDate) }
This subscription's skin care system will get replaced.
Retinol for Men: How Retinol Works in Our Anti-Aging Face Serum (March 2020)
Our anti-aging face serum is formulated for men to achieve age-defying skin. We explain how retinol can help you slow down the aging process and achieve maximum handsome.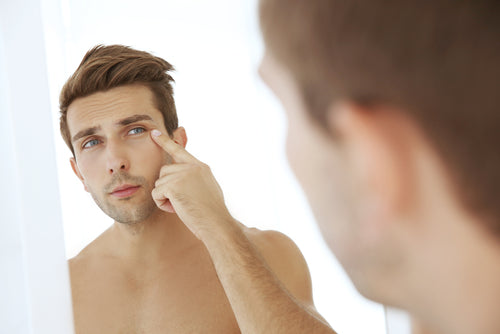 Men may not show signs of aging as early as women do, but deep lines and wrinkles can be unforgiving when they eventually appear.
To keep your youthful and handsome appearance for as long as possible, taking a proactive approach to your skin care is crucial.
Tiege Hanley's Facial Firming Serum for men is an anti-aging powerhouse.
The driving force behind our serum is none other than Retinyl Palmitate, the chemical form of retinol—aka Vitamin A.
What is retinol and why should men care? Here are three of the things you ought know about retinol for men:
Retinol is a powerful anti-aging ingredient that can promote cell turnover, improve skin tone and protect your skin from environmental damage.
Retinol isn't just for women. Today, men also want to age gracefully and preserve their handsome looks.
Tiege Hanley's anti-aging serum harnesses this ingredient to fight signs of aging. Our Facial Firming Serum is specially formulated for a man's skin to boost its effectiveness.
GOT WRINKLES?
What is Retinol?
Retinol is part of the retinoid family, a class of chemical compounds related to Vitamin A.
A powerful skin care ingredient, this multi-tasking superstar is found in all types of creams, serums and moisturizers—and for good reason.
Considered the gold standard of anti-aging products, retinol is far more than a simple wrinkle-fighter.
Retinol can also improve skin tone, revitalize dull skin and even shrink pores to minimize pimples.
It should be noted that retinoic acid is the active ingredient which is responsible for many of the skin care benefits that you'll see from using retinol-based products.
When applied, retinol is slowly converted within the skin to retinoic acid.
Retinol for Men in Tiege Hanley's SUPER SERUM
While retinol has made a name for itself in the skincare industry for more than 50 years, most guys don't hear about it for obvious reasons.
In the past, men didn't care about their skin—but a lot has changed in the last decade and average guys want great-looking skin, too.
With our SUPER SERUM, men can finally achieve a brighter, more youthful appearance without resorting to Botox or other intense anti-aging treatments.
Our serum uses Retinyl Palmitate, a derivative of retinol combined with palmitic acid.
Studies indicate that Retinyl Palmitate can increase collagen production and is useful in treating UV-damaged skin.
If you have sensitive skin, there is good news. Retinyl Palmitate is gentle on skin compared to pure retinol and you won't experience the same irritation that many people experience with prescription retinol products.
Of course, you'll still want to do a patch test on your skin with our SUPER SERUM to see how your skin reacts.
Start small and keep in mind that a slight tingly sensation is normal.
Actual Tiege Hanley Member Testimonial
"Being a personal trainer, looking great is part of my job. Had recent string of break outs that really took their toll on my skin and wanted a solution that was simple to follow. Enter Tiege Hanley. After using it since it started, the talks about my skin went from 'what happened to your skin"' to 'what are you doing with your skin, its looks amazing'. Love the AM moisturizer, as it helps keep my face hydrated and doesn't dry it out." Isaiah J. Whiting, IN
Take the skin care quiz
How Our Facial Firming Serum Works
Retinyl Palmitate works by using your body's natural enzymes to convert it into free retinol, which can boost collagen fiber production and reduce the appearance of wrinkles.
But this isn't the only ingredient in our serum that is hard at work.
Our SUPER SERUM is packed with antioxidants, vitamins and other powerful anti-aging ingredients that help you achieve glowing, ageless skin.
Although Retinyl Palmitate is our superstar ingredient, we added the following ingredients to our serum to make it an anti-aging powerhouse:
Sodium Hyaluronate  We added Sodium Hyaluronate in our serum for its ability to lock in moisture and keep the skin hydrated, smooth and supple.
This genius ingredient is key to diminishing the appearance of deep lines and wrinkles that stem from water loss.
Green Tea Extract  Green Tea Extract is well-known for its skin benefits.
In addition to its anti-inflammatory and anti-carcinogenic properties, green tea extract is loaded with antioxidants which combat signs of aging when applied topically.
Apricot Extract  Apricot Extract has long been used for its anti-inflammatory and antioxidant effects.
Packed with vitamins and minerals, Apricot Extract works to nourish and repair the skin.
Best of all, our firming serum is fragrance-free. If you have sensitive skin, our serum can reduce signs of aging without irritating your face.
Retinol to the Rescue
What man doesn't want to age gracefully?
Whether you want to prevent wrinkles before they happen or want to tighten up existing lines and wrinkles, incorporating retinol into your skin care routine can give your face a smoother, tighter appearance.
Our SUPER SERUM is formulated specifically for a man's skin to boost its efficacy. Its ingredients can penetrate deep into the skin to halt signs of aging and restore your handsome look.
Ready to level up your skin care? Check out our Level 3 Skin Care System (which includes our SUPER SERUM) and achieve maximum handsome today!
---
// © Copyright 2023 Tiege Hanley