Subscription
Shipping Address
Order Date

This subscription's skin care system will get replaced.

${ address.name }




${ address.products }

${ displaySubscriptionName(address) }




${ displayProducts(address) }

${ displayAddress(address) }
${ formatDate(address.scheduleDate) }

${ address.name ? address.name : displaySubscriptionName(address)}
${ address.products }
${ displayProducts(address) }
Shipping Address
${ displayAddress(address) }
Delivery Date
${ formatDate(address.scheduleDate) }
This subscription's skin care system will get replaced.
Sit-Ups vs. Crunches – Which Is Better?
Want sexy, sculpted abs? Learn about the pros and cons of sit-ups vs. crunches and find out which one is best for a strong core. The answer may surprise you.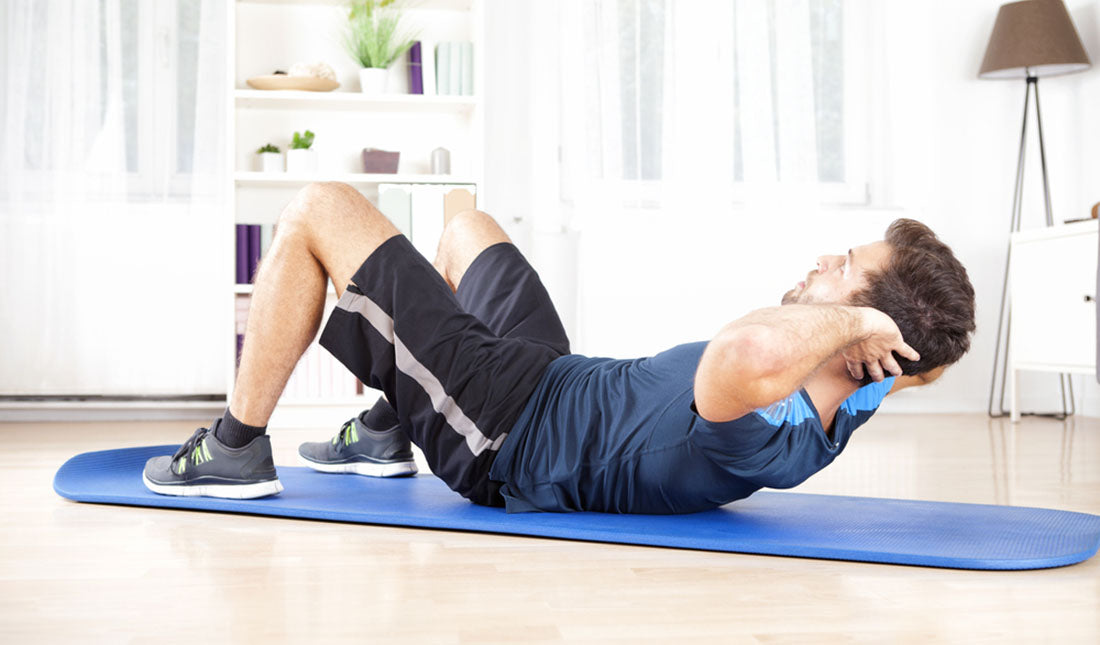 Everyone wants a strong, sculpted core.
But what is the best ab exercise to get a tightened mid-section–sit-ups or crunches?
If you want better core strength and a healthy spine, the answer may surprise you.
Before we dive in, here are three things you should know about sit-ups vs. crunches:
Crunches exclusively strengthen your abdominal muscles, while sit-ups strengthen your abs, hip flexors, chest, neck and other muscles.
Both sit-ups and crunches have come under scrutiny for putting strain on the lower back.
For a stronger core, consider replacing crunches and sit-ups with planking, hanging leg lifts and oblique band rotations.
Sit-Ups
Sit-ups are a classic abdominal exercise that targets not only your lower abs, but also your chest, neck, hip flexors and obliques.
How to do a sit-up:
Lie down on the ground with your back to the floor.
Keep your knees bent and place your arms across your chest or behind your head.
Bring your upper torso toward your knees and then slowly lower yourself back down to the floor.
Pros of Sit-Ups
Sit-ups target your abdominal muscles and other stabilizing muscles, making it both an effective workout and an efficient use of your time.
When performed correctly, they can help improve core strength and posture.
Cons of Sit-Ups
Sit-ups have come under fire from medical professionals and fitness experts in recent years.
One of the main concerns with sit-ups is the strain they can put on the lower back and neck.
A lot of people perform sit-ups incorrectly, which can increase the risk of spinal injuries.
Research has also shown that sit-ups aren't nearly as effective as other core-stabilizing exercises.
CONTROL EYE BAGS
A 2015 study published in the Journal of  Science and Medicine in Sport tested a variety of core exercises and concluded that planking was the most effective core-strengthening exercise (see claim: "Among the four workouts investigated, the hip abduction in plank with suspension was found to have the strongest potential strengthening effect on core muscles.")
Another point worth mentioning is that sit-ups can't spot-reduce belly fat (FYI, neither can crunches).
If you want to get an enviable core, you need to incorporate high-intensity exercises and eat a healthy diet.
Crunches
Crunches are another popular abdominal exercise that can improve core strength and help you build muscle.
This exercise primarily works your rectus abdominus muscle and obliques.
To do a crunch:
Get in the same starting position as you would a sit-up.
Stabilize your core by pulling your belly button towards your spine.
Slowly bring your shoulder blades forward while contracting your abdominal muscles.
Hold the position at the top for a two seconds before slowly lowering yourself back down.
Pros of Crunches
The main benefit of crunches is that they can give you a targeted core workout by isolating your ab muscles.
This can help you build greater endurance in your abdominal region.
Crunches can also improve your posture, flexibility and mobility.
Cons of Crunches
Unlike sit-ups which engage multiple muscle groups, crunches exclusively work your core, resulting in a less efficient workout.
And while they're slightly more forgiving on the spine compared to sit-ups, crunches can still put unnecessary strain on the lower back. 
Sit-Ups vs. Crunches: What Do Experts Recommend?
In the battle between sit-ups vs. crunches, which exercise comes out on top?
The general consensus among experts: neither.
While it's true that sit-ups and crunches can work your abdominal muscles, there are better far better ways to work your core.
In fact, it's one of the reasons why the U.S. Army is currently in the process of phasing out sit-ups from their Army Physical Fitness Test.
TAKE THE SKIN CARE QUIZ
In a 2009 study published in Medicine and Science in Sports and Exercise, researchers found that soldiers who underwent core stabilization exercise programs performed better on the sit-up test than soldiers who practiced sit-ups alone (see claim: "However, CSEP resulted in a significant improvement in sit-up passing rates by 5.6% compared with 3.9% for the TEP group (P = 0.004).")
Other evidence has come out downplaying the need for traditional ab exercises.
In a 2013 systematic review published in the Journal of Strength and Conditioning Research, researchers combed through scientific databases and concluded that multi-joint free weight exercises were superior to core-specific exercises for building core muscles in athletes (see claim: "The available evidence suggests that strength and conditioning specialists should focus on implementing multi-joint free weight exercises, rather than core-specific exercises, to adequately train the core muscles in their athletes and clients.")
Thus, if you want to build a stronger core, you may want to skip sit-ups and crunches altogether.
Instead, focus on effective core exercises such as planking, hanging leg lifts and oblique band rotations.
Each of these exercises are safe for your spine and target a wider range of muscles.
Final Verdict
In the face-off between crunches vs. sit-ups, neither abdominal exercise comes out the clear winner.
If you want to build a strong core, you're better off doing planks and free weight exercises that target multiple muscles.
Combine your core exercises with a healthy diet and you'll have toned abs in no time.
Want sexy skin to match?
Get on one of Tiege Hanley's skin care systems and you can get clear skin within a matter of weeks.

References
Mok, Nicola W et al. "Core muscle activity during suspension exercises." Journal of science and medicine in sport vol. 18,2 (2015): 189-94.
Childs, John D et al. "Effects of sit-up training versus core stabilization exercises on sit-up performance." Medicine and science in sports and exercise vol. 41,11 (2009): 2072-83.
Martuscello, Jason M et al. "Systematic review of core muscle activity during physical fitness exercises." Journal of strength and conditioning research vol. 27,6 (2013): 1684-98.
---
// © Copyright 2023 Tiege Hanley