Subscription
Shipping Address
Order Date

This subscription's skin care system will get replaced.

${ address.name }




${ address.products }

${ displaySubscriptionName(address) }




${ displayProducts(address) }

${ displayAddress(address) }
${ formatDate(address.scheduleDate) }

${ address.name ? address.name : displaySubscriptionName(address)}
${ address.products }
${ displayProducts(address) }
Shipping Address
${ displayAddress(address) }
Delivery Date
${ formatDate(address.scheduleDate) }
This subscription's skin care system will get replaced.
How Men Can Treat & Prevent Those Small Forehead Bumps
Can't figure out how to get rid of those frustrating bumps on your forehead? Find out what's causing them and how to get rid of forehead bumps for good.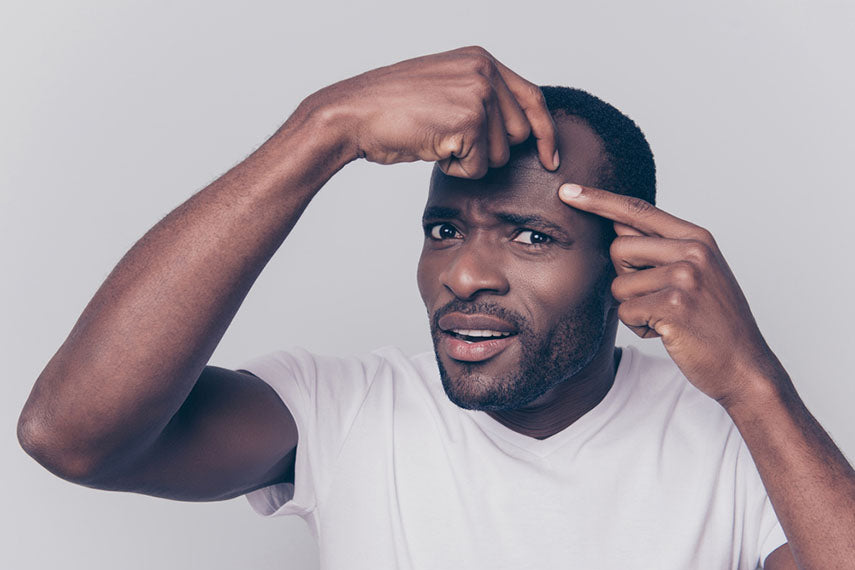 Small bumps on the forehead are a common frustration for a lot of guys. While they may not be as noticeable as regular acne, these annoying bumps never seem to disappear and can last for months. Are your tiny forehead bumps acne, or are they something else? More importantly, how can you get rid of them for good?
Here are several things you need to know to finally get rid of the small bumps on your forehead:
The tiny bumps on your forehead could be subclinical acne, pomade acne or acne mechanica.
Subclinical acne can be difficult to treat and is often misdiagnosed by dermatologists.
Effective forms of treatment for forehead bumps include a regular skin care regimen and a powerful beta-hydroxy acid (BHA) such as Salicylic Acid.
What Are the Small Bumps on My Forehead?
Before you can successfully treat your small bumps, you first need to know what they are. Although they can be difficult to diagnose, there are three common causes for small bumps along on the forehead.
Subclinical Acne—Perhaps the most likely cause behind your small bumps is a form of acne called subclinical acne. This form of acne is caused by a buildup of dead skin cells and oil blocking the pores on your forehead. The bumps are usually flesh-colored and can be caused by factors such as stress, diet and pore-clogging skin care products.
Pomade Acne—Does your hair fall across your forehead? Tiny bumps on the forehead could be something called pomade acne, which occurs when hair gel products clog your pores. Pomades often contain pore-clogging oils and waxy substances that can cause tiny pimples to appear along your hairline.
Acne Mechanica—Acne mechanica can also appear in the form of tiny bumps. This type of acne is the result of heat and friction caused by tight clothes, hats, helmets and other gear that presses against the skin. According to a 1992 study published in Cutis, researchers noted that acne mechanica was especially common in athletes due to the heat, pressure and friction of the skin caused by working out in tight uniforms (see claim: "Athletes in certain sports are at particular risk for this condition.") If you wear hats often, try going without them for a week to see if it reduces your bumps.
Hormones—Hormone fluctuations caused by diet and stress have been shown to trigger acne breakouts in specific facial regions. According to a 2017 study published in Clinical, Cosmetic and Investigational Dermatology, researchers found that increased stress was strongly associated with acne severity in medical students. (see claim: "…concluded that stress positively correlates with acne severity.")
Try Men's Skin Care
How to Treat Small Bumps on the Forehead
It's important to point out that your forehead bumps may be the result of a combination of factors. Even with multiple causes, there are a few effective methods that can help you finally banish those annoying bumps for good.
Adopt a Skin Care Regimen— First, get a men's skin care kit if you haven't done so yet. Just note that you don't need to over-scrub or over-wash to get rid of your bumps. When dealing with stubborn forehead bumps, go easy with your skin care products.
Reach for Beta-Hydroxy Acids—Beta-hydroxy acids such as Salicylic Acid are your skin's secret weapon for both acne and aging because they help promote cell turnover. BHAs are lipid-soluble, which means that they are especially effective at penetrating a guy's oily skin to combat acne. According to a 2012 study published in the Journal of Natural Pharmaceutical Products, they also have proven anti-inflammatory effects and are less irritating compared to alpha hydroxy acids (see claim: "…anti-inflammatory effect of BHAs (e.g., Salicylic Acid), the skin irritancy effect of them have also been proved to be less than AHAs.")
Ditch Bad Habits—An acne treatment system containing Salicylic Acid may not be enough to fully banish your forehead bumps. To get rid of your bumps for good, you may need to make a few lifestyle changes as well. This includes eating a skin-healthy diet, quitting a bad smoking habit and getting regular exercise to lower your stress level.
Take the skin care quiz
Say Goodbye to Forehead Bumps
While tiny forehead bumps can be difficult to eradicate completely, they will eventually go away with consistent treatment. With a powerful acne cream with Salicylic Acid, you'll be on your way to saying goodbye to those pesky bumps.
Have you tried Tiege Hanley's dermatologist-recommended Acne Treatment System? Our system contains Salicylic Acid that is proven to reduce blemishes and prevent future acne breakouts. Give it a try and tell us what you think in the comments section below!
References
Zari S, Alrahmani D. The association between stress and acne among female medical students in Jeddah, Saudi Arabia. Clin Cosmet Investig Dermatol. 2017;10:503–506.
Moghimipour, Eskandar. "Hydroxy Acids, the Most Widely Used Anti-Aging Agents." Jundishapur Jornal of Natural Pharmaceutical Products, vol. 6, no. 2, Jan. 2012, pp. 9–10., doi:10.5812/kowsar.17357780.4181.
---
// © Copyright 2023 Tiege Hanley