Subscription
Shipping Address
Order Date

This subscription's skin care system will get replaced.

${ address.name }




${ address.products }

${ displaySubscriptionName(address) }




${ displayProducts(address) }

${ displayAddress(address) }
${ formatDate(address.scheduleDate) }

${ address.name ? address.name : displaySubscriptionName(address)}
${ address.products }
${ displayProducts(address) }
Shipping Address
${ displayAddress(address) }
Delivery Date
${ formatDate(address.scheduleDate) }
This subscription's skin care system will get replaced.
Subclinical Acne: Definition, Causes and How to Treat (November 2019)
Subclinical acne takes the form of flesh-colored bumps that can be difficult to treat. Learn the causes and treatment options for subclinical acne from Tiege Hanley!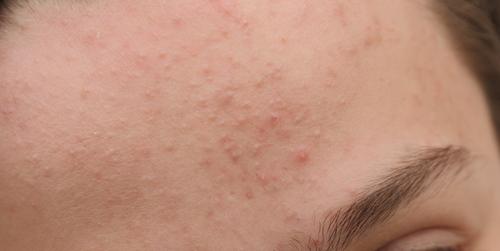 So, you keep waking up to acne all over your forehead. After weeks of trying to get rid of these stubborn, flesh-colored bumps, nothing seems to work.
In fact, what you may be struggling with is something called subclinical acne. This special type of acne doesn't take the usual form of whiteheads and blackheads but appears instead as small bumps which have no head.
What is subclinical acne and how can you treat it? Here are three things you ought to know:
Subclinical acne is a special type of acne that appears as small, flesh-colored bumps on the skin.
Causes of subclinical acne include poor hygiene, genetics and hormones.
To effectively treat subclinical acne, you may need to rethink your daily skin care routine.
What Is Subclinical Acne?
In medical speak, "subclinical" means a disease which doesn't yet have discernable signs and symptoms. Subclinical acne refers to a stage of acne which hasn't yet become full-blown acne vulgaris.
Subclinical acne is considered a precursor to regular acne and appears most commonly on the forehead. These stubborn bumps blend in with your skin and may look like mild nodules.
GOT ACNE?
They are often mixed in with a few pus-filled pimples, which can make this diagnosis tricky even for well-trained dermatologists. In fact, a 2016 study published in the Journal of Dermatologic Clinics found that these tiny bumps are commonly mistaken for something called Malassezia folliculitis (see claim: "Certain disorders may simulate [acne vulgaris] AV, such as…Malassezia folliculitis…")
While these bumps may not be red or painful to the touch, they can still be a major confidence killer. Read on to learn the causes and treatment options for subclinical acne.
What Causes Subclinical Acne?
Subclinical acne is a result of clogged pores caused by the usual suspects: hormones, genetics and poor hygiene. Let's take a closer look at the most common causes of subclinical acne:
Poor Hygiene—Rushing through your morning routine, failing to wash up after the gym and other poor hygiene practices can result in subclinical acne and full-blown acne.
Stress—While scientists aren't entirely certain how stress worsens acne, we do have reason to believe that it can contribute to your acne. A 2017 study published in the Journal of Dermato-Endocrinology suggested that sebocytes (oil-producing cells) contain stress receptors for hormones, which may increase sebum production when you're feeling stressed (see claim: "…CRH peptide and its mRNA was also detected in cultured sebocytes, suggesting a possible autocrine effect in the regulation of sebaceous functions.")
Diet—Eating processed foods high in sugar and carbohydrates can spike insulin levels, resulting in a sudden breakout. Subclinical acne can also be made worse by milk or other dairy products in those who develop lactose intolerance.
Skin Care Products—Pore-clogging products can significantly worsen those pesky bumps across your forehead. One of the most common pore-clogging products is sunscreen. But don't ditch the sun protection! Instead, switch to a daily moisturizer with SPF to reduce your risk of skin cancer.
Take the skin care quiz
Best Treatment Options for Subclinical Acne
How can you treat and prevent subclinical acne? If you've tried lowering your stress levels, upped your hygiene and switched to an acne-friendly diet, you're on the right track.
However, there are other ways to combat these frustrating little bumps. One of the most effective ways to start treating your subclinical acne is by taking a closer look at your daily skin care regimen.
Facial Cleanser—Start each day with a gentle facial cleanser for men. Tiege Hanley's facial cleanser is specifically designed for all skin types and made using high-quality ingredients.
Exfoliating Scrub—A facial scrub is essential for removing dead skin cells and oil buildup on the skin. Use a men's facial scrub twice per week to keep skin blemish-free (read more here about how to use exfoliating scrub).
Moisturizer—After each wash, follow up with a men's daily moisturizer that won't clog your pores. Stay clear of facial moisturizers with heavy oils such as coconut oil or shea butter.
Salicylic Acid—To treat your subclinical acne, use an acne cream containing Salicylic Acid. Derived from willow bark, Salicylic Acid is antibacterial and naturally exfoliates your pores to prevent future acne breakouts.
When treating your subclinical acne, it's important that you resist the urge to pick at your bumps. These flesh-colored bumps won't "pop" like a traditional zit and your attempts will only result in potential acne scarring.
Combating Subclinical Acne
If switching up your daily skin care regimen didn't get rid of your subclinical acne, it may be time to see a dermatologist. They can prescribe you medication (such as a powerful retinoid) that may finally eliminate those annoying bumps for good.
References:
PubMed.gov: When Acne is Not Acne
US National Library of Medicine: Recent advances in the endocrinology of the sebaceous gland
---