Subscription
Shipping Address
Order Date

This subscription's skin care system will get replaced.

${ address.name }




${ address.products }

${ displaySubscriptionName(address) }




${ displayProducts(address) }

${ displayAddress(address) }
${ formatDate(address.scheduleDate) }

${ address.name ? address.name : displaySubscriptionName(address)}
${ address.products }
${ displayProducts(address) }
Shipping Address
${ displayAddress(address) }
Delivery Date
${ formatDate(address.scheduleDate) }
This subscription's skin care system will get replaced.
6 Tips to Get Rid of Smelly Armpits
Everyone has stinky armpits at some point. Find out how to combat the stink and get rid of smelly armpits with these six expert tips!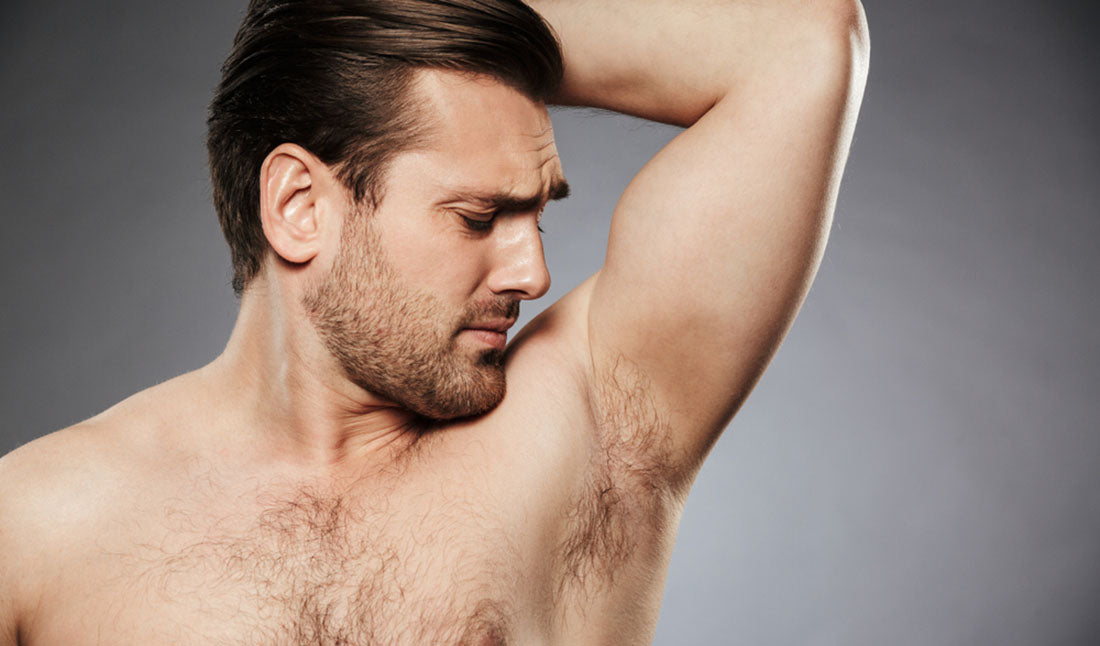 Struggling to control your smelly armpits? If it makes you feel any better, you aren't the only one.
Armpits are warm, dark and moist. Basically, they're the perfect place for odor-causing bacteria to thrive.
Your armpits are also home to special sweat glands called apocrine glands which produce sweat high in protein. As this protein is broken down by bacteria, it releases an unpleasant smell known as body odor (BO).
It's easy to feel self-conscious about the smell coming from your armpits. Luckily, there are a few things you can do to combat the stink.
Here are three things you should know about smelly armpits:
Guys have more apocrine glands under the armpits which can lead to unpleasant odor.
You are what you eat: Certain foods can make armpits smell worse.
Washing your armpits daily and using a men's deodorant can help combat smelly armpits.
Tired of dealing with stinky armpits? Here are six tips to help you stop the stink once and for all.
1. Wash Your Armpits Regularly
Though it may seem obvious to you, some guys just need to a friendly reminder to scrub underneath their armpits in the shower. To be perfectly fair, the armpits are common to overlook when you're in a rush to get through your daily morning routine.
Washing your armpits every day with a men's body wash is an essential step to combating stink. With an antibacterial body wash, you can wipe out odor-causing bacteria and keep your pits smelling fresher for longer.
CONTROL EYE BAGS
2. Use Deodorant or Antiperspirant
A lot of people use deodorant and antiperspirant interchangeably, but they function in two distinct ways. Deodorant masks the unpleasant smell of BO, while antiperspirant blocks the sweat glands.
Recall that body odor is caused by bacteria breaking down proteins in sweat. So, if you suffer from excessive sweating, an antiperspirant may be the best choice because it will reduce how much you sweat.
However, let's say you struggle with smelly armpits without excessive sweating. In this case, using a daily men's deodorant is probably the better option.
3. Cut Back on Spicy Foods
It's not just your imagination—your armpits do smell worse after eating a spicy meal. When you eat high amounts of spicy foods such as curry and garlic, the odorous compounds they contain can be excreted through your sweat glands.
If you want to smell better and possibly land a date, eat more fruits and vegetables instead. According to a 2017 study published in Evolution and Human Behavior, male subjects who ate more fruits and vegetables were associated with more pleasant smelling sweat and a healthy, facial glow, which increased their attractiveness to women (see claim: "…greater fruit and vegetable intake, was significantly associated with more pleasant smelling sweat…")
4. Wear Moisture-Wicking Tops
You've probably figured it out by now: Less sweat means less odor-causing bacteria. Wearing moisture-wicking tops is key to allowing sweat on your skin to evaporate and keeping odorous smells under control.
The next time you go shopping for clothes, look for breathable shirts made from cotton, polyester, linen or merino wool. These fabrics are all moisture-wicking and will stand the best chance at handling sweat. As an added bonus, your new shirts may help you combat sweat pimples on your chest and back.
5. Go Shirtless for Bedtime
If you go to sleep fully clothed, try ditching your shirt. In addition to preventing night sweats, sleeping shirtless can also help reduce moisture (and thus, odor-causing bacteria) by "airing out" your pits.
To reap even greater health benefits, consider sleeping completely in the buff. Sleeping naked can help lower your body temperature, which is key to improving the quality of your sleep.
Take the skin care quiz
6. Trim or Shave Your Armpits
Though you may have heard that shaving body hair has no effect on a person's body odor, we'd like to kindly refute that. At least, if we're talking about armpit hair specifically, the science doesn't lie.
According to a 2016 study published in the Journal of Cosmetic Dermatology, guys who shaved or waxed their armpits noticed a significant improvement in their armpit odor compared to guys who only used soap to wash their underarm area (see claim: "Both shaving and waxing followed by SW resulted in an immediate, significant reduction in axillary odor compared with SW alone.")
If you're going to trim or shave your hair, ditch the razor blade for your electric shaver instead. It's far gentler on the skin and will reduce razor burn and/or painful ingrown hairs.
Wrapping Up
After putting these tips into action, you should notice an improvement to your armpit stink. If you're still struggling with smelly armpits, see a doctor to rule out underlying medical conditions that are contributing to excessive sweat and stink.
---