Subscription
Shipping Address
Order Date

This subscription's skin care system will get replaced.

${ address.name }




${ address.products }

${ displaySubscriptionName(address) }




${ displayProducts(address) }

${ displayAddress(address) }
${ formatDate(address.scheduleDate) }

${ address.name ? address.name : displaySubscriptionName(address)}
${ address.products }
${ displayProducts(address) }
Shipping Address
${ displayAddress(address) }
Delivery Date
${ formatDate(address.scheduleDate) }
This subscription's skin care system will get replaced.
4 Sunscreen Ingredients to Avoid
Need SPF and not sure which sunscreen ingredients to avoid? Get the scoop on some of the more worrisome ingredients in your sunscreen.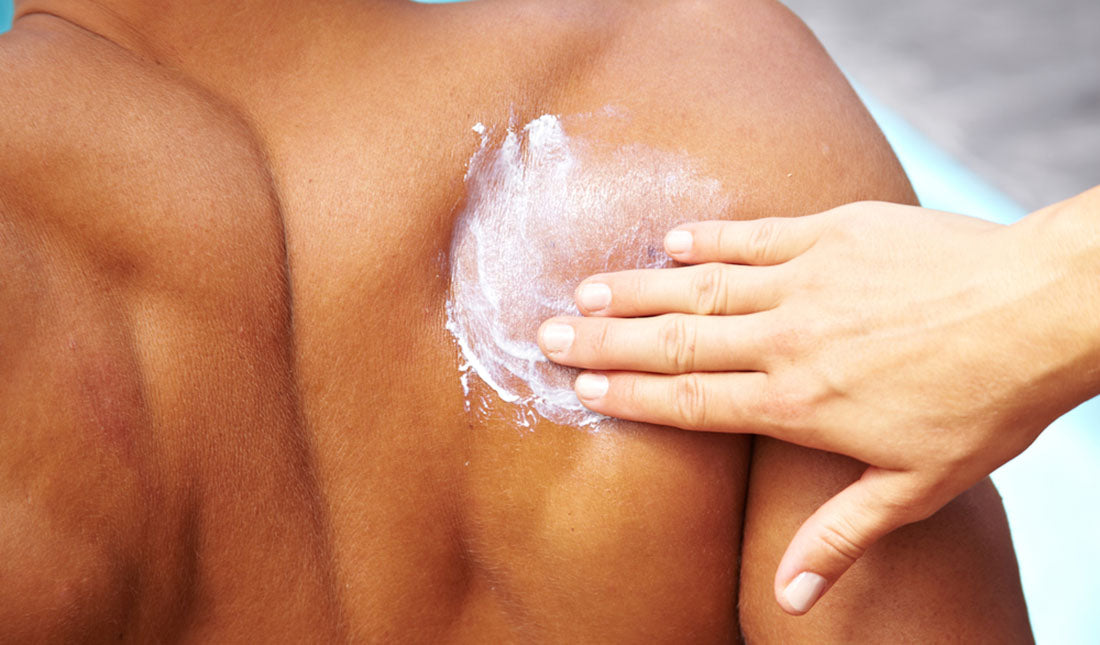 Every skin care expert has a trick or two up their sleeve for achieving flawless skin.
As for ours? Slather on the sunscreen every day without fail.
Besides keeping you wrinkle-free for as long as possible, a daily SPF will reduce your risk of skin cancer, including deadly melanomas.
Of course, not all sunscreens are created equal.
The FDA has raised safety concerns about some of the ingredients in sunscreen, and it's making some people hesitant to slather on the sun protection.
Let's face it, staying indoors and avoiding UV light altogether is hard to do.
A better strategy is to figure out which sunscreen ingredients to avoid and what to look for instead so you can feel good about wearing it daily.
To help you find the best sunscreen for your skin, we did the research and came up with four sunscreen ingredients to avoid.
Before we get to them, here are three things you should know about sunscreen ingredients:
Oxybenzone and Ecamsule can be absorbed through the skin; however, researchers don't know the health implications of this.
Parabens are preservatives that have been studied for their link to breast cancer.
Mineral and chemical sunscreens are safe for everyday use.
The best SPF for your skin is one that you'll feel good about using every day. No matter what you choose, your face should always be covered, which is why we suggest using a facial moisturizer with SPF.
Before you smear on the sunscreen this summer, here are four sunscreen ingredients to avoid.
1. Oxybenzone
Oxybenzone is one of the more popular ingredients in chemical sunscreens and the most worrisome.
It works as a penetration enhancer, meaning it helps other active ingredients in sunscreen penetrate the skin to increase sun protection.
Oxybenzone has been found in human breast milk, urine, amniotic fluid and blood plasma, making some experts concerned it could be a hormone disruptor.
However, there is no conclusive evidence to support this claim.
What is true, however, is that oxybenzone can be absorbed into the skin.
In a 2019 study published in the Journal of the American Medical Association (JAMA), researchers found that oxybenzone is one of four active ingredients that can be absorbed through the skin (see claim: "For oxybenzone, the corresponding values were 209.6 ng/mL (66.8%) for spray 1, 194.9 ng/mL (52.4%) for spray 2, and 169.3 ng/mL (44.5%) for lotion…")
It's important to point out that scientists don't know the short- or long-term effects of sunscreen ingredients being absorbed through the skin.
But if it makes you nervous, go ahead and find a sunscreen that doesn't contain oxybenzone.
GOT WRINKLES?
2. Retinyl Palmitate
Retinyl Palmitate, or Vitamin A Palmitate, is widely used in anti-aging skin care products to reduce wrinkles and fine lines.
Its main purpose in sunscreen is to protect the skin from the aging effects of the sun.
Makes perfect sense, right?
The only problem is that this potent antioxidant may not play nice with sunlight.
Some experts have voiced concern that vitamin A and its derivatives can react with sunlight and increase the development of skin tumors.
However, a 2010 study published in the Journal of the American Academy of Dermatology concluded that there was no evidence to support the claim that Retinyl Palmitate is photocarcinogenic (see claim: "conclude that there is no evidence that the inclusion of RP in sunscreens is photocarcinogenic in human beings.")
It's also worth noting that Retinyl Palmitate is one of the least powerful retinoids out there.
Even so, you might want to save this ingredient for your facial firming serum rather than your sunscreen.
3. Ecamsule
Ecamsule (trade name Mexoryl SX) is a UV absorber and commonly found in many sunscreen products, particularly in Europe.
The patent for Mexoryl SX is currently held by L'Oreal and its brands.
Ecamsule only blocks UVA rays, which is why you'll almost always see it combined with other chemical ingredients to stabilize and enhance its abilities.
It's also one of the four ingredients that was singled out for its potential to be absorbed through the skin.
Additionally, Ecamsule is an acid that must be neutralized to avoid offsetting the sunscreen's pH.
This is commonly done with triethanolamine, an organic compound that has been known to cause contact allergies (see claim: "Triethanolamine is used as an emulsifier in many topical preparations and is an infrequent cause of contact allergy.")
TAKE THE SKIN CARE QUIZ
4. Parabens
Introduced in the 1950s, parabens are a type of preservative that is used to prolong the shelf life of sunscreen and other skin care products.
Some research suggests that parabens could be a potential hormone disruptor (see claim: "Paraben metabolites may play a role in the endocrine disruption seen in experimental animals...")
Parabens can enter the skin and act as estrogen, leading to the development of breast cancer cells.
The main ones you need to watch out for are butylparaben, methylparaben and propylparaben.
Practicing Safe Sun
Nope, it's not just you. Choosing a sunscreen is a lot harder these days.
With so much conflicting research out there, it can be difficult to separate fact from fiction.
But with a little detective work and considering your individual skin care needs, you can make a decision that's right for your skin.
References
Matta, Murali K., et al. "Effect of Sunscreen Application Under Maximal Use Conditions on Plasma Concentration of Sunscreen Active Ingredients: A Randomized Clinical Trial." JAMA, vol. 321, no. 21, American Medical Association, June 2019, pp. 2082–91.
Wang, Steven Q., et al. "Safety of Retinyl Palmitate in Sunscreens: A Critical Analysis." Journal of the American Academy of Dermatology, vol. 63, no. 5, Elsevier, Nov. 2010, pp. 903–06.
Hamilton, Tiffani K., and Kathryn A. Zug. "Triethanolamine Allergy Inadvertently Discovered from a Fluorescent Marking Pen." American Journal of Contact Dermatitis, vol. 7, no. 3, Sept. 1996, pp. 164–65.
---
// © Copyright 2023 Tiege Hanley