Subscription
Shipping Address
Order Date

This subscription's skin care system will get replaced.

${ address.name }




${ address.products }

${ displaySubscriptionName(address) }




${ displayProducts(address) }

${ displayAddress(address) }
${ formatDate(address.scheduleDate) }

${ address.name ? address.name : displaySubscriptionName(address)}
${ address.products }
${ displayProducts(address) }
Shipping Address
${ displayAddress(address) }
Delivery Date
${ formatDate(address.scheduleDate) }
This subscription's skin care system will get replaced.
The Best Anti-aging Cream for Men
The best defense against aging skin is a good offense. SUPER SERUM uses Peptides, Retinyl Palmitate, and Sodium Hyaluronate to enhance exfoliation, soften wrinkles, and tighten the skin.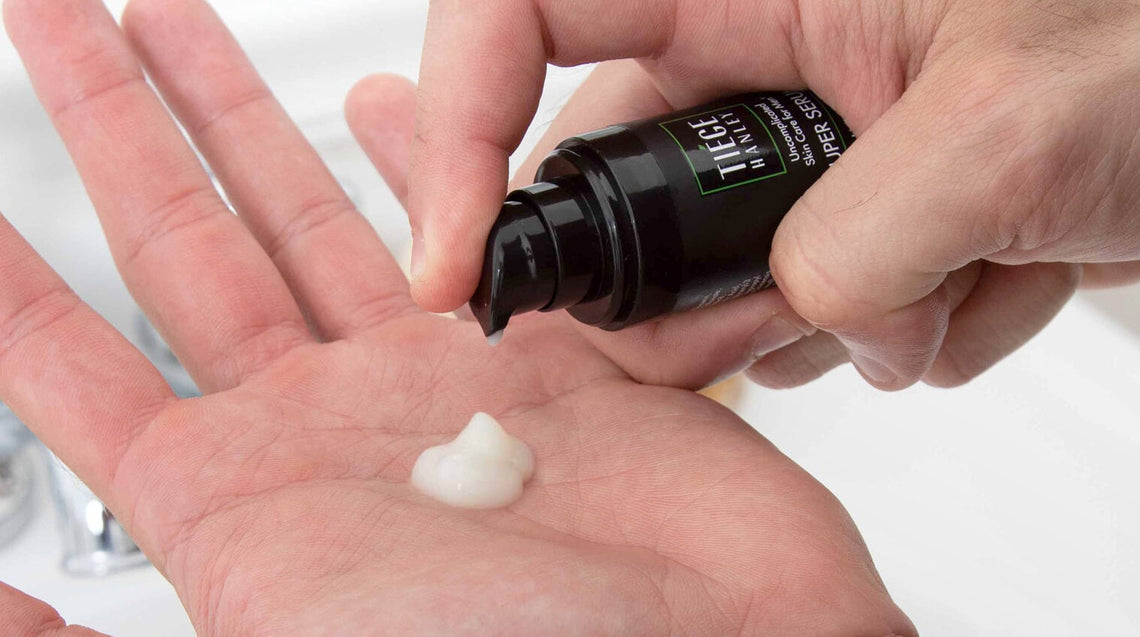 Aging is part of every man's life. Some men first spot it in their hair when rich browns and blacks swap with the wisdom of grey. Some first begin to feel it in their body as joints and limbs begin to ache. Still some men see it in their skin, as years of hard work and experience begin to deepen crow's feet and laugh lines on their faces. And for every sign of aging, there's a remedy to help slow its march forward: hair dye, working out, or vitamin supplements.
It's popular to say that men age like fine wines — they improve and become more appealing over time. While this may be true in some cases, it doesn't mean they can ignore routine maintenance. For men to age like fine wine (rather than unrefrigerated milk), it's essential to incorporate anti-aging products into their skin care regimen.
Fortunately, for men struggling with signs of aging on their faces, both anti-aging creams and serums help slow down the clock.
What is Anti-aging Cream?
Anti-aging cream is a moisture-based skin cream specifically designed to minimize the appearance of lines and wrinkles. Various anti-aging creams use different ingredients to achieve this goal, but most will include ingredients — such as peptides — aimed at increasing collagen production.
What is Face Serum?
Face serum is a lightweight skin care product with a high concentration of active ingredients. Face serums are quickly absorbed into the skin, so they're best used after a facial cleansing but before applying a moisturizer. 
If men want to use a face serum to reduce the appearance of fine lines and wrinkles, the serum should contain retinyl palmitate — an active ingredient that boosts the production of collagen fibers.
What's the Difference Between Cream and Serum?
The main difference between cream and serum is the formulation. Creams have moisturizing ingredients, such as mineral oil, that prevent water from evaporating, which helps moisturize skin. Serums lack these ingredients like this, are more water-based, and have more concentrated active ingredients. Face serum for men tends to work best with oily skin, while wrinkle cream for men is more geared towards dry skin.
Research has shown that using both a face serum for men and a daily moisturizer helps maximize the benefits of proper skin care.
Will a Face Serum Completely Eliminate My Wrinkles?
Sadly, it's unlikely that any combination of products on the market will completely eliminate wrinkles. Aging is inevitable, but with the right products and consistent care, face serum for men can considerably reduce the appearance of wrinkles.
SUPER SERUM by Tiege Hanley is designed to do just that. It works to bring out more youthful-looking looking skin by using Peptides, Retinyl Palmitate, and Sodium Hyaluronate to enhance exfoliation, soften wrinkles, and tighten the skin. It also helps prevent deep crow's feet in men by subduing muscle contractions that cause wrinkles.
What's the Best Way to Prevent Skin From Prematurely Aging?
The best defense is a good offense. Men who want to halt the aging of their skin need to think about what causes wrinkles.
First and foremost, an anti-aging skin care regimen should be established. The sun damages the skin, so wearing sunscreen is paramount in slowing down the aging process. Muscle contractions also cause wrinkles, so using an anti-aging cream or serum for men that subdues contractions will help stop wrinkles before they start.
Here are some other good offensive moves to stop wrinkles.
Use a proper facial cleanser
Exfoliate once or twice a week
Moisturize regularly
Use a facial-firming serum
Directly address crow's feet with an eye cream for men
When Should Men Begin an Anti-aging Skin Care Regimen?
The short answer to this question is "as soon as possible." While teenagers don't have to worry about prematurely aging, research shows that skin begins to age in a person's 20s. Although it's never too late to start an anti-aging skin care regimen, it can be difficult to undo once the damage is done. That's why it's important to begin a healthy skin care regimen before the signs of aging appear.
Try a Skin Care Routine
Make Tiege Hanley's SUPER SERUM Part of Your Anti-aging Regimen
Tiege Hanley's SUPER SERUM is a highly effective and affordable firming face serum for men that is designed to help slow the aging process. Tiege Hanley is dedicated to assisting men in developing and maintaining healthy skin care regimens that will help them look their best throughout their lives.
Tiege Hanley's SUPER SERUM perfectly fits into the Level 3 Skin Care System by pairing with EYES — Teige Hanley's signature eye cream — to ensure that men's skin is healthy and radiant for years to come.
---
// © Copyright 2023 Tiege Hanley