Subscription
Shipping Address
Order Date

This subscription's skin care system will get replaced.

${ address.name }




${ address.products }

${ displaySubscriptionName(address) }




${ displayProducts(address) }

${ displayAddress(address) }
${ formatDate(address.scheduleDate) }

${ address.name ? address.name : displaySubscriptionName(address)}
${ address.products }
${ displayProducts(address) }
Shipping Address
${ displayAddress(address) }
Delivery Date
${ formatDate(address.scheduleDate) }
This subscription's skin care system will get replaced.
Anti-Aging Skin Care Regimen for Men
Who says anti-aging for men needs to be complicated? Find out how to keep wrinkles, fine lines and dark spots at bay with a simple skin care routine for men.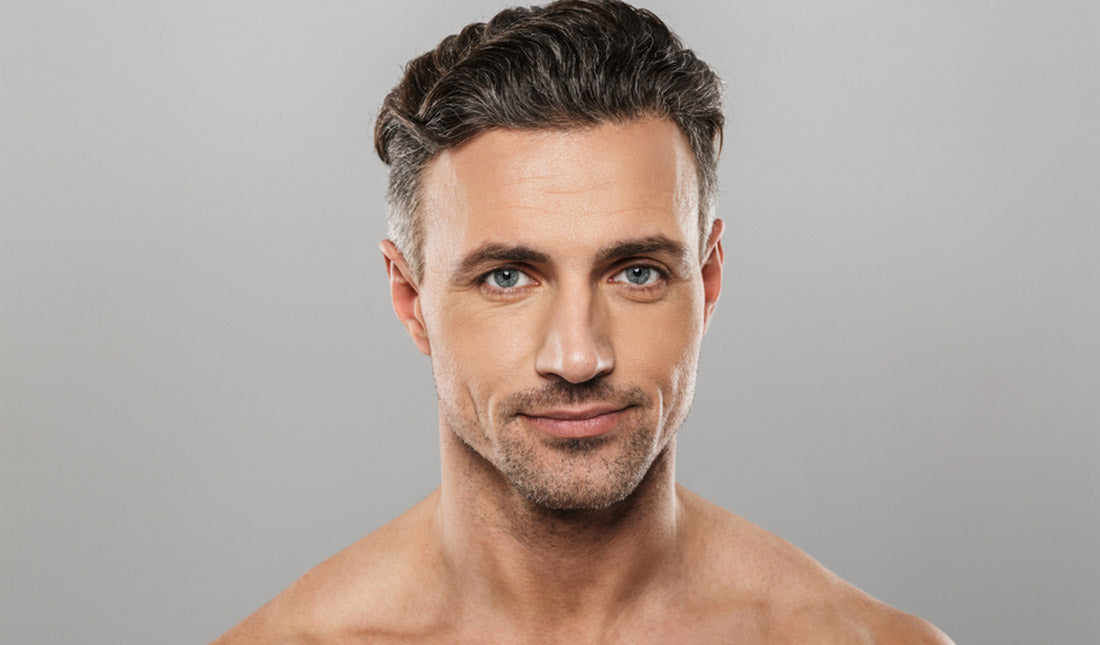 Guys are often told that they "age like fine wine," while women are much less fortunate.
But if you were banking on this adage to keep you looking forever young, you might want to rethink your anti-aging plan.
Here's the thing: Being a guy isn't a guarantee that you'll age as well as Brad Pitt and George Clooney.
If you want to look half as good as these men, you need to step up your anti-aging game plan—starting with your skin.
Here are three things you need to know about anti-aging for men:
Swapping out your bar soap with a mild facial cleanser can help reduce dry, wrinkle-prone skin
Moisturizing daily (once in the morning and once at night) improves skin barrier function
A facial firming serum and eye cream are essential to every guy's anti-aging regimen
TRY MEN'S SKIN CARE
Upgrade Your Face Wash
Guys, it's time to come clean on your bar soap habit. According to our research, nearly one-third of you admit to using bar soap on your face. That's a big problem.
Bar soap generally isn't meant for your face.
According to a 2014 study published in the Indian Journal of Dermatology, the vast majority of bar soaps have a pH within the 9-10 range (see claim: "Majority of the soaps have a pH within the range of 9-10.")
For reference, the pH of normal, healthy skin falls within a range of 5.4-5.9. 
Bar soaps can be extremely drying on your face, and dry skin can make wrinkles appear more pronounced.
To keep skin hydrated and healthy, upgrade to a men's facial cleanser that isn't so brutal on your skin.
Start using it twice daily—once in the morning and once before bed.
Get Serious About Sun Protection
If you're a sun-loving guy, we have bad news: Sun damage—also known as photoaging—is the number one cause of premature wrinkles.
The main culprit is excessive exposure to ultraviolet (UV) light.
UV light can damage the skin and lead to skin changes such as age spots, wrinkles, loose skin and a ruddy complexion.
It can also increase the risk of skin cancer, which affects guys differently than women—and not in a good way.
The simple solution is to use a daily moisturizer with SPF year-round.
We take sun protection seriously, which is why our moisturizer with SPF has the Skin Cancer Seal of Recommendation.
Moisturize Like It's Your Job
Sure, you've got your daytime moisturizing down pat.
But if you're not moisturizing your skin before bed, you're missing a critical step in your anti-aging routine.
Your skin loses quite a bit of moisture during the night in a process called transepidermal water loss.
This moisture loss can compromise the skin barrier and put your skin at greater risk of factors that contribute to wrinkles, such as sun exposure and air pollution.
Using a bedtime facial moisturizer before you hit the sack can help keep skin looking healthy and youthful for years to come.
Apply it to your skin after you wash and scrub (only twice per week) your skin.
For maximum skin benefits, look for a moisturizer with vitamin B3 (aka, Niacinamide).
Vitamin B3 is an anti-aging powerhouse that helps boost collagen production for younger, brighter-looking skin.
Use a Serum
When it comes to anti-aging for men, a facial firming serum should not be overlooked.
Serums work by delivering a highly-concentrated dose of active ingredients to your face.
Unlike moisturizers, serums can penetrate deep into the skin and target wrinkles, fine lines and dark spots.
This unique ability makes them particularly beneficial for guys who generally have thicker and oilier skin compared to women.
If you really want to turn back time on your face, look for a facial firming serum containing Retinol or one of their derivatives, such as Retinyl Palmitate.
Retinol and its derivatives are well-known in the skin care industry for being anti-aging powerhouses.
TAKE THE SKIN CARE QUIZ
Show Your Eyes Some Love
Already seeing fine lines and wrinkles around the eyes?
That's to be expected.
The skin around the eyes is thin and delicate, making it particularly prone to wear and tear.
While there are many ways to combat wrinkles around the eyes, your best bet is probably going to be a peptide-packed eye cream for men.
Specifically, look for an eye cream with Acetyl Hexapeptide-8—a synthetic peptide that functions like Botox (minus the expense and pain).
A Brief Recap
To quickly recap, here is your go-to skin care routine for healthy aging:
In the a.m.:
Facial cleanser
Facial firming serum
Eye cream
Moisturizer with SPF
In the p.m.:
Facial cleanser
Face scrub (only twice per week)
Facial firming serum
Eye cream
Bedtime moisturizer
There you have it—anti-aging for men made simple. Follow this simple routine, share it with your best buds and you can all be headed towards silver fox territory as you age.
Reference
Tarun, Jose et al. "Evaluation of pH of Bathing Soaps and Shampoos for Skin and Hair Care." Indian journal of dermatology vol. 59,5 (2014): 442-4.
---
// © Copyright 2023 Tiege Hanley