Subscription
Shipping Address
Order Date

This subscription's skin care system will get replaced.

${ address.name }




${ address.products }

${ displaySubscriptionName(address) }




${ displayProducts(address) }

${ displayAddress(address) }
${ formatDate(address.scheduleDate) }

${ address.name ? address.name : displaySubscriptionName(address)}
${ address.products }
${ displayProducts(address) }
Shipping Address
${ displayAddress(address) }
Delivery Date
${ formatDate(address.scheduleDate) }
This subscription's skin care system will get replaced.
10 Crazy Stats on Men and Skin Care (Jan 2020)
How much do guys really know about skin care products? You might be surprised. Check out the fascinating results from our survey with these 10 crazy statistics on men and skin care.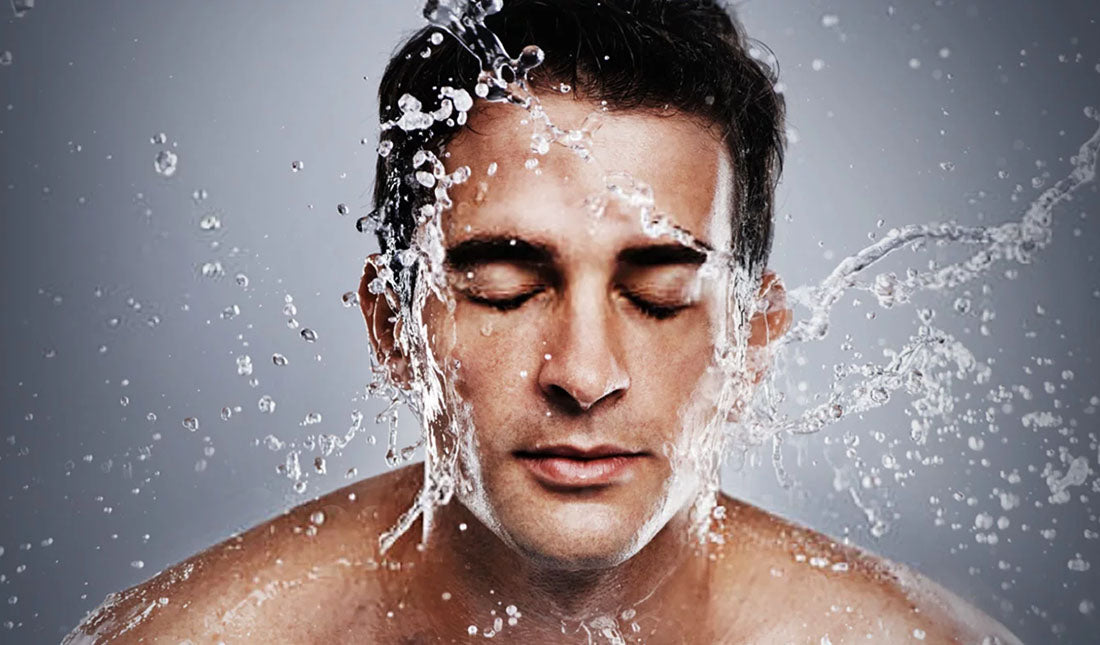 Just a couple of decades ago, the idea of a guy using a facial cleanser or a moisturizer on his face was practically unheard of. And a guy following a daily skin care routine? Pfft, that was just plain crazy talk.
Now, men's skin care products are flying off the shelves faster than some stores can stock them. From high-end moisturizers and facial cleansers to powerful anti-aging products for men, all signs suggest that guys are savvier than ever about skin care.
But how knowledgeable about skin care are they, really? We decided to find out by conducting our own research on men and skin care. 
Before we dive in, here are a few things you should know about our research:
We chose to work with a nationally-recognized survey research firm,

ACUPOLL Precision Research

, to ensure the validity of the survey data. 

Our sample size consisted of 1000 men aged 18 and above, who completed an online survey in December 2019. 
What did our survey results reveal? Let's take a look. 
1. 33% of all men surveyed admit to not washing their face every day.
It seems that not all guys are consistent with their daily face wash routine. In fact, our results show that younger men especially are more likely to drop the ball on their daily face wash routine, with half of men aged 18-24 admitting that they don't wash their faces every day.
One explanation for this lack of consistency is that guys just don't know how often they should be washing their faces in the first place. The recommended face washing frequency for guys with normal or oily skin is twice daily (once in the morning and once in the evening), while guys with dry skin may be able to get away with washing their face once in the evening.
Of course, it could also come down to laziness. We've all been there before. You come home from work or a party, completely exhausted, only to fall right into bed without washing your face first. 
Although it's understandable, it's definitely not excusable. Not if you want clear skin, at least.
2. 63% of men do not regularly use face wash to clean their face. 11% say they've never even tried it.
Let's face it, there are a lot of guys out there who splash a bit of water on their faces in the morning and call it good. Even worse, some men use whatever product is nearest to them to wash their faces, whether it be shampoo, body wash (guys, it's called body wash for a reason) and—the worst offender of all—bar soap (hold tight, we'll air our grievances on bar soap shortly).
Here's the thing about facial cleansers: They're specifically formulated for the skin on your face. Your bar soap/shampoo/body wash isn't. 
Moreover, the right facial cleanser for men can do a world of good for the stubborn blemishes on your face. In fact, a 2001 study published in the journal Cutis found that daily cleansers may be beneficial for the management of a wide range of skin conditions and diseases, including acne, rosacea and eczema (see claim: The choice of a mild cleansing agent is important in the adjunctive management of various skin conditions, such as atopic dermatitis, acne vulgaris, rosacea…") 
Put simply, don't be part of that 11 percent of guys in our survey who have never given a facial cleanser a try. Add a face wash to your daily skin care routine and you'll probably wish you had done it sooner.
TRY MEN'S SKIN CARE
3. 32% of men use bar soap to wash their face.
If you use a bar soap to wash your face, you're not alone. According to our survey results, one-third of men own up to this common face washing mistake. 
We'll just go right ahead and point out the obvious. You guys do realize that you use that same bar of soap to wash your man parts, right? You're literally swiping that thing down below and then using it on your face…
But we digress. The far more important reason why you should put down your bar of Irish Spring is because it's simply way too harsh for the skin on your face. Most commercial soaps have extremely high pH balances that can dry out your skin.
To give you a better idea of how bad bar soaps can be for your skin, consider the fact that traditional bar soaps typically have pH values in the 8-10 range. According to a 2006 study published in the International Journal of Cosmetic Science, the average skin surface pH is 4.7 (see claim: "…it is estimated that the 'natural' skin surface pH is on average 4.7…")
That's a huge difference! By using your bar soap on your face, you're stripping your skin's natural oils and likely causing a slew of skin care problems (dry skin, acne, general discomfort, etc.) If you want to achieve healthy-looking skin, keep the bar soap far, far away from your handsome mug.
4. 45% of men think that bar soap is just as effective as face wash.
Apparently, a lot of guys are under the impression that their bar soap can do just as good of a job as any ol' facial cleanser. Sadly, this is not the case.
In the fight between bar soap versus facial cleanser, a facial cleanser will always win. Not only do facial cleansers have lower pH values compared to bar soaps, they're also specifically formulated for the skin on your face.
Why is this so important? The skin on your face has unique needs. It's thinner compared to the rest of the body and has a higher concentration of oil glands. If you shave daily, you're also dragging a razor blade across it every day, which increases the likelihood of skin irritation.
Facial cleansers are formulated with these things in mind. That's why many of the best facial cleansers will contain gentle ingredients such as Cucumber Extract and Willow Bark Extract, which soothe irritated skin while removing excess oil from the surface.
5. Men aged 18-24 are twice as likely to not wash their face at all compared to men aged 45-54.
Listen up, all you younger guys. Are you really going to let your old man outdo you in the skin care department? Because according to our results, it seems that older men are much more likely to care about washing their face compared to younger men.
This finding is particularly interesting because, generally speaking, younger guys are much more likely to struggle with oily skin compared to older men. According to a 1999 study published in Endocrinology, oil production peaks during mid-adolescence, partly due to increases in growth hormone and insulin-like growth factors (see claim: "…increases in GH and IGF production contribute in complementary ways to the increase in sebum production during puberty and in acromegaly.") 
Thus, you would think that younger guys would have a greater motivation to wash their face on a daily basis. In contrast, older men experience a decrease in oil gland activity as they age. 
6. Men aged 45-54 are 30% more likely to believe that washing their face with soap is as effective as anything else compared to men aged 18-34.
Perhaps we spoke too soon about older men being on top of their skin care game? Although men aged 45-54 are more likely to wash their face compared to younger men, they're also more apt to believe that soap works just as well as anything else.
We've already explained that traditional soaps can be extremely drying to the skin. It's especially important for older men to steer clear of dehydrating soaps due to the unique needs of their aging skin.
As we age, our skin loses elasticity and becomes much thinner and drier. Dehydrating soaps can exacerbate dry skin, which is one of the many reasons why men aged 45-54 in particular should adopt a facial cleanser for their skin. 
Another important reason for this age group to use a facial cleanser? Older men experience decreased cell turnover as they age. A facial cleanser can help gently remove this buildup of dead skin cells and reveal a more youthful-looking complexion.
7. 20% of men use body wash to wash their face.
Body wash deserves a place in every guy's skin care arsenal. One place it doesn't deserve to be is anywhere near your face.
Similar to bar soap, body wash can do an amazing job at keeping your body clean and smelling great. It's particularly effective at getting rid of smelly armpits and freshening up your nether regions without over-drying the skin.
Unfortunately, the moisturizing ingredients in many body washes often make them a terrible choice for your face. Many body washes contain pore-clogging oils such as coconut oil, which can be a total nightmare for guys with acne-prone skin.
Additionally, body wash may contain artificial fragrances that can irritate sensitive skin. If you think that this isn't a big deal because guys don't have sensitive skin, we'll let the research speak for itself: According to a 2019 study published in Frontiers in Medicine, more than half of men report experiencing some degree of skin sensitivity (see claim: "Overall, ~60–70% of women and 50–60% of men report having some degree of sensitive skin.")
Put simply, you should never use body wash on your face. If you ever forget your facial cleanser on a trip, you should stick to using water until you can go out and buy yourself a proper face wash.  
Take the skin care quiz
8. 80% of men surveyed think that women's products might work as well for them as skin care products designed specifically for men.
It's not uncommon for guys to borrow their girlfriend's or wife's skin care products. Hey, why not? She's got an entire shelf full of high-quality skin care products that work just as well on a guy's skin, right? 
In the words of Dwight Schrute, "False!"
As it turns out, men and women need different skin care products due to the physiological differences in their skin. Guys produce more collagen and sebum (oil) than women do, which makes their skin thicker and oilier. Consequently, some skin care ingredients in women's products may have a more difficult time penetrating/absorbing into a man's skin.
Sadly, only 20 percent of the men in our survey suspected that their girl's skin products might not be as effective for their skin. That means 80 percent of guys have no idea that using a men's skin care kit could maximize their overall results.
Fortunately, the men's beauty industry continues to grow and educate guys on the unique differences in their skin. It's now easier than ever to find a skin care solution that works for a man's skin, regardless of their skin type, budget or lifestyle.  
9. 40% of men have never tried a skin care product designed for men.
On a similar note, there remains a significant number of men (40 percent) who have never bothered to try a skin care product formulated for a man's skin. Looking at this another way (read: A more positive way), more than half of men have tried a skin care product designed for men. 
When compared with previous research on men's skin care, this statistic is pretty mind-boggling. According to research from the University of San Francisco, a mere four percent of men used cosmetic products in 1990 (see claim: "Only 4% of men used cosmetic products in 1990.")
Fast-forward 30 years later and 60 percent of guys report having at least tried a skin care product designed for their skin. While there is still obviously room for improvement, this statistic shows a promising move in the right direction.  
10. 83% of men 65 and older agreed that, "Men need to look after their skin," while only 59% of young men aged 18-24 agreed.
Not to sound too much like your old gramps, but you should definitely listen to your elders. At least you should when it comes to your skin. 
Our survey revealed that 83 percent of men aged 65 and up agreed that guys need to get serious about taking care of their skin, while just under 60 percent of guys aged 18-24 said the same thing. What could be the reason behind this disparity?
Unfortunately, many of our grandfathers spent their youth playing or working outside without protecting their skin from the sun. Now, they're reaping the consequences in their older years with a heightened risk of skin cancer and leathery-looking skin.
According to the American Academy of Dermatology, men aged 50+ are more likely to develop melanoma (the most-deadly form of skin cancer) than women. By age 80, men are three times more likely to develop melanoma than women in the same age group.
Listen to your old man when he tells you to wear sunscreen and UPF clothing outside. Although you can't do anything about the sunburns you received in childhood, you can reduce your risk of skin cancer by applying a daily moisturizer with SPF and getting regular skin screenings.
In Summary
Changing attitudes and social trends have given men a newfound interest in taking better care of their skin. Although men are more knowledgeable about skin care than they were in the past, our research suggests that there is still plenty of room for improvement.

References
Bikowski, J. "The Use of Cleansers as Therapeutic Concomitants in Various Dermatologic Disorders." Cutis, vol. 68, no. 5 Suppl, Dec. 2001, pp. 12–19.
Lambers, H., et al. "Natural Skin Surface PH Is on Average below 5, Which Is Beneficial for Its Resident Flora." International Journal of Cosmetic Science, vol. 28, no. 5, Oct. 2006, pp. 359–70. PubMed.
Deplewski, D., and R. L. Rosenfield. "Growth Hormone and Insulin-like Growth Factors Have Different Effects on Sebaceous Cell Growth and Differentiation." Endocrinology, vol. 140, no. 9, Sept. 1999, pp. 4089–94. PubMed.
Farage, Miranda A. "The Prevalence of Sensitive Skin." Frontiers in Medicine, vol. 6, May 2019. PubMed Central.
Thota, Sweta Chaturvedi, Stacy N. Hermosillo, Neilgoon N. Keyhani, and Jennifer A. Walker. 2014. "Male Grooming: An Ethnographic Research on Perception and Choice of Male Cosmetics." Academy Of Business Research Journal 4, 24-33.
---
// © Copyright 2023 Tiege Hanley