Subscription
Shipping Address
Order Date

This subscription's skin care system will get replaced.

${ address.name }




${ address.products }

${ displaySubscriptionName(address) }




${ displayProducts(address) }

${ displayAddress(address) }
${ formatDate(address.scheduleDate) }

${ address.name ? address.name : displaySubscriptionName(address)}
${ address.products }
${ displayProducts(address) }
Shipping Address
${ displayAddress(address) }
Delivery Date
${ formatDate(address.scheduleDate) }
This subscription's skin care system will get replaced.
Bedtime Skin Care Routine: What Your Skin Needs at Night
Gentlemen, your bedtime skin care routine doesn't need to be complicated. Discover how you can use a nighttime regimen to enhance your handsome, in just a few simple steps!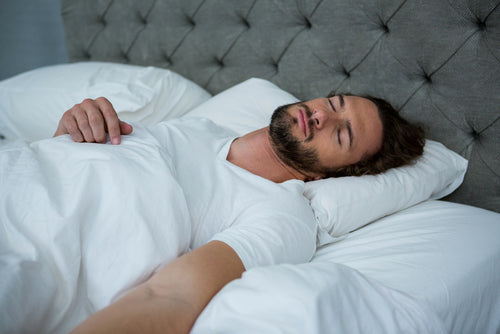 Does your current nighttime skin care routine consist of washing your face and nothing more? If so, let us be blunt—it's not enough. Don't get us wrong—washing your face is still a step above most guys' nighttime skin care routine (i.e., a nonexistent routine). But your skin needs much more if you want your face to remain handsome well beyond your prime years.
Here are four elements your nighttime skin care routine should include:
Facial wash
Facial scrub
Nighttime eye cream
Nighttime moisturizer
We know that guys want to keep their skin care simple and hassle-free. With that in mind, here are the basics of nighttime skin care that every man in his 20s, 30s, 40s, and beyond should know:
CONTROL EYE BAGS
Facial Wash
When you consider all the junk that's accumulated on your face throughout the day, washing it at night is a no-brainer. Natural oils, sweat, dirt and pollutants build up on the surface of the skin each day, causing inflammation and acne.
A quick rinse with water isn't enough to remove all the bacteria from your face. To remove both water-based and oil-based residue from your skin, you need a powerful face wash formulated for a man's skin.
In case you're wondering—no, we don't recommend using your wife's facial cleanser. Why? Because men and women have different skin and thus, require different ingredients to achieve the best results.
Facial Scrub
Exfoliation is an essential part of any man's skin care regimen. Using a facial scrub is an effective way to remove the dead skin cells on the surface of the skin, which can build up and cause acne.
The topic of exfoliation is also confusing for many guys. Doing it too much can lead to redness and irritation, while not doing it enough won't be effective. No need to fear, gentlemen! We're here to shed some light on the subject.
The answer is that it depends on your specific skin type. Our fragrance-free face scrub is formulated for all skin types, but those with a normal skin type should expect to exfoliate once or twice a week.
Nighttime Eye Cream
Night creams are for guys who need some additional help firming up the skin around their eyes and smoothing imperfections in this area. If you frequently wake up with bags under your eyes, a men's night cream will be a lifesaver.
A common ingredient in many night creams such as Tiege Hanley's is Caffeine. Sometime dark circles can appear under the eyes, on account of poor circulation. When used in skin care, Caffeine is known to increase blood flow and reduce the appearance of dark circles.
Our AM/PM Eye Cream also contains Acetyl Hexapeptide-8 (also known as Argireline), an ingredient which studies show is effective for staving off premature aging and reducing the appearance of fine lines and wrinkles.
After you've washed and scrubbed your face, put a nickel-sized amount of night cream on your face. You're now just one step away from falling into your bed and letting your skin work its magic overnight.
Take the skin care quiz
Nighttime Moisturizer
The last step is to put a small, dime-sized amount of nighttime moisturizer on your hand and lather it gently into your face. This will work to repair, hydrate and refresh your face while you sleep.
Nighttime moisturizers should be light—moisturizers that are too heavy can accidentally clog pores and impede your skin's nighttime work. Also, they lack the sunscreen that should be present in any daytime moisturizer for men.
When searching for a nighttime facial moisturizer, remember to check the ingredients. Look for ingredients with anti-aging properties, such as Soluble Collagen and anti-inflammatory properties including Green Tea Extract and Aloe Vera.
Just Four Simple Steps to Better-Looking Skin
Remember when there was a stigma about men's grooming? We're glad those days are in the past.
Every day, more and more men are using our skin care systems to achieve a youthful and vibrant appearance. Why? Because we've done what no other men's skin care line has done—kept our products simple without compromising effectiveness.
Now, gentlemen everywhere can follow an uncomplicated skin care routine and achieve better-looking skin. In fact, we made it even easier by delivering it straight to your door each month.
How is that for a simple bedtime routine? Morning or night, the answer to all your skin care needs is Tiege Hanley.
---
// © Copyright 2023 Tiege Hanley