Subscription
Shipping Address
Order Date

This subscription's skin care system will get replaced.

${ address.name }




${ address.products }

${ displaySubscriptionName(address) }




${ displayProducts(address) }

${ displayAddress(address) }
${ formatDate(address.scheduleDate) }

${ address.name ? address.name : displaySubscriptionName(address)}
${ address.products }
${ displayProducts(address) }
Shipping Address
${ displayAddress(address) }
Delivery Date
${ formatDate(address.scheduleDate) }
This subscription's skin care system will get replaced.
This Is How to Treat a Sunburn
Catch a little too much sun recently? Find out how to treat a sunburn the right way.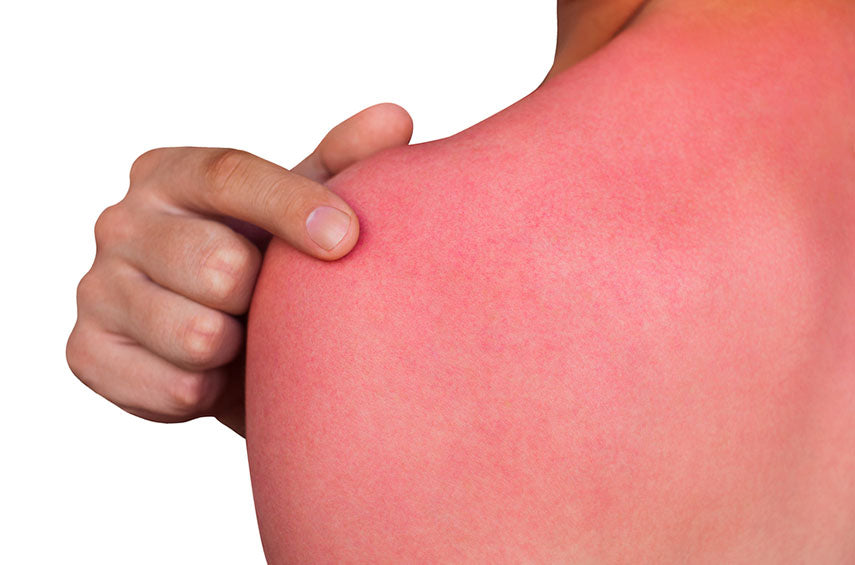 So, you made a critical mistake with your sunscreen and now you resemble a lobster. What should you do?
Don't beat yourself up over it. What's done is done. Despite our growing knowledge of sunscreen and sun safety, it's still common to make mistakes when applying sunscreen. Once the damage is done, the best thing you can do for your skin is to help it heal properly.
Here are three things you need to know about treating a sunburn:
While you can't undo the damage entirely, applying antioxidants to your sunburn can help minimize the negative effects.
Using cold compresses and taking a cold bath can soothe sunburned skin and alleviate some of the pain.
Prevention is the best treatment for sunburn. Knowing how to properly use sunscreen is crucial to protecting your skin from additional sun damage.
CONTROL EYE BAGS
Cool Down Your Skin
When your skin becomes damaged by the sun, it may turn red and start to swell. This is due to your body increasing blood flow to the area to release white blood cells that protect and heal the damaged site.
To reduce inflammation and swelling, you should cool down the skin with either a cold compress, a cold bath or both. In addition to reducing the redness and swelling, cooling your skin will lower your body temperature which can be elevated to higher than normal due to your sunburn.
Use Soothing Skin Care Products
After you get out of your cold bath, gently apply a nourishing moisturizer containing skin-soothing ingredients such as Calendula Extract or Aloe Vera.
Aloe Vera is perhaps the most well-known skin care ingredient for healing sunburned skin. According to a 2015 review published in BioMed Research International, the leaves of the Aloe Vera plant produce a gel consisting of glycoproteins and polysaccharides, which can alleviate pain and accelerate wound healing, respectively (see claim: "This mucilage consists of some glycoproteins, which prevent against inflation and pain… polysaccharides, which stimulate skin growth and healing.")
You can also look for products containing antioxidants to help combat long-term free radical damage. According to a 2013 study published in Indian Dermatology Online Journal, Vitamin C has photoprotective properties and can increase collagen production to stave off signs of premature aging (see claim: "[Vitamin C] is also a free radical scavenger that is photoprotective and increases collagen production…")
Take an NSAID
Another effective way to reduce inflammation and pain is by taking NSAIDs, or nonsteroidal anti-inflammatory drugs, such as Ibuprofen. Along with easing discomfort and redness, NSAIDs may potentially reduce your risk of skin cancer.
According to a 2015 study published in the International Journal of Cancer, patients who regularly took NSAIDs were associated with lower risk of nonmelanoma skin cancer (see claim: "…there was a suggestion of a reduced BCC risk in regular users of aspirin and ibuprofen…")
However, it should be noted that other medical professionals don't recommend taking daily NSAIDs for their skin cancer benefit alone. NSAIDs come with their own risk factors, including kidney damage and stomach bleeding.
Your best course of action is to take an NSAID only for temporary relief from your sunburn. Stick to other methods of reducing your skin cancer risk, such as checking suspicious moles regularly and taking proper care of your skin.
Replenish Fluids
Sunburns elevate your internal body temperature, which can lead to dehydration if you don't replenish your fluids. Drink at least a couple of cups more than your typical daily intake and try to favor cold drinks over lukewarm to help lower your body temperature.
If your sunburn is severe, reach for a sports drink containing electrolytes. During severe burns, our body loses fluids and electrolytes which are essential for a wide range of bodily functions. Restoring your body's electrolyte balance will help boost the healing process of your sunburn by helping keep the body hydrated.
Take the skin care quiz
Don't Pick at Blisters
We know that it's incredibly tempting to pick and peel your blistering skin, but there are several reasons why you shouldn't. First, picking at your dead skin can result in permanent scarring.
Another reason you don't want to pick at your blisters is due to the increased risk of infection. Your blistering and peeling skin is trying to protect the new skin underneath. Leave it alone; otherwise, you could accidentally cause your blisters to become infected.
The Bottom Line
While preventing sunburns is obviously the best form of treatment, we also know that everyone makes mistakes. If you suspect a sunburn, don't wait for redness and discomfort before starting these steps. The sooner you can jumpstart the healing process, the better.
---
// © Copyright 2023 Tiege Hanley
Take The First Step To Start Looking & Feeling Better