Subscription
Shipping Address
Order Date

This subscription's skin care system will get replaced.

${ address.name }




${ address.products }

${ displaySubscriptionName(address) }




${ displayProducts(address) }

${ displayAddress(address) }
${ formatDate(address.scheduleDate) }

${ address.name ? address.name : displaySubscriptionName(address)}
${ address.products }
${ displayProducts(address) }
Shipping Address
${ displayAddress(address) }
Delivery Date
${ formatDate(address.scheduleDate) }
This subscription's skin care system will get replaced.
What Are the Most Common Cancers in Men?
As a man, which cancers pose the greatest risk to you? Here are the most common cancers in men and how you can improve your odds of avoiding them.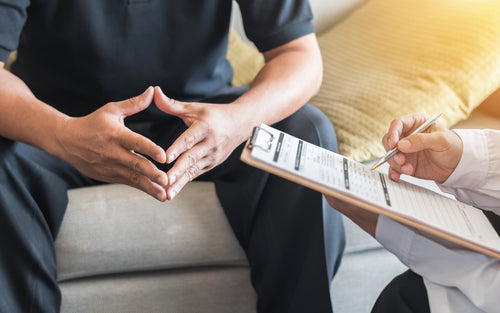 When it comes to cancer and men, the statistics aren't on our side. According to the Centers for Disease Control and Prevention (CDC), men are not only more likely to get cancer, they're also more likely to die from it.
As depressing as that may sound, there is some good news. Cancer survivor rates are on the rise in both men and women. This is due to both our improved treatment methods and successful Public Service Announcements encouraging people to get regular cancer screenings.
Cancer screenings and regular doctor checkups are clearly working to improve our odds. However, it's important to know which cancers pose the greatest risks.
Here are three things to know about the most common cancers in men:
Cancer affects men and women much differently due to physiological and behavioral factors.
Skin cancer is the top cancer in men. Although it's rare to die from skin cancer, men are more likely than women to develop melanoma (the deadliest skin cancer).
By being proactive about their health, men can significantly reduce their risk of cancer and increase their chances of surviving it.
CONTROL EYE BAGS
Skin Cancer
Skin cancer is by far the most common of all cancers in both men and women. Most cases of skin cancer are made up of basal and squamous cell skin cancers.
Unfortunately, men are at a higher risk of developing melanoma, the deadliest form of skin cancer (see claim: "Men have a higher risk of developing this cancer than women, and a worse prognosis if they do.") They're also much more likely to die from melanoma than women.
Scientists aren't sure whether this is because of late detection, biological differences or other health-related behaviors. However, you can significantly reduce your risk of melanoma and other skin cancers by protecting your skin from sun damage and getting regular skin cancer screenings.
Prostate Cancer
After skin cancer, prostate cancer is the most common type of cancer among men. The prostate is a small, walnut-sized gland located inside the groin between the penis and the bladder.
Men who have the highest risk of developing prostate cancer include older men (>50) and African-American men (see claim: "Currently, African American men have a risk of diagnosis that is 1.7 times above that of whites and risk of death that is 2.3 times greater.") If you have a family history of prostate cancer, this risk increases significantly.
Fortunately, this type of cancer has an excellent prognosis when detected early with a 5-year survival rate of nearly 100 percent. If you are 50 years or older, ask your doctor about getting a prostate-specific antigen (PSA) test.
Colorectal Cancers
Colon cancer and rectal cancer (collectively known as colorectal cancer) strike men and women almost equally, with men diagnosed at a slightly higher rate. However, colorectal cancer is unfortunately prevalent in the United States and is the third most commonly diagnosed cancer in the country.
The American Cancer Society predicts that an estimated 50,630 colorectal cancer deaths will occur in 2018. Men who are at the highest risk include those over the age of 50, African-American men and those with a history of colon cancer or adenomatous polyps.
Lung Cancer
Lung cancer rates are dropping significantly due to our efforts to control tobacco usage. Unfortunately, this common form of cancer still manages to take nearly 155,000 lives each year (see graph).
You don't need to be a heavy smoker to develop lung cancer. Men who are exposed to secondhand smoke or have a family history of smoking can also get this disease.
If you have a high risk of lung cancer, it's vital that you get regular screenings by your doctor. Lung cancer is the leading cause of cancer death in both men and women because it's rarely caught early.
Take the skin care quiz
How Men Can Lower Their Risk of Cancer
These common cancers in men are by no means a death sentence. You can significantly reduce your chances of developing cancers that affect men by doing the following:
Wear Sunscreen Daily—Wear a men's daily moisturizer with SPF to block cancer-causing UV rays. Use sunscreen on any part of your body that will be exposed to sunlight.
Eat Healthy and Exercise—Studies show that eating an "anti-cancer diet" can significantly reduce your risk of certain cancers (see claim: "…in human diet studies, and a 71 percent reduction in colon cancer for men…") Getting daily exercise can also reduce your cancer risk.
Avoid Risky Behaviors—Smoking, drinking, obesity, tanning beds and not using adequate sun protection are risky behaviors, all of which can increase your chances of developing cancer.
See a Doctor Regularly—We know that many guys don't enjoy going to a doctor for any reason. But guys, this can keep you healthier, happier and help detect cancer at the early stages.
Bottom Line
A man's biology plays a big role in his likelihood of getting cancer. But that doesn't mean you can't take steps to lower your risk.
By wearing daily sunscreen, living a healthy lifestyle and seeing your doctor regularly, you can significantly reduce your risk of getting cancer. You'll also increase your chances of surviving cancer by potentially catching it early.
---