Subscription
Shipping Address
Order Date

This subscription's skin care system will get replaced.

${ address.name }




${ address.products }

${ displaySubscriptionName(address) }




${ displayProducts(address) }

${ displayAddress(address) }
${ formatDate(address.scheduleDate) }

${ address.name ? address.name : displaySubscriptionName(address)}
${ address.products }
${ displayProducts(address) }
Shipping Address
${ displayAddress(address) }
Delivery Date
${ formatDate(address.scheduleDate) }
This subscription's skin care system will get replaced.
What Causes Back Acne in Males? 5 Likely Causes
Dealing with stubborn bacne? Find out what causes back acne in males and get expert advice on how to get rid of back blemishes for good.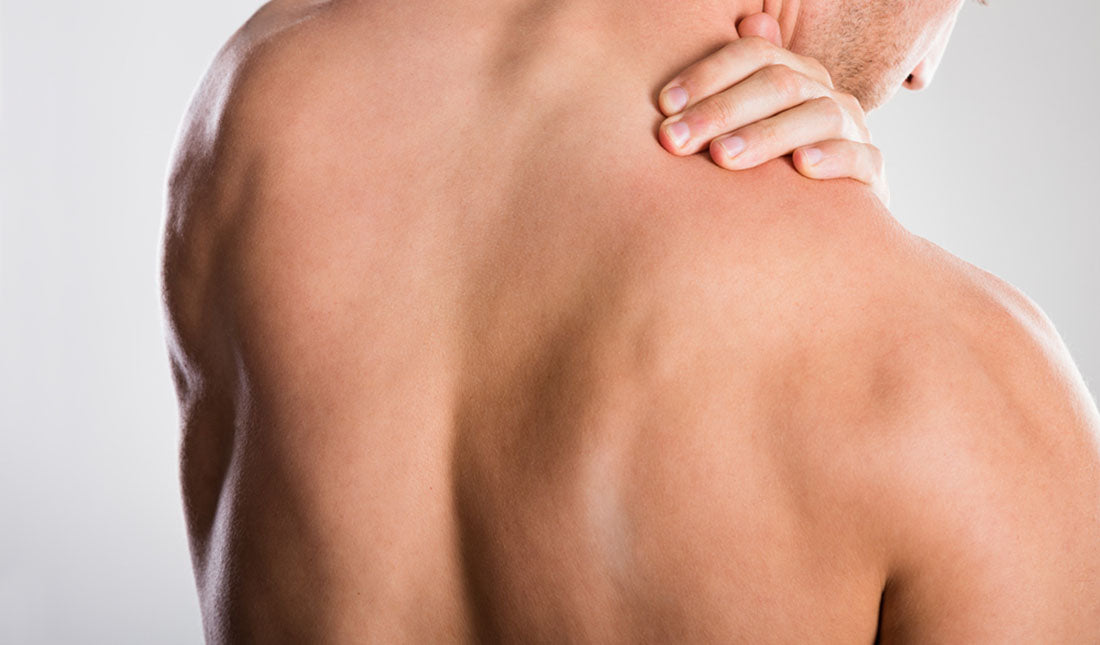 It's a sad fact of life: back acne happens.
We all have pores on our backside that can become clogged with excess oil and dead skin cells.
The unfortunate result is back acne, or "bacne," as it's often called.
The good news is that back acne in men is easily preventable.
The secret to successfully treating your back breakouts is figuring out what causes back acne in males in the first place.
Here are three things you should know about back acne:
Acne on the back is most common in guys who exercise regularly and wear tight athletic gear.
Wearing breathable fabrics and practicing good hygiene can reduce back breakouts.
Using an acne treatment system is an easy and affordable way to treat stubborn back acne.
Want to achieve a blemish-free backside?
Here are five likely causes of back acne in men and how to get rid of it for good.
1. Tight Clothing and Gear
We get it. You enjoy showing off your chiseled biceps at the gym.
But that ridiculously tight shirt you're wearing could be the sneaky cause of your back breakouts.
The combined heat, pressure and friction from your tight clothing or athletic gear can trigger a specific form of acne breakout known as acne mechanica.
According to a 1992 study published in Cutis, athletes are at a particularly high risk of acne mechanica (see claim: "Athletes in certain sports are at particular risk for this condition.")
The treatment for acne mechanica is simple: Stop wearing the tight clothing and gear that triggers breakouts.
GOT ACNE?
2. Not Changing Out of Sweaty Clothes
Don't be that guy—the one who hangs out in his sweaty clothing for hours after his workout.
Although it's true that sweat doesn't cause acne directly, it can trigger pretty nasty back breakouts.
Besides, hanging out in your sweaty clothes will make you smell.
Sure, some ladies enjoy a little manly musk, but most people are going to wrinkle their nose at your body odor.
To get rid of back acne, change out of your wet clothes ASAP and wash your stinky workout gear, pronto.
Can't get to a shower in a timely manner?
Consider keeping Salicylic Acid wipes in your gym bag and giving your backside a quick swipe.
3. Missing Your Back in the Shower
We've all been guilty of this on occasion. The back is a spot that is easy to forget about in the shower.
After you exercise, be sure to show your backside some love by washing the area with a Salicylic Acid-based cleanser or a gentle bar soap.
Exfoliating your backside once or twice a week can also do wonders for your back acne.
4. Shaving Your Back
Got a hairy backside? If you shave your back regularly, this could be the sneaky source of your back acne.
Shaving-related acne commonly affects guys with curly hair because the hair follicle is more likely to curl back into the skin.
However, shaving-related back acne can happen to anyone, especially if you're using a dull or unsanitary blade.
To reduce the likelihood of back breakouts, make sure that your shaving technique is on point.
Remember to prep your skin before you shave and always use a clean, sharp blade.
TAKE THE SKIN CARE QUIZ
5. Overactive Oil Glands
It's widely known that acne tends to be worse in people who have an oily skin type.
Unfortunately, guys generally have much oilier skin compared to women.
According to a 2017 review published in The Journal of Clinical and Aesthetic Dermatology, men in general have higher oil production due to their higher testosterone levels (see claim: "Men in general have higher sebum output attributed to higher testosterone levels…")
Testosterone signals the body to increase its oil production.
This excess oil—along with dead skin cells and acne-causing bacteria—can lead to acne breakouts on the back.
Using an acne treatment system is one of the easiest and most affordable ways to reduce excess oil and treat your stubborn breakouts.
After starting your acne treatment, give your skin at least two weeks to show improvement.
Actual Tiege Hanley customer testimonial:

"Over a 3 year period, I probably spent over two grand in skin care and still had acne. I decided to reach out and request to be a part of the

Tiege Hanley Acne trial

and I have been blown away. After two weeks, my skin was clear. It's not the acne cream alone that cleared it up, but how all of the products work together as a whole." Kyle B., NJ.
Getting Back to Clear Skin
Back acne is a stubborn beast with a mind of its own.
Although it's usually the result of staying in sweaty clothes for too long, some guys seem to be more prone to it than others.
A consistent skin care routine can help you get back to clear skin and keep back pimples at bay.
If that doesn't do the trick, it may be worth seeing a dermatologist.

References
Basler, R S. "Acne mechanica in athletes." Cutis vol. 50,2 (1992): 125-8.
Endly, Dawnielle C, and Richard A Miller. "Oily Skin: A review of Treatment Options." The Journal of clinical and aesthetic dermatology vol. 10,8 (2017): 49-55.
---
// © Copyright 2023 Tiege Hanley