Subscription
Shipping Address
Order Date

This subscription's skin care system will get replaced.

${ address.name }




${ address.products }

${ displaySubscriptionName(address) }




${ displayProducts(address) }

${ displayAddress(address) }
${ formatDate(address.scheduleDate) }

${ address.name ? address.name : displaySubscriptionName(address)}
${ address.products }
${ displayProducts(address) }
Shipping Address
${ displayAddress(address) }
Delivery Date
${ formatDate(address.scheduleDate) }
This subscription's skin care system will get replaced.
Banish Bacne—How to Get Rid of Back Acne (Updated March, 2020)
Struggling with breakouts on your backside? Achieve a clear, blemish-free back with expert advice from Tiege Hanley.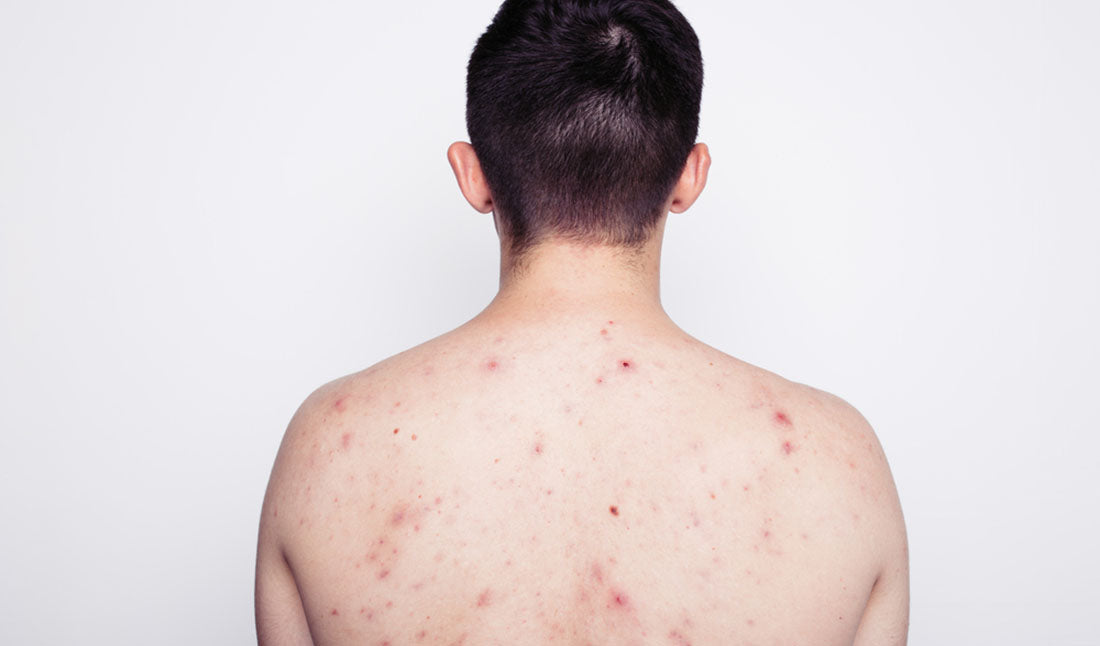 If you're struggling to get a handle on your back acne (aka, bacne), you aren't alone.
Bacne is an all-too common problem for guys with oily skin, especially in the summertime when heat and humidity are at their worst.
Bacne is commonly caused by a combination of heat, pressure and sweat which traps bacteria in the pores of the skin and leads to nasty breakouts along our backside.
To make matters worse, these pimples often take the form of red, painful cysts that are notoriously difficult to treat.
Luckily, there are a few tried-and-true methods for banishing bacne.
By making a few adjustments to your daily routine, you can get rid of the pimples on your back and prevent new bacne from developing.
Here are three things you need to know about getting rid of back acne:
Bacne is often at its worst in the summertime due to heat, pressure and sweat trapping bacteria in the pores of the skin.
To clear up your bacne, switch to breathable fabrics and get on an acne treatment system formulated for your skin.
Bacne can often be prevented by establishing a regular skin care routine and wearing moisture-wicking clothes.
TRY MEN'S SKIN CARE
What Causes Back Acne?
If you've noticed that pimples on your backside are worse during the summertime, there is a simple explanation for this.
As temperatures heat up, our bodies naturally produce more sweat which can contribute to clogged pores.
To be clear, sweat isn't the enemy here.
In fact, the opposite is true. A 2001 study published in BMJ discovered that sweat produces a protein which is a natural bacteria killer, and which may be beneficial to fighting acne-causing bacteria (see claim: "…a new antibiotic, dubbed dermcidin, which is secreted in sweat and may serve as a first line of defence against microbial pathogens.")
Although sweat may not cause acne directly, it can make dirt and grime stick more easily to the skin.
This can lead to clogged pores and pimples if you're not careful.
If you're wearing tight-fitting clothing, the combination of heat and pressure can also result in a specific type of acne known as acne mechanica.
Another common cause of back acne includes oil-based lotions and shampoos.
Shampoos are especially sneaky in this regard because they cause breakouts along the back if you don't rinse off carefully after shampooing your hair.
Five Ways to Get Rid of Bacne
While getting rid of your back acne can be difficult, it's far from impossible.
By picking up the right workout clothes and investing in a new skin care system, you can easily banish bacne and prevent new pimples from forming.
1- Wear Sweat-Wicking Fabrics
If your bacne is caused by acne mechanica, switching to loose-fitting clothes with sweat-wicking fabrics is essential to getting rid of pimples on your back.
Moisture-wicking clothes allow sweat to evaporate more easily from the skin to prevent pores from becoming clogged with sweat and dirt.
2- Shower and Change Immediately After a Workout
Even if you're wearing moisture-wicking fabrics, it's important that you wash and change clothes quickly after exercising.
Getting out of sweaty, tight-fighting clothes and washing off with a body scrub in the shower will go a long way in preventing bacne.
3- Exfoliate Your Backside Regularly
If you use a facial scrub regularly, then you likely already know of the amazing benefits of exfoliation.
Giving your backside some much-needed attention by using a body scrub in the shower will help remove dead skin cells from your back and dirt that can clog pores.
Use your body scrub only a couple of times a week to avoid irritating your skin.
Take the skin care quiz
4- Switch Your Sunscreen
Some sunscreens are notorious for clogging pores and causing acne breakouts.
That being said, the risk of skin cancer shouldn't be ignored.
Rather than forgo your sunscreen entirely, opt for a lightweight sunscreen formulated specifically for the skin on your body.
While you might be tempted to use your facial moisturizer with SPF for this, stick to using a sunscreen formulated specifically for the rest of your body.
5- Apply a Salicylic Acid-based Acne Cream
Salicylic Acid is the king among acne-fighting ingredients.
Best of all, it works for every skin type and is much less likely to irritate your skin compared to benzoyl peroxide.
According to a 2019 study published in Cutaneous and Ocular Toxicology, Salicylic Acid was also shown to be just as effective as benzoyl peroxide in the treatment of acne (see claim: "…demonstrated that 2% SSA has a similar efficacy with 5% BPO +0.1% ADA in mild to moderate acne treatment.")
Using your back lotion applicator tool, apply a topical acne cream containing Salicylic Acid to your back—preferably in the morning when you're less likely to accidentally rub it off.

Saying Goodbye to Bacne
If you want to get rid of bacne and prevent it from coming back, you need a combination of the right skin care products and a regular routine.
If you already use an acne treatment system for your face, incorporating a few additional steps into your routine to treat your bacne shouldn't be too difficult.
Just remember to test any new skin care product on a small patch of your skin before spreading it all over your back.
Once you know how your skin will react, you can establish a daily regimen and say goodbye to bacne for good.
Actual Tiege Hanley customer testimonial:

"Over a 3 year period, I probably spent over two grand in skin care and still had acne. I decided to reach out and request to be a part of the

 

Tiege Hanley Acne trial

 

and I have been blown away. After two weeks, my skin was clear. It's not the acne cream alone that cleared it up, but how all of the products work together as a whole." Kyle B., NJ.
Related Blogs:
10 Ways to Prevent Acne (That Actually Work)
How to Get Rid of Pimples on Nose
---
// © Copyright 2023 Tiege Hanley