Subscription
Shipping Address
Order Date

This subscription's skin care system will get replaced.

${ address.name }




${ address.products }

${ displaySubscriptionName(address) }




${ displayProducts(address) }

${ displayAddress(address) }
${ formatDate(address.scheduleDate) }

${ address.name ? address.name : displaySubscriptionName(address)}
${ address.products }
${ displayProducts(address) }
Shipping Address
${ displayAddress(address) }
Delivery Date
${ formatDate(address.scheduleDate) }
This subscription's skin care system will get replaced.
How to Get Rid of Acne Scars (Updated March, 2020)
Acne scars can be an unfortunate side effect of bad acne breakouts. Find out how to get rid of acne scars with the latest treatments.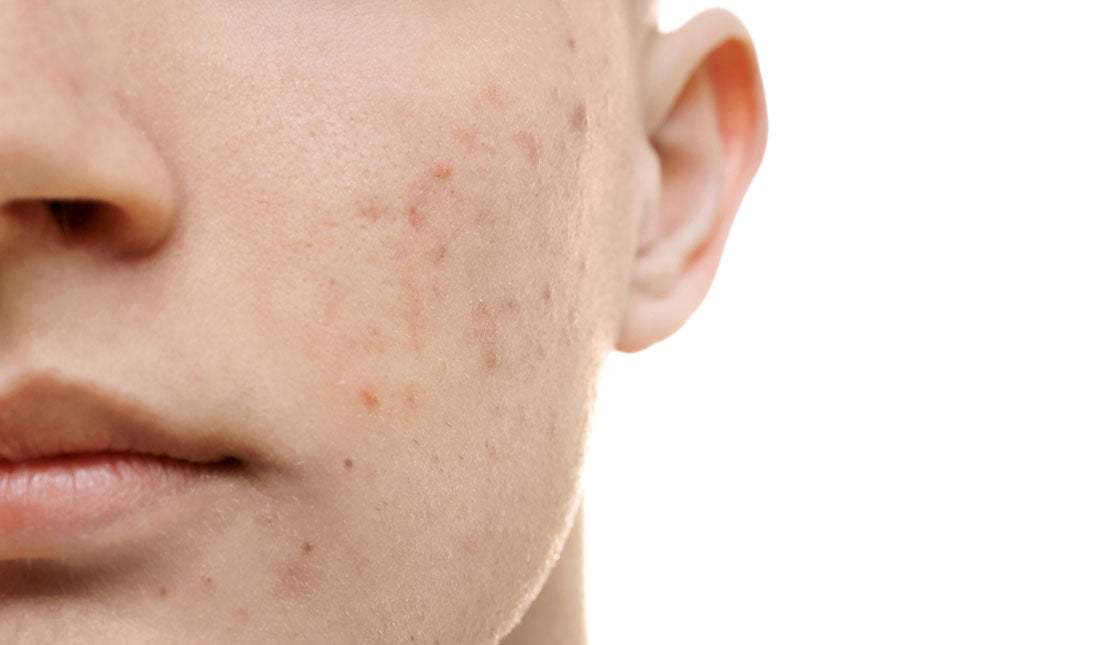 When you suffer from regular acne breakouts, acne scars can sometimes be an unfortunate result.
Perhaps the worst part is that acne scars can develop even when you resist the urge to squeeze your pimples.
Long-lasting acne scars are usually caused by severe, cystic acne breakouts that form deep within the skin.
The oil, dead skin cells and bacteria that build up in the skin and clog pores can result in severe inflammation.
This can lead to permanent scarring, despite your best efforts to leave your skin alone.
While all this may sound like a huge downer, don't lose hope just yet.
There are now several treatment options that can help you get rid of acne scars and prevent additional scars from developing.
Here are three things you should know about getting rid of acne scars:
The most effective acne scar treatment depends on your skin type and the severity of scarring.
Acne scars that develop deep within the dermis may not disappear entirely with the following treatments.
Always consult with a licensed dermatologist before undergoing treatments for acne scars.
Tackle the Root of the Problem
To effectively treat your acne scars, you first need to get a handle on your acne breakouts.
Otherwise, you'll likely spend hundreds—if not thousands—of dollars attempting to get rid of your acne scars after each breakout.
If you're a younger guy with oily skin, dealing with the occasional cystic acne breakout is to be expected.
You probably have male hormones to thank for these nasty breakouts.
Guys have more testosterone in their bodies that can be converted into 5a-dihydrotestosterone (DHT), a male sex hormone that has been linked to higher oil gland activity.
According to a 2011 study published in Dermatoendocrinology, researchers found that patients with acne had increased levels of testosterone/5a-dihydrotestosterone in their skin (see claim: "Acne patients produced higher rates of testosterone and 5α-dihydrotestosterone (5α-DHT) in their skin than healthy individuals.")
To save yourself both the money and the hassle of acne scar removal treatments, begin using an acne treatment system that's specifically formulated for your skin.
By getting to the root of the problem, you can stop acne breakouts before they happen and say goodbye to long-lasting acne scars.
GOT ACNE?
Get Regular Chemical Peels
Chemical peels use a chemical solution which is applied to the skin to improve its appearance and smooth acne scars.
Most chemical peels use alpha hydroxy acids (i.e., glycolic acid) or beta hydroxy acids (i.e., salicylic acid) to exfoliate the surface layer of the skin.
There are several benefits to scheduling a regular chemical peel on top of your existing skin care regimen.
Along with improving the appearance of your acne scars and turning back time on your face, getting a chemical peel every month or so can potentially help you keep acne at bay.
Salicylic Acid peels are particularly effective as a form of acne treatment and may be a safer option for those with darker complexions.
According to a 2017 Brazilian study published in Anais Brasileiros de Dermatologia, patients who used Salicylic Acid peels had faster and better results compared to the glycolic acid peel group (see claim : "…salicylic acid peels is more convenient for treatment of darker skin patients and it showed significant and earlier improvement than glycolic acid.")
Actual Tiege Hanley customer testimonial:

"Over a 3 year period, I probably spent over two grand in skin care and still had acne. I decided to reach out and request to be a part of the

 

Tiege Hanley Acne trial

 

and I have been blown away. After two weeks, my skin was clear. It's not the acne cream alone that cleared it up, but how all of the products work together as a whole." Kyle B., NJ.
Take the skin care quiz
Opt for Laser Resurfacing Treatments
Laser skin resurfacing procedures use short, pulsed beams of light to reduce permanent skin blemishes such as acne scars, dark spots and types of sun-damaged skin.
The two most common types of resurfacing lasers include ablative and non-ablative lasers.
With ablative laser treatments, the top, thin layer of your skin is completely removed via laser beams to make way for new, smooth skin underneath.
A non-ablative laser treatment doesn't remove any skin.
Rather, it stimulates the growth of collagen to tighten the skin and reduce the appearance of blemishes.
Although ablative laser resurfacing is a more invasive technique, it's particularly effective for guys with deeper acne scars.
One thing you'll want to note with laser resurfacing is that it can increase sun sensitivity, so be sure to apply a moisturizer with SPF to your skin daily.
Try Dermabrasion / Microdermabrasion
Dermabrasion and microdermabrasion are two types of skin resurfacing techniques that can improve the appearance of acne scars.
They both work by removing the uppermost layers of the skin via controlled exfoliation.
However, dermabrasion is generally only recommended to those with fair skin because it can result in discoloration in darker skin types.
Microdermabrasion is considered relatively safe for every skin type and also requires less recovery time than dermabrasion.
Consult with Your Dermatologist
If your acne scar is negatively impacting your life, talk with your dermatologist about the best acne scar treatments for your skin type.
They can point you towards one of these common acne scar treatments or talk with you about more invasive procedures (such as punch excisions) that will get rid of your acne scar for good.
Related Blogs:
10 Ways to Prevent Acne (That Actually Work)
How to Get Rid of Pimples on Nose
---