Subscription
Shipping Address
Order Date

This subscription's skin care system will get replaced.

${ address.name }




${ address.products }

${ displaySubscriptionName(address) }




${ displayProducts(address) }

${ displayAddress(address) }
${ formatDate(address.scheduleDate) }

${ address.name ? address.name : displaySubscriptionName(address)}
${ address.products }
${ displayProducts(address) }
Shipping Address
${ displayAddress(address) }
Delivery Date
${ formatDate(address.scheduleDate) }
This subscription's skin care system will get replaced.
Acne on Chin: Causes, Prevention and Treatment Options (Updated March, 2020)
Chin acne can be super frustrating. What causes acne on the chin and what can you do about it? Tiege Hanley explains how to get rid of chin acne for good.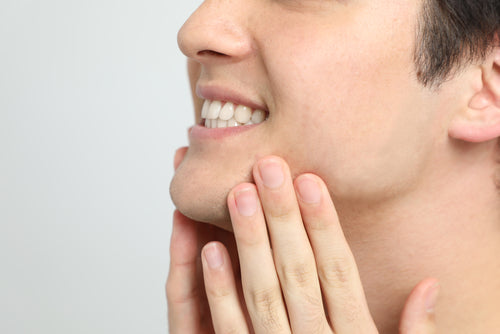 Can't seem to get rid of your chin acne?
You aren't the only one. Millions of adults struggle to control acne breakouts in this area.
To make matters worse, chin acne often takes the form of painful, red cysts that are buried deep in the skin.
Not only do they take a long time to disappear, but these cysts can also result in acne scarring.
Why are you prone to chin acne? What can be done to treat it?
Here are three things you need to know:
Acne on the chin can be caused by hormones, diet, stress and more.
A powerful acne treatment system can help control acne breakouts on the chin.
Eating healthy and sticking to a regular skin care regimen can help prevent future acne breakouts on the chin.
What Causes Acne on the Chin?
Chin acne is not uncommon in adults because it's triggered by things such as stress, diet and hormones.
Stress
Stress is a common trigger for chin acne.
Research has repeatedly found that high levels of stress can make acne worse, especially in men (see claim: "The study suggests a significant association between stress and severity of acne papulopustulosa, especially in males.")
Getting a handle on your stress can be difficult, but exercise and meditation can help reduce feelings of anxiety.
By controlling your stress, you can potentially reduce chin acne outbreaks.
GOT ACNE?
Constantly Touching Your Chin
How often do you place your chin in your hands at work?
Or, find yourself touching your chin while listening to someone speak?
Constantly touching the chin is a sneaky cause of chin acne.
Our hands are a breeding ground for germs and bacteria, which can be transferred to our faces.
This is a tough habit for many of us to break, especially because we might even be doing it in our sleep.
However, try your best to be mindful of your hands and avoid touching your chin as much as possible.
Sugar
Your diet plays an enormous role in the health of your skin.
Eating sugary foods which spike your insulin levels has been shown to stimulate androgen hormones that trigger excess sebum production (see claim: Insulin and IGF-1 have been shown to augment sebum production, stimulate adrenal androgen synthesis… which play a role in the pathogenesis of acne.")
Excess oil production leads to painful breakouts on the chin.
If you can't shake your chin acne, try eliminating sugary foods, white bread and other processed foods which spike insulin levels.
Poor Sleep Habits
Is your chin acne worse after a poor night's sleep? This is no coincidence.
Several hormones in the body are influenced by sleep and our circadian rhythm.
When we don't get a good night's sleep, these hormones are disrupted and can trigger acne outbreaks on the chin.
Treatment for Acne on the Chin
Chin acne doesn't need to be a permanent state.
If your chin acne persists after fixing your diet and sleep habits, it's time for a more powerful acne treatment system.
The best acne treatment system for chin acne will contain skin care products using Salicylic Acid.
This powerful, yet gentle ingredient is an effective acne fighter which can unclog pores and prevent future breakouts.
If your acne treatment system doesn't seem to be working, it may be time to see your primary care doctor or a dermatologist.
You could have a hormonal imbalance which is causing your chin acne to get out of control.
A dermatologist may prescribe you antibiotics such as Tetracycline to combat acne and inflammation.
Topical retinoids are also commonly prescribed by doctors to eliminate cystic acne.
Take the skin care quiz
Chin Acne Prevention
You've gotten control over your chin acne. But how do you keep it from returning?
Don't worry gentlemen, there is a simple solution.
If you haven't already established a daily skin care regimen, now is the time to start.
An uncomplicated skin care routine is the key to preventing future breakouts on your chin.
With regular cleansing, exfoliating and moisturization, you can effectively eliminate acne-causing bacteria, keeping your skin healthy and more likely, blemish-free.
Say Goodbye to Chin Acne with Tiege Hanley
Chin acne can be frustrating and painful.
Although it may seem like a permanent fixture on your face, it doesn't have to be!
If you're tired of struggling with chin acne, give one of Tiege Hanley's Acne Systems for men a try, and then let us know what you think in the comments section below!
Actual Tiege Hanley customer testimonial:

"Over a 3 year period, I probably spent over two grand in skin care and still had acne. I decided to reach out and request to be a part of the

 

Tiege Hanley Acne trial

 

and I have been blown away. After two weeks, my skin was clear. It's not the acne cream alone that cleared it up, but how all of the products work together as a whole." Kyle B., NJ.
Related Blogs:
10 Ways to Prevent Acne (That Actually Work)
How to Get Rid of Pimples on Nose
---
// © Copyright 2023 Tiege Hanley