Subscription
Shipping Address
Order Date

This subscription's skin care system will get replaced.

${ address.name }




${ address.products }

${ displaySubscriptionName(address) }




${ displayProducts(address) }

${ displayAddress(address) }
${ formatDate(address.scheduleDate) }

${ address.name ? address.name : displaySubscriptionName(address)}
${ address.products }
${ displayProducts(address) }
Shipping Address
${ displayAddress(address) }
Delivery Date
${ formatDate(address.scheduleDate) }
This subscription's skin care system will get replaced.
What Does Skin Cancer Feel Like? Does it Hurt?
Have you ever wondered what skin cancer feels like? We've got the answers. Drop by the Tiege Hanley blog and learn about the physical symptoms of skin cancer.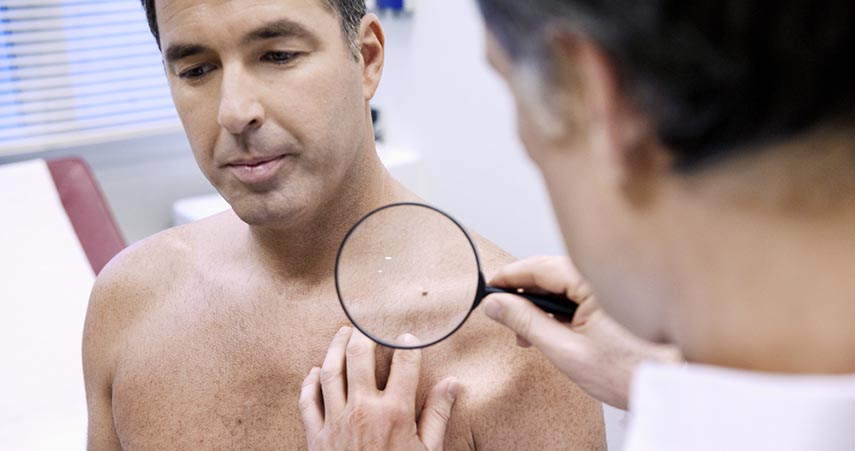 Many of us are familiar with what skin cancer can look like. It often appears as a strange mole that has an irregular color or shape. Sometimes, these moles can bleed or develop a thick crust.
But apart from how a mole looks, few people are taught to recognize how skin cancer might feel. Does it hurt? Does it itch? For those who have an increased risk of skin cancer, these are questions worth asking.
Here are three things you need to know about how it feels to have skin cancer:
Painful and/or itchy skin patches can be a sign of skin cancer.
Melanoma skin cancers are less likely to be itchy and painful compared to non-melanomas.
If you suspect skin cancer, seek a doctor immediately for a biopsy.
TRY MEN'S SKIN CARE
Does Skin Cancer Hurt or Itch?
The short answer is yes. Both melanoma (the deadliest type of skin cancer) and non-melanoma skin cancers can cause skin lesions to become painful and itchy. Multiple studies have found that skin cancer can be accompanied by tenderness, pain and itching at the site.
In a 2014 study published in JAMA Dermatology, researchers examined records of 268 patients who had skin cancer confirmed by a laboratory. Out of the 339 skin cancers detected on the patients, 166 were basal cell carcinomas, 146 were squamous cell carcinomas and 27 were melanomas.
Researchers had the patients fill out a questionnaire to assess itch and pain intensity of their skin lesions during the time of excision. The results found that 36.9 percent of skin cancer lesions were itchy, while 28.2 percent were painful. Interestingly, melanomas were much less likely to have these symptoms compared to non-melanoma skin lesions (see claim: "…these symptoms were mostly absent in melanomas.")
What Are the Other Signs and Symptoms of Skin Cancer?
Just because your mole isn't itchy, painful or tender doesn't mean that you don't have skin cancer. In addition to assessing how your skin feels, you should also know the other warning signs of skin cancer.
Changes in Size and Shape—Moles that look "ugly" compared to surrounding moles require closer inspection. If these moles change in any way, see a doctor to have a biopsy performed.
Unusual Skin Growth—Bleeding or crusty sores that seem to heal and then return may be a sign of skin cancer.
Red, Scaly Patches—Dry, red patches on the skin may be a sign of squamous cell carcinoma. If this patch doesn't go away, seek medical attention.
Another thing to be on the watch for is a sneaky skin condition known as actinic keratosis, which often appears in the form of dry patches on the face. Actinic keratosis is a premalignant skin disease caused by cumulative exposure to ultraviolet radiation.
When left untreated, there is a chance that actinic keratosis can develop into squamous cell carcinoma. This is one reason why it's so important for guys to get regular screenings and be proactive about protecting their skin from the sun.
What Should I Do if I Suspect Skin Cancer?
If you have painful and itchy skin lesions or a funny-shaped mole, don't panic. Skin changes can occur for several reasons that may not be related to skin cancer at all.
Even so, you don't want to take your chances. When detected early, even the most deadly melanoma skin cancers have a good survival rate. According to a 2017 study published in Acta Medica Lituanica, researchers found that melanoma lesions less than 1 mm in size had a 10-year survival rate of 87.5 percent (see claim: "Lesions less than 1.00 mm had ten-year melanoma-specific survival of 87.5%...")
If you suspect skin cancer, schedule an appointment with your doctor. They will inspect the mole and likely perform a biopsy to test it for cancer.
Take the skin care quiz
What Else Should I Do to Lower My Risk?
If you aren't already getting regular skin care screenings, start scheduling a yearly screening with your dermatologist. In the meantime, learn how to perform self-skin checks on yourself by using a hand mirror to check areas you normally don't see, such as the backs of your legs and neck.
You can also reduce your risk of skin cancer by practicing sun safety. This includes using a daily moisturizer with SPF, staying out of the sun during its hottest hours and wearing SPF clothing.
Detecting Skin Cancer Early Is Key
While skin cancer can feel itchy and painful, it's important that you don't rely solely on recognizing these symptoms. If you notice any changes in your skin that set off alarm bells, play it safe and get checked by a dermatologist.
---
// © Copyright 2023 Tiege Hanley