Subscription
Shipping Address
Order Date

This subscription's skin care system will get replaced.

${ address.name }




${ address.products }

${ displaySubscriptionName(address) }




${ displayProducts(address) }

${ displayAddress(address) }
${ formatDate(address.scheduleDate) }

${ address.name ? address.name : displaySubscriptionName(address)}
${ address.products }
${ displayProducts(address) }
Shipping Address
${ displayAddress(address) }
Delivery Date
${ formatDate(address.scheduleDate) }
This subscription's skin care system will get replaced.
Why Are My Lips So Dry? 5 Common Causes of Dry Lips
Dry lips are more than just a cold weather problem. Find out why your lips are so chapped, along with a few easy fixes!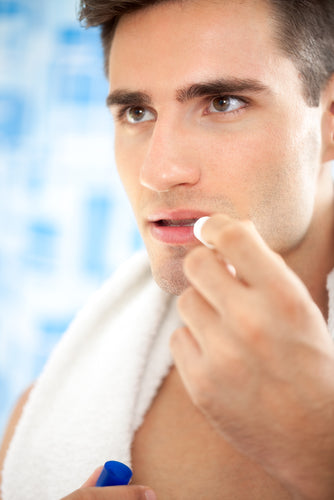 Dry, chapped lips can be painful and distracting—not to mention a total mood-killer. In fact, most of us don't think twice about our lips until we're going in for a kiss.
Known medically as cheilitis, dry lips can sneak up on all of us at the worst times. Although this problem is most common in the colder months, dry lips can afflict us at all times of the year.
While a moisturizing lip balm is one of the more obvious solutions to chapped lips, it helps to know the true cause behind your dry kisser.
Here are several things you need to know to help you identify and fix your dry lips:
Because lips contain no oil glands, they dry out more easily compared to other parts of the body.
A lack of moisture in the air has been known to make dry lips worse, which is why winter months are often associated with chapped lips.
A lip balm with moisturizing ingredients, can go a long way in helping soothe dry, chapped lips.
1. Harsh Weather
Dry, winter air and strong wind are both notorious for zapping moisture from the skin. Your lips are especially vulnerable to harsh weather conditions because (a) the skin on your lips is thin and (b) they contain no oil glands to help keep them moisturized.
If your current lip balm doesn't seem to be doing the trick, you may want to take a closer look at the ingredients. Keep an eye out for moisturizing ingredients that soothe and nourish dehydrated lips, such as Kukui Nut Oil, Jojoba Oil and Hyaluronic Acid.
GOT WRINKLES?
2. Sun Exposure
You probably know that using a daily moisturizer with SPF is essential to protecting your face from the sun's harmful UV rays. Did you know that your lips need protection from the sun as well?
The lower lip, which sticks out more than the upper lip, is especially prone to sunburn. Known as actinic cheilitis, sunburn on the lips is more than just painful—it can potentially develop into skin cancer.
According to a 2011 review published in the European Journal of Dentistry, actinic cheilitis is more common in those with fair-skinned complexions (see claim: "…actinic cheilitis occur more frequently in pale people, particularly in those with fair complexions…") Fair-skinned complexion or not, it's recommended that all guys use a lip balm with SPF to protect the sensitive skin on their lips from sun damage.
3. Dehydration
If you have chronic dry lips, the problem may stem from dehydration. This is especially common during the winter months because many of us forget to replenish lost water because we don't feel as thirsty.
Drinking more water can improve your circulation and help your blood deliver vital nutrients to the skin. If the thought of drinking cold water doesn't sound appealing in the winter months, try to drink hot tea throughout the day to stay hydrated.
In fact, hot tea can do more than just keep you hydrated. It's also good for cardiovascular health. According to a 2015 study published in the American Journal of Clinical Nutrition, the flavonoids in tea can boost blood flow and improve insulin resistance to reduce the risk of cardiovascular diseases (see claim: "…results suggest that epicatechin may in part contribute to the cardioprotective effects of cocoa and tea by improving insulin resistance.")
4. Excessive Licking
Habitual licking is another sneaky cause of chapped lips. While it might briefly provide some relief to your dry lips, your saliva makes the problem worse.
This is because your saliva contains enzymes such as amylase and lingual lipase which help break down food. These enzymes can eliminate the small amounts of natural moisture that are left on your lips.
Although the solution is simple, it can be difficult to be conscious of habitual licking. Keep your lip balm handy and reach for it any time you feel the urge to lick your lips.
Take the skin care quiz
5. Lack of Self-Care
Your skin will benefit from a regular skin care routine, and your lips are no exception. If your lips have been facing some harsh weather lately or are simply prone to dryness, giving them a little TLC can help keep them smooth and healthy. Follow it up with a moisturizing lip balm and your lips will be much happier for it.
Soothing Dry, Chapped Lips
As you can see, there are many reasons why your lips could be dry and chapped. While it's often assumed that cheilitis is a winter season problem, the truth is that dry lips can occur all year round.
In addition to a moisturizing lip balm, you can also try adding a humidifier to your bedroom. A humidifier will help keep moisture in the air, benefiting not only the skin on your lips, but your entire body.
---
// © Copyright 2023 Tiege Hanley