Subscription
Shipping Address
Order Date

This subscription's skin care system will get replaced.

${ address.name }




${ address.products }

${ displaySubscriptionName(address) }




${ displayProducts(address) }

${ displayAddress(address) }
${ formatDate(address.scheduleDate) }

${ address.name ? address.name : displaySubscriptionName(address)}
${ address.products }
${ displayProducts(address) }
Shipping Address
${ displayAddress(address) }
Delivery Date
${ formatDate(address.scheduleDate) }
This subscription's skin care system will get replaced.
Why did Tiege Hanley Develop Their Own Hand Lotion?
The new norm is to wash and sanitize your hands like crazy—and for good reason. But applying that much soap or alcohol to your hands makes them super dry. Enter HANDS, the solution to your dry hand hang-ups.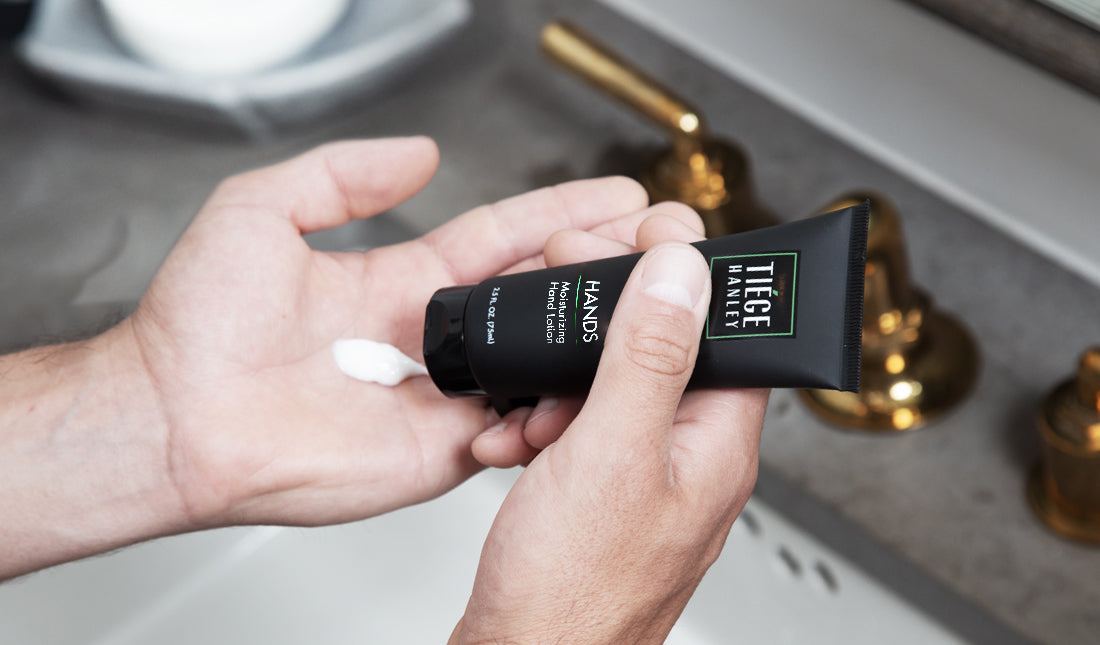 Let's be real—a guy's hands are definitely rougher than a woman's.
And generally, men don't really notice or care.
But lately, it's been pretty hard to ignore.
If you're washing and sanitizing your hands as frequently as we are here at Tiege Hanley headquarters in Chicago, we've got something new you might appreciate.
Introducing HANDS—a high quality hand lotion for men.

What's In It?
Trust us, we wouldn't make a greasy hand lotion. Not with all the tree chopping, drag racing and rock climbing us men do.
Or, you know, texting…
This hand lotion dries super quick despite delivering a ton of hydration to your man mitts.
It's made with Avocado Oil, Sunflower Seed Oil and Vitamin E, which combine to restore dry, chapped hands.
Avocado Oil is a naturally hydrating oil that helps moisturize, restore and sooth the skin.
Sunflower Seed Oil is rich in beta carotene and helps nourish and restore your skin's natural barrier.
Vitamin E moisturizes and protects the skin from environmental stresses.
They're kind of like our version of the "Big 3."
We're officially taking our talents to…your hands…. (Any LeBron fans in the house? Just us? Okay then)
HANDS is the perfect addition to your next box
Customize your next box of Tiege Hanley by adding a bottle of HANDS to it.
Just log in to your account, scroll down a little and hit the "add" button next to HANDS.
There are actually two sizes to choose from—a regular 2.5 oz bottle or a smaller 0.75 oz bottle.
Same great stuff, two convenient sizes.
Add one or both to your box any time you feel like you've had enough of that unpleasant dryness afflicting men's hands around the world.
Then get back to chopping down that tree.
---
// © Copyright 2023 Tiege Hanley