Subscription
Shipping Address
Order Date

This subscription's skin care system will get replaced.

${ address.name }




${ address.products }

${ displaySubscriptionName(address) }




${ displayProducts(address) }

${ displayAddress(address) }
${ formatDate(address.scheduleDate) }

${ address.name ? address.name : displaySubscriptionName(address)}
${ address.products }
${ displayProducts(address) }
Shipping Address
${ displayAddress(address) }
Delivery Date
${ formatDate(address.scheduleDate) }
This subscription's skin care system will get replaced.
Why Does My Beard Hurt?
Can beards be physically painful? Why does my beard hurt all of a sudden? Get to the bottom of your tender, achy beard once and for all.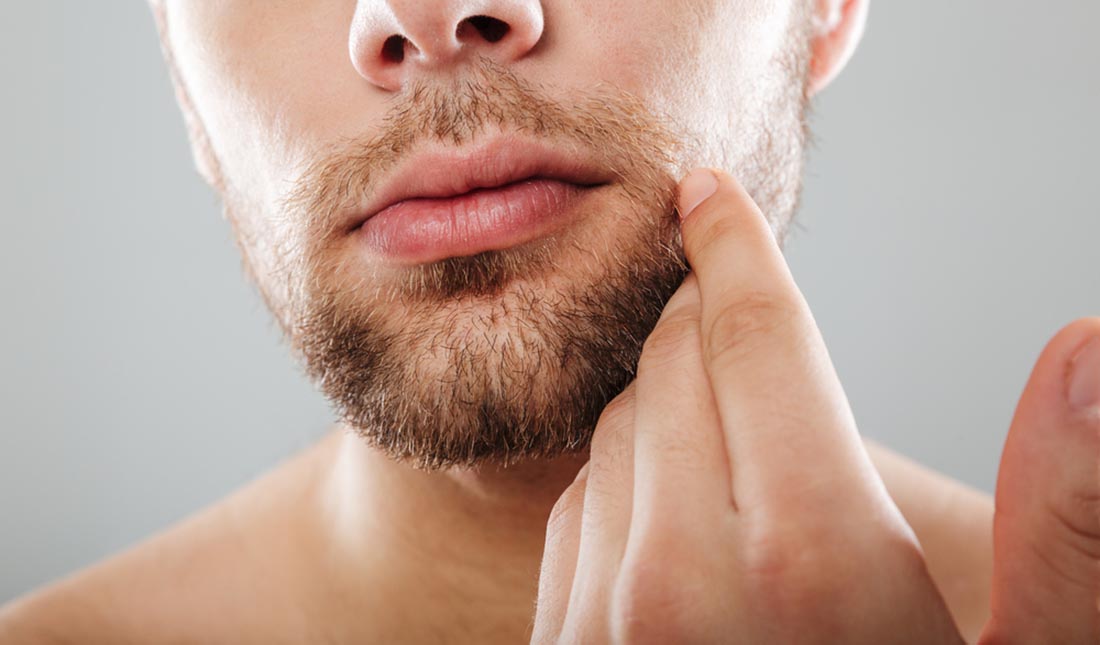 Beards can be a major pain, and we don't mean that strictly in a metaphorical sense.
We mean that your hard-won scruff can literally cause you physical pain at times.
If your facial hair frequently feels tender to the touch, you've probably found yourself wondering: Why does my beard hurt so much?
Beard pain is more common than you might think.
If you were to talk with your fellow beardsmen about the problem, they'd probably share their own experiences with beard tenderness.
But why does it happen and, more importantly, what can you do about it?
Here are three things you should know about beard pain and tenderness:
It's not uncommon for new beards to feel tight, achy and tender on occasion.
Over-washing and under-washing your beard may be the cause of beard pain.
Using premium-quality beard care products can reduce negative skin reactions under your beard.
Ready to get to the bottom of your painful beard?
Here are a few likely answers to the question, "Why does my beard hurt?" and what you can do about it.
1. Dry and Brittle Beard Hair
Is your facial hair parched?
A dry, brittle beard can lead to pain and tenderness along the jawline.
If your facial hair is drier than the Sahara Desert, it could be the result of over-washing your beard.
Like the hair on your head, your beard doesn't need to be washed every day.
To promote a healthy beard, stick to washing it once or twice a week with a hydrating beard wash or a gentle shampoo.
Follow up with a beard conditioner and a nourishing beard oil.
Not only will your dehydrated beard feel much softer, it will look a million times better.
GOT WRINKLES?
2. Oil Buildup
Under-washing your beard is another sneaky reason why your beard might be hurting lately.
The skin cells underneath your beard shed at a rapid pace.
The combination of dead skin cells and oil create the perfect environment for yeast and bacteria to live, which can lead to skin inflammation under the beard.
While that may sound gross, consider this: A 2014 study published in the Journal of Hospital Infection found that beards may be more hygienic than clean-shaven faces (see claim: "…certain bacterial species were more prevalent in workers without facial hair.")
The point is that your beard isn't necessarily dirty.
It could simply benefit from more frequent washing and a twice-weekly face scrub to remove the buildup.
3. Beard Acne
Does your beard hurt only when you touch it?
You could have a painful pimple lurking underneath your facial hair.
According to the American Academy of Dermatology, acne can persist well into adulthood, affecting adults well into their 30s, 40s and 50s.
As depressing as that probably sounds, it in no way means that you need to put up with beard acne.
An over-the-counter (OTC) acne treatment system is typically the first line of treatment for adult acne.
If an OTC treatment doesn't take care of your acne, you should see your dermatologist.
TAKE THE SKIN CARE QUIZ
4. The Awkward Phase of Beard Growth
Growing a beard for the first time?
Be prepared to run into annoying snags in the form of beard itch, awkward beard patches and beard tenderness.
If you're a first-time beard grower, you should know that beard tenderness is totally normal.
The pain is often at its worst in the morning when you first wake up.
Don't worry, it will go away on its own.
Focus on taking good care of your beard as it grows and try your best to ride out the awkward growth phase.
You'll be rewarded with a glorious beard that has been allowed to grow to its full potential.
5. Poor Quality Beard Products
Buying beard care products from your favorite grocery store is not a good move.
Sure, it might save you a couple of bucks, but the products you find at the grocery store often contain poor-quality ingredients that can irritate your skin.
For instance, artificial fragrances are commonly found in cheap beard care products and may irritate your skin.
If your skin feels tight or develops a red, itchy rash after you apply the product, you may be having an allergic reaction to the product.
To make your skin and beard happy, look for premium-quality beard care products that are formulated for sensitive skin.
Final Thoughts
Why does my beard hurt so much lately?
The answer to that question can likely be attributed to one of these five culprits.
Your best bet for overcoming the pain is to load up on high-quality beard products and find a beard care routine that works for your skin.
Once you hit the sweet spot with your routine, your beard will be pain-free in no time.

References
Wakeam, E et al. "Bacterial ecology of hospital workers' facial hair: a cross-sectional study." The Journal of hospital infection vol. 87,1 (2014): 63-7.
American Academy of Dermatology
---
// © Copyright 2023 Tiege Hanley