Subscription
Shipping Address
Order Date

This subscription's skin care system will get replaced.

${ address.name }




${ address.products }

${ displaySubscriptionName(address) }




${ displayProducts(address) }

${ displayAddress(address) }
${ formatDate(address.scheduleDate) }

${ address.name ? address.name : displaySubscriptionName(address)}
${ address.products }
${ displayProducts(address) }
Shipping Address
${ displayAddress(address) }
Delivery Date
${ formatDate(address.scheduleDate) }
This subscription's skin care system will get replaced.
Yoga for Men—A Complete Beginner's Guide
Yoga for men has exploded in popularity in recent years. What's all the fuss about? Learn more about the benefits of yoga for men and get useful beginner tips!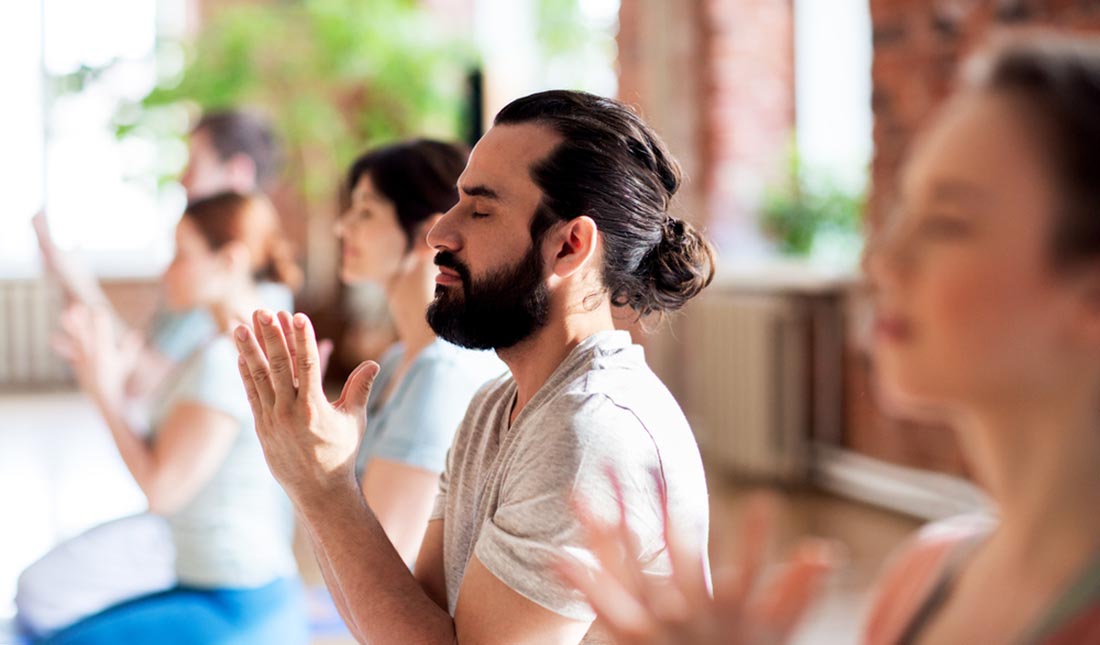 We get it—yoga is not the weight room. There are no guys grunting loudly as they lift insanely heavy weights. There are no congratulatory bum smacks and shoulder pats after achieving a new personal best. A yoga studio is a completely different setting, and one that can feel pretty intimidating at that.
But just because yoga is different than what you're used to doesn't mean that it's not worth trying. In fact, yoga for men has skyrocketed in popularity in recent years as more guys experience the vast array of physical and mental health benefits for themselves.
Here are three things you need to know about yoga for men.
Yoga offers many benefits such as reduced stress and a better sex life
There are many types of yoga that are worth trying at least once
To make the most of your yoga practice, leave your ego at the door
Ready to try yoga for the first time? Consider this your helpful beginner's guide to the world of yoga for men.
Why You Should Make Time for Yoga
Let us guess. You're a busy guy who hardly has time to wash his face in the morning, let alone take an hour-long yoga class. We feel your pain—really, we do. But we promise that yoga is worth making time for.
TRY MEN'S SKIN CARE
Don't believe us? We'll let these yoga benefits speak for themselves.
It Can Help Lower Stress
Feeling like you're under a mountain of stress at work? Yoga can help. According to a 2018 study published in the journal Anxiety, Stress, and Coping, researchers found that employees who practiced yoga for eight weeks showed a significant decrease in stress and an increase in their sense of well-being (see claim: "…yoga practitioners showed significant decreases in stress, anxiety, and general psychological health, and significant increases in well-being.")
It's Great for Cross-Training
There's a good reason why professional athletes such as LeBron James aren't afraid of a little downward dog. Athletes who train at a high level know that yoga keeps them limber and flexible, which is key to staying injury-free. If you're determined to run a marathon this year, yoga is the cross-training exercise you need to have in your fitness regimen.
It May Improve Sex Life
Oh, did we get your attention with this one? It's true. Yoga can make your sex life significantly better. Not only does yoga make you more flexible, it can also help you last longer in bed.
In a 2010 study published in the Journal of Sex Medicine, researchers asked 65 men to participate in a 12-week yoga camp. The results of the study found that, after completion of the yoga camp, men reported having improved performance, orgasm, ejaculate control and confidence (see claim: "It was found that after the completion of yoga sessions, the sexual functions scores were significantly improved (P<0.0001).")
It's Good for Your Skin
Here's a surprising benefit of yoga—it can potentially help you retain your youthfulness. According to a 2016 review published in Future Science OA, researchers conclude that there is some small evidence that yoga may have an anti-aging effect on the body (see claim: "The evidences supporting the antioxidant cellular and tissue effects of yoga discovered in the recent decade are intriguing and warrant more studies with a larger population base.")
Of course, this is no excuse to let your daily skin care regimen fall by the wayside. But by combining the two, you might be able to hold off signs of aging for longer.
Beginner Yoga Tips for Men
While it's true that you can always do yoga in the comfort of your own home, taking a yoga class is a great way to learn the basics and maximize the benefits. If you're nervous about walking into a yoga studio with a bunch of seasoned yogis, don't be. Here are a few beginner tips to help you make the most of your first class:
TAKE THE SKIN CARE QUIZ
Find Your Yoga Style
Finding the right yoga style for you is key to keeping up your yoga practice for the long-term. If you aren't sure which style is best for you, consider dropping by your local yoga studio in person to talk with the instructors. They can recommend a yoga style for you based on your skill level and personal preference.
Show Up Early
Once you find a yoga class, plan to show up a little early. This will give you the chance to find a good spot (i.e., the back where you can see what other yogis are doing) and talk with the instructor. Let your instructor know that you're a total newb so that he/she can keep an eye on your form.
Check Your Ego at the Door
If your fellow yogis begin doing insane, pretzel-like poses, don't try to get on their level. They've been practicing for much longer than you have and can presumably pull off those difficult poses without injuring themselves. Yoga class isn't a competition, so leave your ego at the door.
Work on Your Core Strength
You don't need to have chiseled abs to do yoga, but a strong core definitely helps. A strong core is not only helpful for yoga poses, it's absolutely necessary for many intermediate to advanced poses. Start working on your ab exercises now and you'll thank yourself later on down the road.
Go with the Flow
Remember, it's okay to opt out of a pose or modify it to suit your skill level. No one is going to think that you're lazy or weak.
In fact, no one—save the instructor—is even watching you. They're too focused on themselves and their own breathing. Just relax, focus on your breathing and you'll effectively reap the maximum benefits of yoga for men.
References
Maddux, Rachel E., et al. "The Effects of Yoga on Stress and Psychological Health among Employees: An 8- and 16-Week Intervention Study." Anxiety, Stress, and Coping, vol. 31, no. 2, 2018, pp. 121–34.
Yoga in Male Sexual Functioning: A Noncompararive Pilot Study. - PubMed - NCBI. Accessed 31 Jan. 2020.
Beri, Kavita. "Breathing to Younger Skin: 'Reversing the Molecular Mechanism of Skin Aging with Yoga.'" Future Science OA, vol. 2, no. 2, May 2016.
---