Subscription
Shipping Address
Order Date

This subscription's skin care system will get replaced.

${ address.name }




${ address.products }

${ displaySubscriptionName(address) }




${ displayProducts(address) }

${ displayAddress(address) }
${ formatDate(address.scheduleDate) }

${ address.name ? address.name : displaySubscriptionName(address)}
${ address.products }
${ displayProducts(address) }
Shipping Address
${ displayAddress(address) }
Delivery Date
${ formatDate(address.scheduleDate) }
This subscription's skin care system will get replaced.
4 Best Hand Lotions for Men
Tired of dry hands? Check out these four best hand lotions for men and start giving your hands the care and treatment they deserve.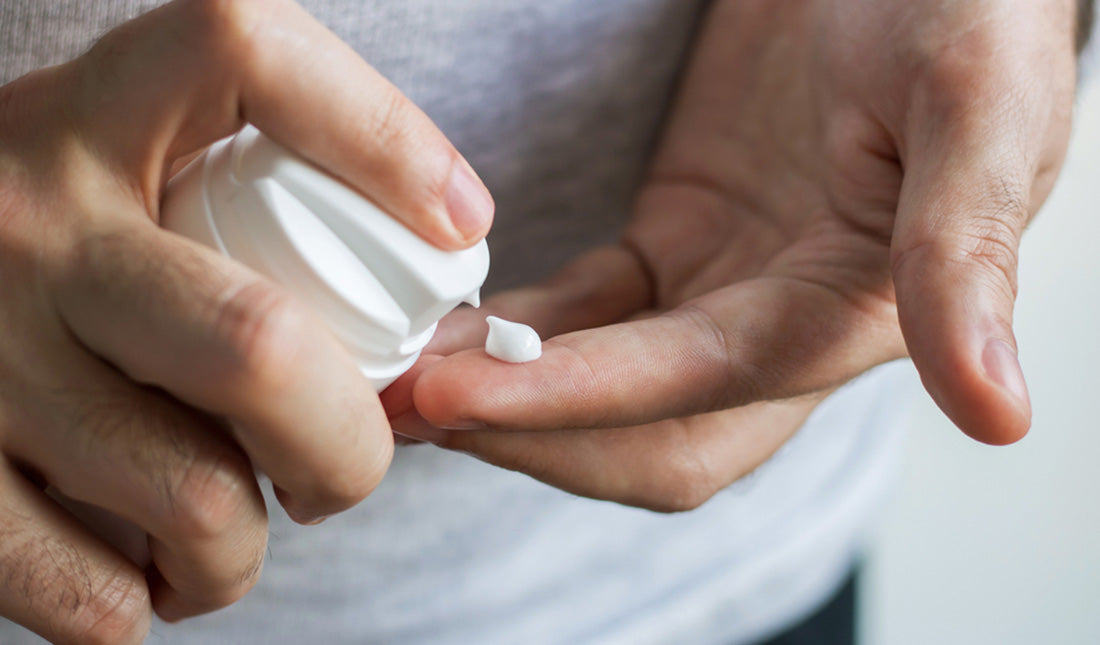 Most of us don't think twice about our hands until they're dry, cracked and begging for hydration. While we rely on them for just about everything, rarely do we give them the attention they deserve.
This problem can be easily fixed by picking up a good hand cream for men. A quality hand cream will help protect your skin from the elements, soothe cracked knuckles and keep hands healthy and youthful.
Here are three things you should know about hand lotions for men:
Hand lotions can protect skin from weather, UV rays and the drying effects of regular washing
The best hand lotion for men will feature broad spectrum sun protection and lightweight moisturization
Test your hand lotion on a small part of your hand before applying all over your hands
Why You Should Keep a Hand Cream Handy
Why is a hand cream for men important? Well, consider how much of a beating your hands suffer on a daily basis.
From harsh weather to daily handwashing, here are a few good reasons why you need a hand cream for men.
TRY MEN'S SKIN CARE
Protection Against the Elements
Your hands are exposed to all the elements, including the sun's UV rays. If you've read some alarming skin cancer statistics, then we probably don't need to tell you why a hand cream with SPF is important.
Skin cancer can develop anywhere on your body, and your hands are no exception. According to a 2012 study in Plastic and Reconstructive Surgery, squamous cell carcinoma is the most common skin cancer to affect the hand and often requires soft-tissue reconstruction (see claim: "Squamous cell carcinomas are the most common skin malignancy of the hand…")
Restore Skin Barrier Function
In addition to being subjected to the elements, your hands also take a beating through regular washing with hand soap. According to a 2006 study published in the International Journal of Cosmetic Science, the average skin pH is 4.7, with an acidic range from 4.0 to 7.0 (see claim: "…it is estimated that the 'natural' skin surface pH is on average 4.7, i.e. below 5.")
Many soaps contain a high pH in the 8-10 range, which can have a dehydrating effect. This effect is even more pronounced in the colder months, when a lot of guys suffer from dry winter skin.
In summation, you need a hand cream that will protect your hands from Mother Nature and restore hydration to your parched hands. Luckily, there are plenty of hand creams that are up for the task.
Best Hand Lotions for Men
Below, we've listed our top picks for the best hand lotions for men. Pick one of these products up and say goodbye to dry, itchy hands for good.
You already apply a daily moisturizer with SPF to your face. Why not extend the love to your hands?
Eucerin's Daily Hydration Hand Cream with SPF 30 is, hands down (pun intended), the best hand lotion for men. Not only does it offer broad spectrum UVA/UVB protection for your hands, it's fragrance free and dye free.
To top it off, Eucerin's Daily Hydration Hand Cream provides long-lasting hydration to parched hands without being greasy. That means you don't need to worry as much about causing acne breakouts every time you touch your face.
If you prefer to use a physical sunscreen with zinc oxide, UNSUN Emollient Rich Hand Cream SPF 15 is another solid option. This moisturizing hand lotion for men is fragrance free, formulated for all skin types and contains soothing ingredients such as Aloe Vera and Cucumis Sativus (Cucumber).
The one downside to a physical sunscreen is that it can be easily washed off because it sits on top of your skin. To reap the full benefits of this product, you'll likely need to apply it every time you wash your hands.
Finding skin care products for sensitive skin can be a pain. If you need a hand cream that won't make your skin red and itchy, check out Vanicream Moisturizing Skin Cream.
This hand cream is free of fragrances, dyes, lanolin, parabens and formaldehyde. It has also been awarded the seal of the National Eczema Association, which makes it a great choice for those with atopic dermatitis.
Take the skin care quiz
Apart from wrinkles around the eyes, nothing reveals your true age more than wrinkled hands. If you want to keep your hands looking young for years to come, consider picking up SkinCeutical's hand lotion for aging skin.
This lightweight hand lotion has an impressive lineup of high-quality ingredients, including Hyaluronic Acid, Herbal Extracts, Dimethicone and Salicylic Acid. It's also fragrance-free and suitable for all skin types, including combination skin.
To maximize this product's effectiveness, we recommend applying it right after exfoliating your hands as part of your bedtime routine. This will allow the ingredients to soak in and ensure that you don't wash them off.
Final Thoughts
The skin on your hands is susceptible to drying, cracking and wrinkles. By picking up one (or two) of these hand lotions, you can give your hands the VIP treatment they deserve.
With any new skin care product, remember to perform a small patch test first to see how it reacts with your skin. Once you know that it works for your skin, you can apply your hand cream on both hands.

References
Maciburko, Simon J., et al. "Skin Cancers of the Hand:  A Series of 541 Malignancies." Plastic and Reconstructive Surgery, vol. 129, no. 6, June 2012, pp. 1329–36. PubMed, doi:10.1097/PRS.0b013e31824ecc58.
Lambers, H., et al. "Natural Skin Surface PH Is on Average below 5, Which Is Beneficial for Its Resident Flora." International Journal of Cosmetic Science, vol. 28, no. 5, Oct. 2006, pp. 359–70. PubMed, doi:10.1111/j.1467-2494.2006.00344.x.
---