Subscription
Shipping Address
Order Date

This subscription's skin care system will get replaced.

${ address.name }




${ address.products }

${ displaySubscriptionName(address) }




${ displayProducts(address) }

${ displayAddress(address) }
${ formatDate(address.scheduleDate) }

${ address.name ? address.name : displaySubscriptionName(address)}
${ address.products }
${ displayProducts(address) }
Shipping Address
${ displayAddress(address) }
Delivery Date
${ formatDate(address.scheduleDate) }
This subscription's skin care system will get replaced.
What Is Combination Skin?
Combination skin is super common, yet difficult to treat. Find out if you have a combination skin type and how to treat it.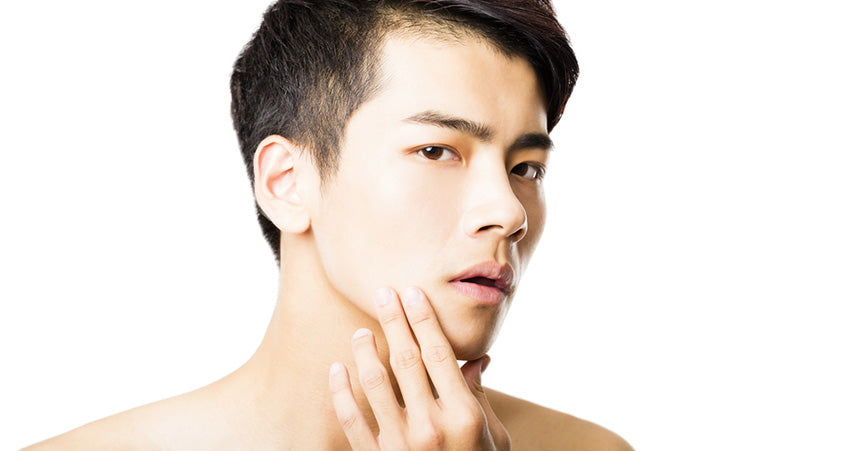 Finding the perfect skin care regimen for your skin type can be a real struggle, especially when you have combination skin. Acne treatments can dry out certain parts of your face, while moisturizers can make some areas erupt into breakouts.
On top of it all, you might have sensitive skin. This creates yet another hoop to jump through when shopping for skin care products.
As frustrating as combination skin can be, it's not as difficult to treat as you might think. First, you need to identify your skin type to be sure that what you're dealing with is truly combination skin Ready to crack your skin's code?
Here are three things you ought to know about combination skin:
There are five main skin types: dry, oily, normal, combination and sensitive.
A combination skin type is when your face features more than one of the skin types listed above.
A skin care system formulated for all skin types can help treat combination skin.
What Is Combination Skin?
Most skin care products indicate on their label which skin type they're formulated for, which is why it's always helpful to know your exact skin type. Although men usually have oily skin, they can have dry, normal, sensitive or combination skin as well.
A combination skin type is when you have at least two or more of the different skin types. For example, men can have a shiny forehead with dryness around the mouth or sensitive and dry skin.
While combination skin types are the most common, they are also the most difficult to identify and treat. To achieve a handsome and radiant complexion, you first need to understand the specific needs of your face.
TRY MEN'S SKIN CARE
Here's How to Tell if You Have Combination Skin
Perhaps you suspect that you have combination skin, but you aren't certain. To help set the matter straight, here are a few ways to tell:
1. Your Moisturizer Works Everywhere Except Your T-Zone
Your moisturizer soothes and rehydrates the area around your mouth and cheeks. But when it comes to your forehead, nose and chin (aka, your T-zone), not so much. Sound familiar?
This is a common problem in combination skin types because the T-zone contains more oil glands compared to other parts of the face.
According to a 2010 study published in Skin Research and Technology, researchers analyzed the biophysical attributes of facial skin and found that the forehead, nose and chin generally produced more oil compared to other areas (see claim: "Areas such as the forehead, nose, and chin consistently showed higher sebum causal levels…")
Areas around the mouth and cheeks also suffer from trans-epidermal water loss (TEWL). If your moisturizer works well in this area, it's probably because it's locking in moisture that would otherwise be lost.
2. You Struggle with Both Breakouts and Dry Patches
When you have oily skin, controlling acne breakouts can be a continuous struggle. When you have combination skin, you might be struggling with dry patches at the same time.
For reasons we explained above, your skin can be both dry and oily. It can also be oily and normal, and your acne products are simply causing dry patches on the skin.
Take the skin care quiz
3. Your Oily Skin Is Easily Irritated by Acne Products
Oily skin types naturally want a powerful acne treatment system that will absorb excess oil and eliminate their blemishes. Unfortunately, it's not always so simple when you have sensitive skin as well.
A sensitive/oily skin type combo is difficult to treat because many common acne-fighting ingredients such as Benzoyl Peroxide are also known to cause redness and irritation. If this combination sounds familiar, you may want to consider switching to an acne treatment system with Salicylic Acid as the active ingredient.
Salicylic Acid is an acne-fighting powerhouse that has exfoliating and anti-inflammatory properties. A 1992 study published in Clinical Therapeutics noted that many comparative studies of Salicylic Acid and Benzoyl Peroxide have found the former to be just as effective while producing fewer side effects (see claim: "Comparative studies of salicylic acid have shown it to be superior to benzoyl peroxide in reducing the total number of acne lesions.")
4. After Washing Your Face, Your T-Zone Gets Oily First
If you still aren't certain whether you have combination skin, try this experiment: Wash your face with your daily facial cleanser and wait 30-60 minutes. Examine your face and note which areas are oily, normal or dry.
If your T-zone looks greasy while other areas are normal or dry, you have combination skin.
The Goldilocks of Skin Care
Searching for a skin care system that works for combination skin can feel similar to Goldilocks choosing the perfect temperature of porridge. Some moisturizers can be too hydrating, acne creams can be too irritating and exfoliating scrubs can be too harsh.
To find the sweet spot, you need a skin care system that's formulated for all skin types. Tiege Hanley's skin care systems are designed specifically for men and are formulated for sensitive, dry, oily, normal and, yes, combination skin types. Try it out and let us know what you think!
---
// © Copyright 2023 Tiege Hanley