Subscription
Shipping Address
Order Date

This subscription's skin care system will get replaced.

${ address.name }




${ address.products }

${ displaySubscriptionName(address) }




${ displayProducts(address) }

${ displayAddress(address) }
${ formatDate(address.scheduleDate) }

${ address.name ? address.name : displaySubscriptionName(address)}
${ address.products }
${ displayProducts(address) }
Shipping Address
${ displayAddress(address) }
Delivery Date
${ formatDate(address.scheduleDate) }
This subscription's skin care system will get replaced.
5 Best Electric Shavers for Sensitive Skin
Struggling to shave with sensitive skin? Check out these top-of-the-line electric shavers for men with sensitive skin.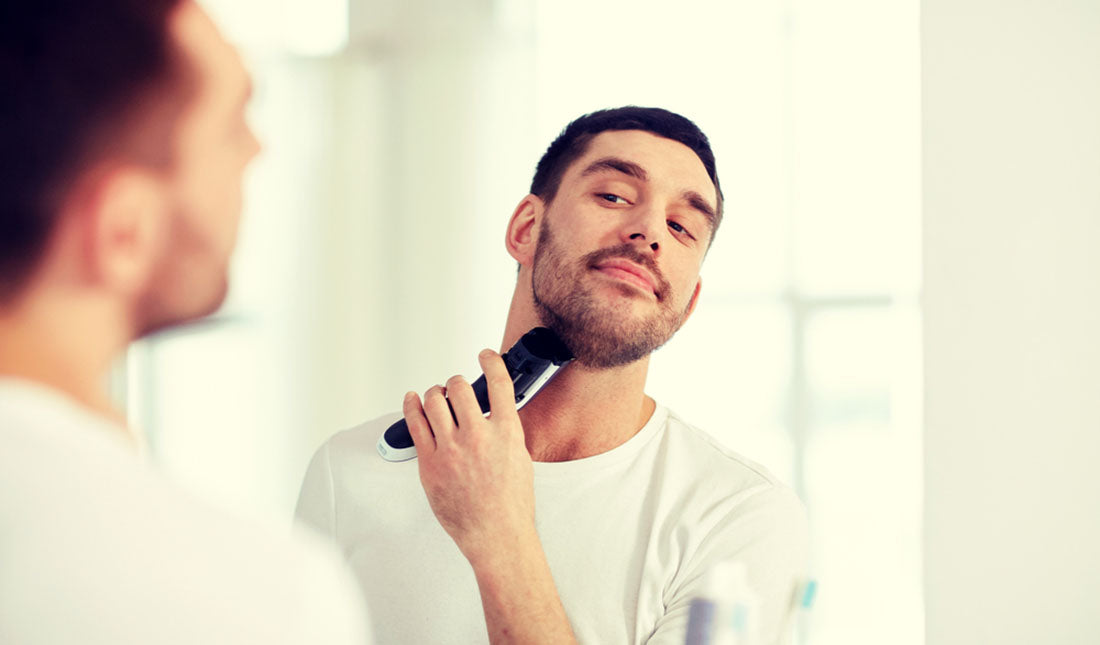 Tired of your shave routine causing redness, itchiness and razor burn? You aren't the only one. New research has shown that sensitive skin is far more common in guys than previously thought, with some estimates showing that as much as 60 percent of men report having sensitive skin.
If your skin seems to get red and angry at the slightest touch of your razor blade, switching to an electric razor may be your best option. Electric shavers are ideal for sensitive skin due to their ability to reduce cuts, nicks and ingrown hairs.
Which electric shaver is best for guys with sensitive skin? Below, we'll briefly discuss the prevalence of guys with sensitive skin, the key to reducing post-shave irritation and the best electric shavers for sensitive skin.
Here are three things to note about electric shavers for sensitive skin:
Skin sensitivity is often described as the unpleasant skin sensations such as redness, itchiness, rash, ingrown hairs and extremely dry skin.
While these reactions can be caused by several factors (e.g., weather, skin care products, eczema, etc.), shaving is one of the more common sources of skin irritation in men.
Braun electric shavers are some of the best on the market for guys with sensitive skin.
GOT WRINKLES?
Do You Actually Have Sensitive Skin?
The number of guys reporting sensitive skin has skyrocketed in recent years. In a 2019 review article published in Frontiers in Medicine Dermatology, more than half of men reported having sensitive skin (see claim: "…50–60% of men report having some degree of sensitive skin.")
However, it's worth pointing out that many guys who suffer from post-shave irritation don't actually have sensitive skin. Post-shave irritation is incredibly common. In fact, a 2016 review article published in the International Journal of Cosmetic Science reports that two-thirds of guys expect to experience some degree of skin irritation after they shave (see claim: "…with two‐thirds of men expectant of some level of irritation.")
More often than not, most guys are simply not using the right skin care products and/or proper shave tools and techniques. On top of switching to an electric razor, make sure that you're prepping your skin properly and following up with a gentle moisturizer to reduce post-shave irritation.
Take the skin care quiz
The Best Electric Shavers for Sensitive Skin
After switching up your daily morning routine, maybe you're still struggling with post-shave irritation. In this case, it's not a bad idea to switch from a razor blade to an electric shaver.
Electric shavers are known for being much gentler on the skin. To help you find the perfect electric razor for your sensitive skin, we've rounded up a few of our top picks:
In Summary
If you truly do have sensitive skin, these electric shavers will go a long way in reducing unpleasant side effects that continuously ruin a perfectly good shave. However, maybe you just struggle with post-shave irritation. In this case, switching to one of these electric shavers can also be a facial hair game-changer.
---
// © Copyright 2023 Tiege Hanley