Subscription
Shipping Address
Order Date

This subscription's skin care system will get replaced.

${ address.name }




${ address.products }

${ displaySubscriptionName(address) }




${ displayProducts(address) }

${ displayAddress(address) }
${ formatDate(address.scheduleDate) }

${ address.name ? address.name : displaySubscriptionName(address)}
${ address.products }
${ displayProducts(address) }
Shipping Address
${ displayAddress(address) }
Delivery Date
${ formatDate(address.scheduleDate) }
This subscription's skin care system will get replaced.
Best Face Wash for Sensitive Skin and Five Ingredients to Avoid
Looking for the best face wash for sensitive skin? Find out which face wash is best for sensitive skin and five ingredients that every guy should avoid in a face wash.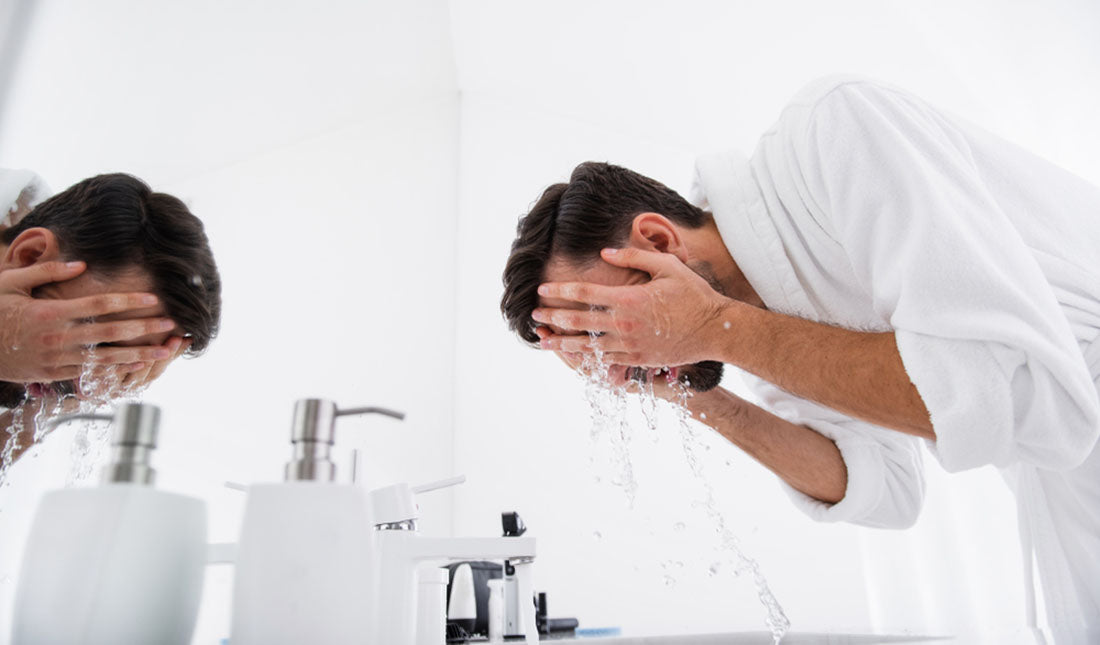 Finding a good quality face wash for sensitive skin can be challenging. Most facial cleansers on the market today aren't formulated for a guy's skin at all, much less for guys with sensitive skin.
The average face wash is usually made with one goal in mind: to clean dirt, grime and excess oil from the face. As a result, many face wash products contain harsh cleaning agents that can trigger skin reactions in those with sensitive skin.
If you're a guy with sensitive skin, don't give up your search for the best face wash just yet. In this post, we'll explain what guys should look for in a face wash for sensitive skin and which ingredients should be avoided.
Here are three things you need to know about face washes for sensitive skin:
Researchers are finding that sensitive skin in guys is more common than previously thought.
The best face wash for guys with sensitive skin is packed with powerful yet gentle products that don't irritate the skin.
Avoid face washes that include Benzoyl Peroxide, sulfates and artificial fragrances.
TRY MEN'S SKIN CARE
Sensitive Skin—Not Uniquely a Woman's Problem
There is still a lot that scientists don't know about sensitive skin. However, research does support what many of us have known for decades: That guys can have sensitive skin, too.
In a 2001 study published in the British Journal of Dermatology, 51.4 percent of women and 38.2 percent of men claimed to have sensitive skin (see claim: "…the incidence of self-reported skin sensitivity being 51.4% and 38.2%, respectively.")
The study went on to say that 57 percent of women and 34 percent of men had experienced a negative skin reaction to a personal care product at some point in their lives. The percentage of men with sensitive skin has likely increased, given the recent growth spurt of the men's grooming industry.
The Best Face Wash for Guys with Sensitive Skin
Guys with sensitive skin can run into a particular problem when shopping for a face wash. Namely, it's incredibly difficult to find ingredients that are powerful enough to penetrate a guy's tough skin, yet gentle on the skin barrier itself.
For this exact reason, it's important that you choose a facial cleanser formulated specifically for a guy's thicker skin, while also keeping your sensitive skin in mind. If this sounds daunting to you, don't sweat it. We've got just the product for you and your skin.
Our WASH facial cleanser was formulated to work with every skin type and is the top choice for guys with sensitive skin.  Packed with powerful—yet gentle—ingredients such as Willow Bark Extract, our face wash removes impurities from the skin while reducing redness and inflammation.
WASH also contains Cucumber Extract, an ingredient which can soothe skin irritations and has a therapeutic effect on sensitive skin, according to a 2013 study in Fitoterapia (see claim: "…soothing effect against skin irritations and reduces swelling…")
Best of all, our face wash is designed to work in tandem with our other products, all of which are formulated for sensitive skin types as well. With Tiege Hanley, you can finally stop worrying about your skin care products resulting in stinging, itching, swelling or redness.
Take the skin care quiz
Avoid These Five Ingredients in a Face Wash
If you already use a face wash, be sure to check the back of your product and read the label. Keep a watch out for these harsh ingredients that are terrible for sensitive skin types:
Benzoyl Peroxide: Benzoyl Peroxide is a common acne-fighting ingredient. The only problem with it? It can severely dry out the skin and cause irritation. If you need an acne-fighting ingredient, Salicylic Acid is a much gentler option.
Sulfates: A common household cleaning agent, sulfates are known for causing adverse reactions in people with sensitive skin.
Alcohols: Just so we're clear, there are "good" alcohols and "bad" alcohols. The good kinds include fatty alcohols such as cetearyl alcohol, which are non-irritating and benefit the skin. Bad alcohols such as isopropyl can cause dryness and irritation.
Propylene Glycol: Propylene glycol is an ingredient in antifreeze, if that tells you anything. Although it's considered a humectant (draws water to the skin), it can be irritating for sensitive skin types.
Artificial Fragrances: As a guy, you probably don't want artificial fragrances in your face wash anyway, but here's one more reason to avoid them: They're incredibly irritating to the skin.
Wrapping Up
In the last decade, the skin care industry has really stepped up for guys. There are finally more options for guys with sensitive skin.
When shopping for a face wash, remember to take a peek at the label to make sure that you're putting good ingredients on your face. Do your best to stay clear of the "bad" ingredients we've listed here and you'll have an easier time finding the right face wash for your skin.
---
// © Copyright 2023 Tiege Hanley