Subscription
Shipping Address
Order Date

This subscription's skin care system will get replaced.

${ address.name }




${ address.products }

${ displaySubscriptionName(address) }




${ displayProducts(address) }

${ displayAddress(address) }
${ formatDate(address.scheduleDate) }

${ address.name ? address.name : displaySubscriptionName(address)}
${ address.products }
${ displayProducts(address) }
Shipping Address
${ displayAddress(address) }
Delivery Date
${ formatDate(address.scheduleDate) }
This subscription's skin care system will get replaced.
5 Home Remedies for Sunburn
Sunburns can be incredibly painful and irritating. Learn from us how to whip up a home remedy to soothe and nourish sunburned skin.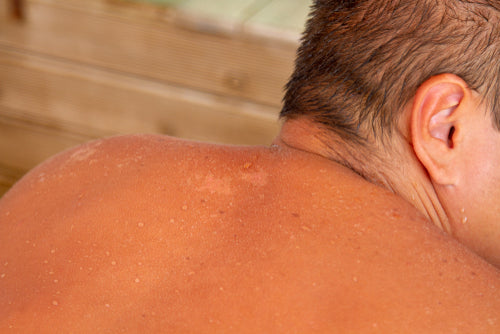 Sunscreen isn't always a sure bet, especially when you apply it incorrectly. Whether you missed a crucial spot near your shoulder blades, or you forgot to reapply your sunscreen, the result can be incredibly painful.
In most cases, sunburn does not require medical attention. You can effectively treat mild to moderate sunburns with ingredients and products you have around the house. Which ingredients are best for soothing your red, painful skin?
Here are several things you need to know about using home remedies to treat your sunburn:
Soothing, anti-inflammatory ingredients can help calm red, angry skin and speed up the healing process.
Be careful with your skin care products—some can benefit sunburned skin, while others can make it worse.
To avoid further damage to your skin, don't pick or scratch at your sunburn.
1. Take a Cold Bath
The sound of a cold bath may not seem appealing, but it can help soothe your sunburned skin and provide additional skin benefits. The cold water will cool your burn, reducing inflammation by decreasing blood flow to the skin.
The real skin benefits of taking a cold bath are a result of avoiding hot water, which further damages your skin by drying it out. Hot water can strip the skin of its natural oils, decreasing its ability to repair and rejuvenate itself.
If your sunburn is especially painful, a cold bath is recommended over a cold shower. As many guys already know, the force of the water from a showerhead can feel excruciating on a sunburn.
GOT WRINKLES?
2. Slather on Aloe Vera
There is a good reason why aloe vera is a common treatment for sunburns. Packed with vitamins, minerals, enzymes and fatty acids, aloe vera has powerful healing properties that can reduce pain and accelerate wound healing in those with sun-damaged skin.
The true power of the aloe vera plant is in its leaves. According to a 2015 study published in BioMed Research International, the gel from the leaves of aloe vera contains glycoproteins and polysaccharides which reduce pain and stimulate new skin growth (see claim: "leaves include mucilage tissue… comprises polysaccharides, which stimulate skin growth and healing.")
Before using aloe vera, you may want to consider placing it in the refrigerator for 30 minutes. This will make it cool, further enhancing its soothing capabilities.
3. Make Some Tea
If you're a tea drinker, try brewing some tea and using the freshly-brewed tea bags to soothe your sunburn. The flavonoids and polyphenols in tea have strong antioxidant properties, which are known to have a variety of benefits for your skin.
The water extracts from tea bags can have a positive effect on your sunburn as well. According to a 2014 study published in Toxicological Research, the water extracts from tea can improve moisture capacity and prevent moisture loss from sun-damaged skin (see claim: "…CSWE-treatment greatly improved skin conditions of mice suffering from UVB-induced photoaging…")
Just remember to wait a few minutes for your tea bags to cool before placing them on your skin. The last thing you want to do is irritate your sunburned skin further with an extremely hot tea bag.
4. Use Apple Cider Vinegar
Apple cider vinegar has a wide range of health benefits, mostly stemming from its friendly bacteria, amino acids and antioxidants. It has antiseptic properties that can keep your wound free from harmful bacteria, as well as anti-inflammatory benefits to reduce pain and redness.
To use apple cider vinegar on your sunburn, take an empty spray bottle and fill it with an even mixture of apple cider vinegar and water. Spray it directly on the affected area for quick relief.
Take the skin care quiz
5. Reach for Nourishing Skin Care Products
If you don't want to make your own mixture, you may have skin care products in your cabinet that can soothe and help heal your sunburn. Just look for soothing and nourishing ingredients such as Calendula Extract and Lavandula Oil, which can both soothe red, irritated skin.
Another key ingredient to look for is Plantain Extract, which offers numerous benefits to the skin such as skin regeneration and soothing properties. If you want to reap these amazing benefits while preventing future sunburns, be sure to check out our Tiege Hanley daily moisturizer.
Combating the Effects of Sunburn
Obviously, it's best for you to avoid getting sunburned in the first place. That said, mistakes can happen. Once you get a sunburn, it's important that you use the right products to combat its effects.
High-quality skin care products can potentially reverse signs of sun-damaged skin and soothe your red, painful burn. Have you tried one of Tiege Hanley's Skin Care Systems? Let us know what you think!
---
// © Copyright 2023 Tiege Hanley