Subscription
Shipping Address
Order Date

This subscription's skin care system will get replaced.

${ address.name }




${ address.products }

${ displaySubscriptionName(address) }




${ displayProducts(address) }

${ displayAddress(address) }
${ formatDate(address.scheduleDate) }

${ address.name ? address.name : displaySubscriptionName(address)}
${ address.products }
${ displayProducts(address) }
Shipping Address
${ displayAddress(address) }
Delivery Date
${ formatDate(address.scheduleDate) }
This subscription's skin care system will get replaced.
5 Things Guys can Learn from Hugh Jackman About Skin Cancer
After being diagnosed with skin cancer multiple times, Hugh Jackman has a few skin care tips for his fellow, fair-skinned guys. Number one: wear sunscreen.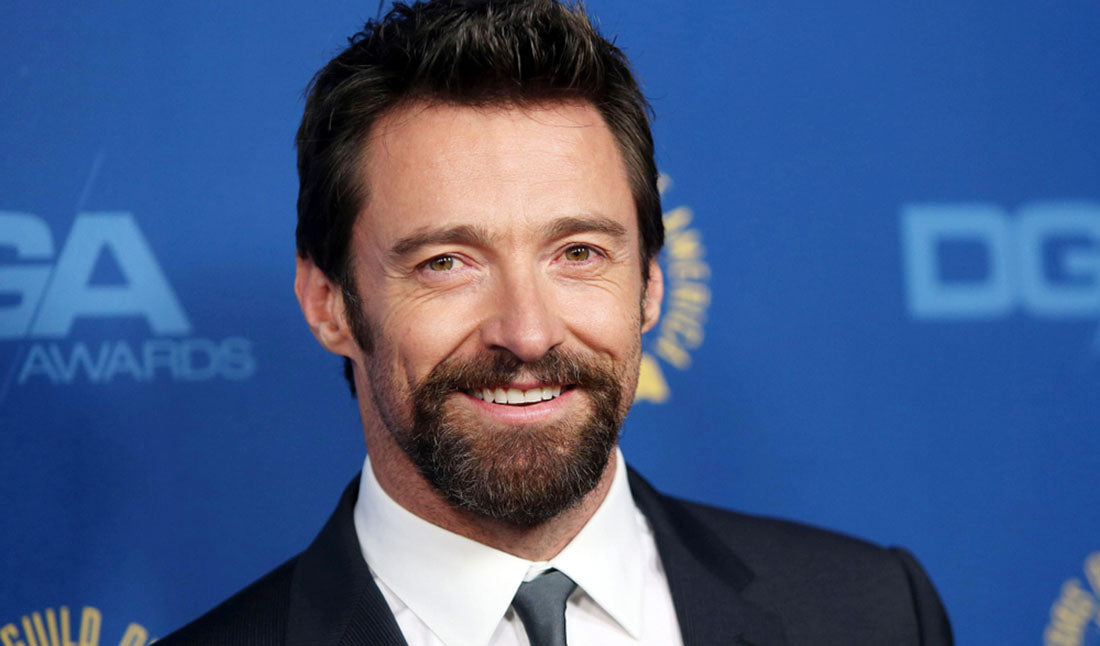 Hugh Jackman knows a thing or two about skin cancer. The Wolverine star has had not one, but six operations to remove basal cell carcinomas from his face.
Since being diagnosed with his first basal cell carcinoma in 2013, Jackman has been vocal about the dangers of skin cancer. He's repeatedly warned fans to avoid making the same mistakes he did—namely, not using sunscreen and shrugging off suspicious moles.
When you get skin cancer six times, it's just a given that you'll come out on the other side equipped with greater knowledge. So, what can we all learn from Hugh Jackman?
Here are several things you need to know about the movie star's recurring bouts of skin cancer:
Growing up in Australia, Hugh Jackman wasn't told to wear sunscreen until his teens.
Jackman's first noticeable sign of skin cancer was a bleeding mole on his nose.
Getting skin cancer increases your chances of getting it again.
TRY MEN'S SKIN CARE
1. Suspicious Moles Deserve Closer Inspection
If you're like most guys, you have anywhere from 30-60 moles on your body. While most of them are harmless, others may deserve a closer inspection by a doctor.
Just take it from Hugh Jackman, who initially ignored the tiny bit of blood that was oozing on his face. After being hounded by his wife and makeup artist to get it looked at, he finally went to see a doctor, who confirmed that he had basal cell carcinoma.
Not everyone is so lucky to be surrounded by people who will urge them to see a doctor. It's largely up to you to not only notice the signs and symptoms of skin cancer, but also to act upon them and get suspicious moles checked out by a doctor.
2. Non-Melanoma Skin Cancers Are Serious
Fortunately, Hugh Jackman's skin cancer wasn't melanoma, which is the deadliest form of skin cancer. Even so, this doesn't mean that non-melanoma skin cancers should be ignored.
Although non-melanoma skin cancers such as basal cell and squamous cell carcinoma have a high survival rate and rarely spread to other parts of the body, they can be problematic when left untreated. According to a 2011 study published in the Journal of Skin Cancer, basal cell carcinomas can cause tissue damage, disfigurement, scars and infiltration of the muscle, bone or cartilage (see claim: "Tumours left untreated can cause extensive tissue destruction, disfigurement, infiltrate cartilage, muscle or bone with even intracranial extension.")
3. Wearing Sunscreen Is Important
Wearing sunscreen is one of the best ways to reduce your risk of skin cancer. According to a 2010 study published in the International Journal of Dermatology, ultraviolet rays are the primary cause of skin cancer and, thus, affect fair-skinned populations the most (see claim: "Ultraviolet radiation (UVR) is the major etiologic agent in the development of skin cancer…")
Jackman, who has a relatively fair complexion, has admitted that he was not good about using sunscreen in his youth. He now urges his fans on social media to avoid making the same mistakes and to wear sunscreen daily.
You can take steps to reduce your risk of skin cancer by making it a daily habit to wear a moisturizer with SPF. Also, remember to wear it every day, rain or shine. UV rays can penetrate through clouds and be reflected from the ground.
Take the skin care quiz
4. Sun Safety Education Is Seriously Lacking
Despite efforts to spread awareness of skin cancer and sun safety, it seems that many of us still lack basic sun safety knowledge such as how to properly apply sunscreen and when to seek shade.
Hugh Jackman himself has said in previous interviews that he was never told to wear sunscreen until he was in his teens. And although Australia (where Hugh Jackman is from) has one of the highest rates of skin cancer in the world, this isn't a problem that's specific to Australia. Americans have similarly demonstrated their lack of knowledge or straight up lack of caring about sun safety.
In a 2015 study published in the Journal of the American Academy of Dermatology, researchers found that fewer than 15 percent of American men use sunscreen regularly on their faces and other sun-exposed areas of the body (see claim: "Few adults regularly used sunscreen…both the face and other exposed skin (men: 14.3%...")
5. Skin Cancer Can Strike More Than Once
Did we mention that this is Hugh Jackman's sixth time getting skin cancer? When cancer returns after going through treatment, it's known as recurrent cancer.
Recurrent skin cancer is common, which is why doctors typically warn their patients to get regular skin screenings to be on the safe side. After the sixth bout of skin cancer, it's a safe bet that Hugh Jackman knows the importance of regular screenings and doctor visits.
Bottom Line
According to statistics by the Skin Cancer Foundation, more than 4 million cases of basal cell carcinoma are diagnosed each year in the United States alone, making it the most common form of all cancers. The good news is that basal cell carcinoma is one of the easiest cancers to treat, especially when it's caught early.
While it's unfortunate that Hugh Jackman has had skin cancer six times, it's also a good reminder that guys need to get much better at taking care of their skin. With regular skin checkups and daily use of sunscreen, guys everywhere can significantly reduce their risk of getting skin cancer.
---
// © Copyright 2023 Tiege Hanley