Subscription
Shipping Address
Order Date

This subscription's skin care system will get replaced.

${ address.name }




${ address.products }

${ displaySubscriptionName(address) }




${ displayProducts(address) }

${ displayAddress(address) }
${ formatDate(address.scheduleDate) }

${ address.name ? address.name : displaySubscriptionName(address)}
${ address.products }
${ displayProducts(address) }
Shipping Address
${ displayAddress(address) }
Delivery Date
${ formatDate(address.scheduleDate) }
This subscription's skin care system will get replaced.
6 Tips for Better Shaves with a Straight Razor
Trying to learn how to shave with a straight razor? Check out these six expert tips that will take your straight razor shaves to the next level!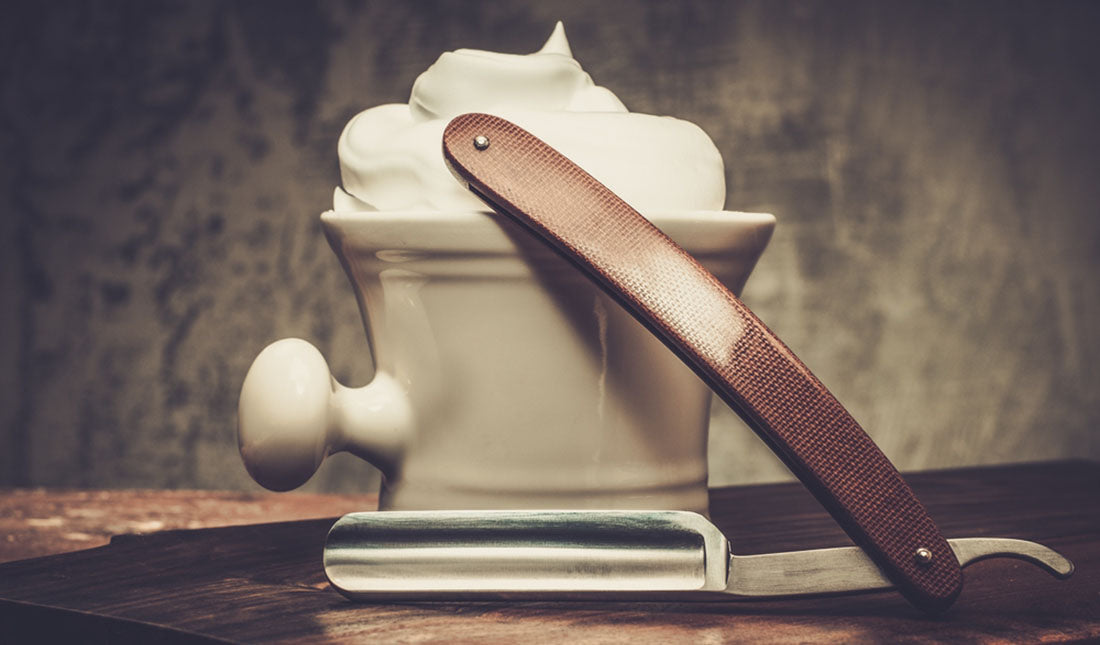 We'll readily admit that the straight razor looks intimidating from a beginner standpoint. There's something about holding a long, sharp blade to the jugular that can make some guys understandably a little nervous.
Although it may look scary, learning how to shave with a straight razor isn't as difficult (or as dangerous) as you may think. With a little preparation and a lot of practice, you can begin wielding this impressive blade and achieving a close, smooth shave.
Before we dive in, here are a few things you need to know to achieve a better shave with a straight razor:
Buying a cheap straight razor and shave products will come back to bite you
The best way to shave with a straight razor is by holding it at a 30- to 35-degree angle against the skin
While you may be slow in the beginning, trust that you'll get better and faster with practice
Ready to leave your safety razor in the dust? Here's how to shave with a straight razor like a skilled professional.
Tip #1: Invest in High-Quality Equipment
We see you browsing eBay for inexpensive straight razors. Don't do it! You'll end up with a straight razor that isn't shave-ready and be forced to spend more to get it honed right off the bat.
If you want your first straight razor shave experience to live up to your high expectations, then take our advice: Don't go the cheap route with your shave tools and products. Get yourself a high-quality straight razor and pick up some of the best shave cream that money can buy. Your skin will thank you for it.
Tip #2: Prep the Skin
The secret to a good shave has everything to do with prepping the skin. If you don't prep your skin, you may experience skin problems such as razor bumps and shaving-related folliculitis.
To achieve a more comfortable shave, hop in a warm shower (make sure it's not too hot) and allow the steam to soften your hairs. Wash your skin with a mild, soothing cleanser and exfoliate with a gentle face scrub (no more than 2x a week) to remove dead skin cells and give your blade a smoother glide.
Try men's skin care
At the end of the shower, apply a high-quality shave oil and don't rinse it off. Step out of the shower and apply your shave cream. You're now ready to shave.
Tip #3: Go Slow
We can't stress this enough: Take it super slow in the beginning. Get to know your razor and pay attention to both your grip and technique.
We recommend starting with the cheeks because they're one of the easiest parts of the face to shave. Hold the blade at a 30- to 35-degree angle and use short strokes with the grain.
Pull the skin taut and try to apply as little pressure as possible. Let the blade glide over the skin, allowing the weight of the blade and the angle to do most of the work for you.
Tip #4: Treat Your Neck Differently
If you often struggle with shaving-related irritation on your neck, you're far from the only guy. According to a 2016 study published in the International Journal of Cosmetic Science, the neck is particularly sensitive to shaving nicks and skin irritation (see claim: "…the neck is recognized as an area which is more prone to problems such as erythema, irritation and shaving nicks.")
While you're in the process of learning how to use a straight razor, consider using a safety razor on the neck. Once you get the hang of the straight razor, then you can move on to the more sensitive parts of your face.
Tip #5: Moisturize Afterwards
After you finish shaving, rinse your face with cool water to soothe your skin. Pat your skin dry and apply a nourishing daily moisturizer or aftershave.
Take the skin care quiz
Whatever you do, don't skip this step—especially if you struggle with post-shave irritation. A soothing moisturizer or alcohol-free aftershave can help alleviate unwanted side effects from shaving while restoring lost moisture to the skin.
Tip #6: Take Care of Your Equipment
Finally, remember to take good care of your shave tools. Like any other razor, a straight razor should be stored in a dry, safe place.
Unlike other razors, straight razors must be stropped and honed. Stropping refers to the act of running the blade down a piece of leather to re-align the edge, while honing refers to sharpening the blade edge by passing them across fine stones.
It may sound like a lengthy process, but it's a part of the appeal of a traditional shave. Learning how to shave with a straight razor, how to strop and how to hone your own blade is a relaxing ritual that many guys find enjoyable and rewarding.
Practice Makes Perfect
If you find yourself struggling to use a straight razor, don't beat yourself up about it. Everyone is slow and awkward in the beginning.
Keep practicing and focusing on your technique. You'll get better and faster with time. Before you know it, you'll be whipping through your morning routine and achieving an impossibly smooth shave each time.

Reference
Cowley, K. and Vanoosthuyze, K. (2016), The biomechanics of blade shaving. Int J Cosmet Sci, 38: 17-23.
---
// © Copyright 2023 Tiege Hanley