Subscription
Shipping Address
Order Date

This subscription's skin care system will get replaced.

${ address.name }




${ address.products }

${ displaySubscriptionName(address) }




${ displayProducts(address) }

${ displayAddress(address) }
${ formatDate(address.scheduleDate) }

${ address.name ? address.name : displaySubscriptionName(address)}
${ address.products }
${ displayProducts(address) }
Shipping Address
${ displayAddress(address) }
Delivery Date
${ formatDate(address.scheduleDate) }
This subscription's skin care system will get replaced.
7 Good Habits for Men to Pick Up When Stuck at Home
Stuck at home because of COVID-19? Pick up a few of these healthy habits for men that will help you make the most of your time in self-isolation.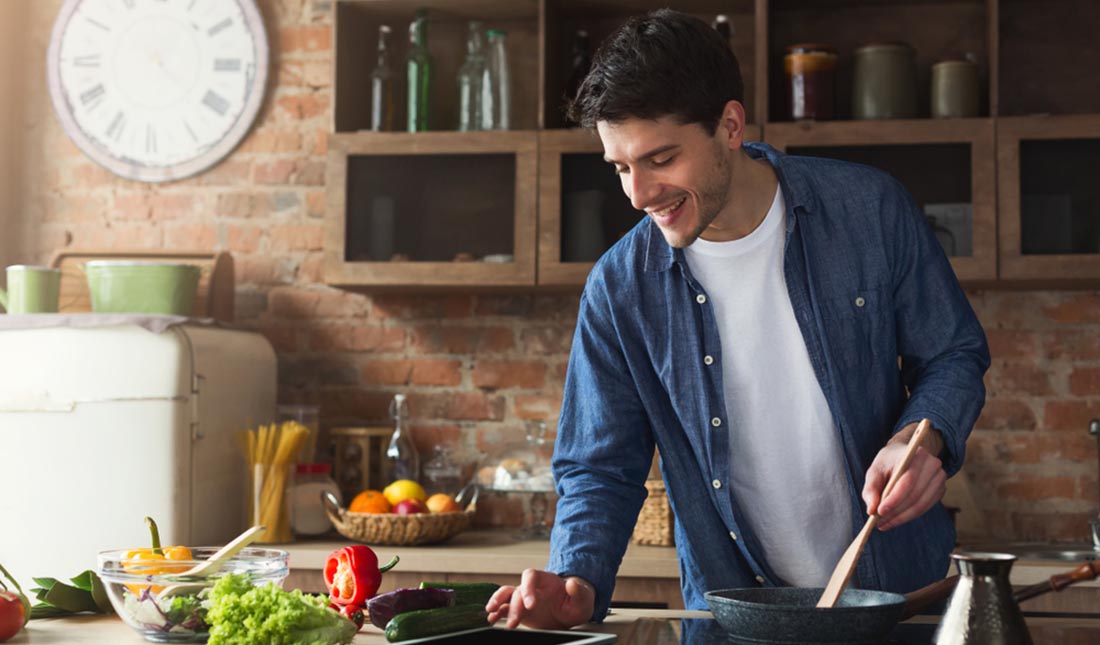 Stuck at home because of COVID-19?
It's far too easy to slip into bad habits when you're self-isolating.
Things like mindless snacking, endless television and working late into the evening are all things that can slowly eat away at your happiness.
If you want to come out of quarantine on top of your game, you need to figure out how to sidestep bad habits and pick up healthy ones instead.
To help you out during this stressful time, we've gone ahead and rounded up a list of seven good habits that every guy should pick up during self-isolation.
But first, here are three things you should know about being stuck at home:
Making meals at home is healthier, cheaper and will benefit you immediately
Being stuck at home is an ideal time to start a skin care routine
Doing something creative is a great stress-reliever and can help regulate your mood
Want to be the best version of yourself? Here are seven habits you should adopt immediately.
1. Make a Meal from Scratch
As much as we all love the convenience of takeout, nothing beats a home-cooked meal.
Not only is cooking at home healthier for you, it's also easier on your wallet.
If you're brand new to cooking, start by teaching yourself how to make basic meals like pasta and roasted chicken with vegetables.
Working with a busy schedule?
Throw your favorite protein and vegetables in a crockpot, add some seasoning, let it cook for a few hours and dinner will be waiting by the time you officially wrap up your work day.
2. Start a Skin Care Routine
Want to save your face from wrinkles and breakouts?
Start a simple skin care routine.
It doesn't need to be as elaborate as your girl's skin care routine.
Stock your bathroom cabinet with a few basic skin care products such as a facial cleanser, a moisturizer and an exfoliating scrub.
When you finally emerge from home, you'll have healthy, glowing skin that will boost your confidence tenfold.
TRY MEN'S SKIN CARE
3. Write in a Journal
Feeling stressed out to the max?
If you're feeling super anxious or simply having trouble staying positive, try practicing gratitude through journaling.
According to a 2017 study from the University of Oregon, journaling can increase feelings of gratitude and lead to improved health and well-being.
Get started by ordering a gratitude journal online that comes with writing prompts.
You could also pick up a blank journal and start by writing down three things you're grateful for each day.
Practice gratitude daily, and you'll slowly train your mind to see the positive in every situation.
4. Plan a Vacation
As much as we love the occasional "staycation," it's not truly a vacation when you're forced to stay at home.
If you're dreaming of relaxing on white sands or skiing on white slopes, start planning your far-flung getaway.
Planning a vacation will give you something to look forward to when you're going through a particularly rough time.
Not to mention, it gives you greater motivation to save money.
Ask yourself this: Do you want the latest gaming system or more money in your savings for vacations?
5. Pursue a Creative Hobby
Bored out of your mind? Pursue a creative activity such as drawing or painting.
Creative activities can provide a host of mental health benefits, including lower stress and mood regulation.
The best part? You don't need to be especially good at your creative pursuit to reap the benefits.
According to a 2017 study published in The Arts in Psychotherapy, the simple act of doodling or drawing can increase blood flow to the prefrontal cortex, the part of the brain that regulates thoughts and emotions.
This was true regardless of skill level (see claim: "…regardless of skill level, doodling, and free drawing resulted in increased brain activation…")
It doesn't need to be drawing or doodling, necessarily.
You could create your own music, write a short story or even build a computer.
As long as it gets your imagination going, it counts as a creative outlet.
6. Organize Your Workspace
If you've been working from home lately, take the time to tidy up your workspace.
It may seem like another chore on your long list of to-dos, but a well-organized space can have a tremendous impact on your productivity.
In addition to eliminating distractions, a tidy workspace can help save you time and keep you on task.
Start organizing your space by purging things that don't belong.
Once you've cleaned off your desk, focus on keeping it that way by using organizational bins, folders and shelves.
With a clean and organized space, you'll stay productive and feel more accomplished by the end of the day.
TAKE THE SKIN CARE QUIZ
7. Prioritize Your Fitness
When you're stuck at home, sticking to a regular fitness routine can be difficult.
Between kids, pets and a constant barrage of work emails, it almost feels like the world is trying to keep you from exercising.
The struggle is real, but there are ways to work around a tight schedule.
One way to sneak fitness into your day is by doing at-home HIIT (high-intensity interval training) exercises, such as burpees, jumping lunges and mountain-climbers.
HIIT exercises are fast and effective, making them a go-to for extremely busy people.
If your partner is also working from home, come up with a plan that allows both of you to carve out time for fitness.
Better yet, get the kids involved by going on a bike ride together or running around the house.
That way, you can both reap the benefits of exercise while spending quality time together.
Take Things One Day at a Time
With all of us practicing social distancing—or physical distancing, as the experts now prefer to call it—now is a good time to take a closer look at the habits we form.
It's the little routines we do each day that can make all the difference to our happiness.
And right now, we could all use a little more happiness and structure.

References
Karns, Christina M., et al. "The Cultivation of Pure Altruism via Gratitude: A Functional MRI Study of Change with Gratitude Practice." Frontiers in Human Neuroscience, vol. 11, Frontiers, 2017.
Kaimal, Girija, et al. "Functional Near-Infrared Spectroscopy Assessment of Reward Perception Based on Visual Self-Expression: Coloring, Doodling, and Free Drawing." The Arts in Psychotherapy, vol. 55, Sept. 2017, pp. 85–92. ScienceDirect, doi:10.1016/j.aip.2017.05.004.
---