Subscription
Shipping Address
Order Date

This subscription's skin care system will get replaced.

${ address.name }




${ address.products }

${ displaySubscriptionName(address) }




${ displayProducts(address) }

${ displayAddress(address) }
${ formatDate(address.scheduleDate) }

${ address.name ? address.name : displaySubscriptionName(address)}
${ address.products }
${ displayProducts(address) }
Shipping Address
${ displayAddress(address) }
Delivery Date
${ formatDate(address.scheduleDate) }
This subscription's skin care system will get replaced.
Beard Care Products—What Do They Do?
Trying to level up your facial hair? Find out what each of the basic beard care products do and how they can help you achieve a fuller, healthier beard.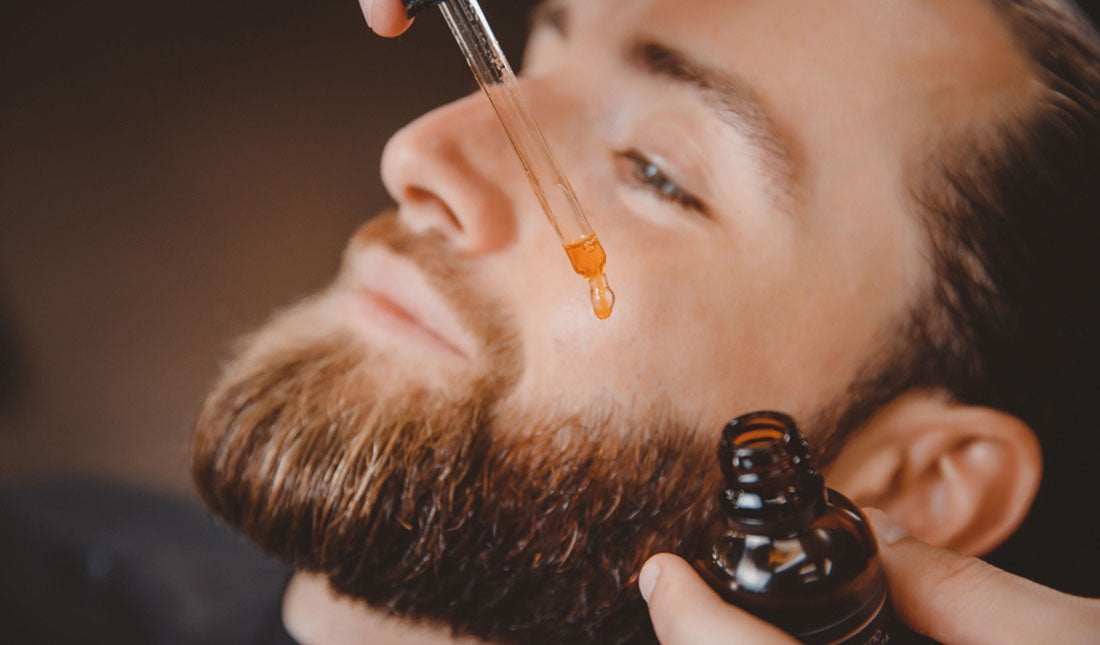 Once you've made the decision to grow an epic beard, you'll soon be bombarded with all sorts of recommendations for beard care products. Beard oil, beard balm, beard wash—the sheer number of products designed to tame your bushy facial hair is mind-boggling.
You're probably wondering: Do I really need all these products for my beard?
The answer to that depends on your beard and how much time you want to invest in it. While some guys make beard care products something of a hobby, most guys can get away with just a few basic beard care products. What do beard care products actually do for your beard?
Here are three things you need to know about caring for your beard:
The hair and skin on your beard are different than your head and require a different approach.
Beard oil and regular exfoliation can improve the look and health of your facial hair.
When paired with your regular skin care system, your beard will look even more amazing.
TRY MEN'S SKIN CARE
Beard Oil
Let's start with beard oil—a key component of every guy's beard journey. Beard oil works by moisturizing both your beard's facial hair and the skin underneath your beard.
If you're experiencing unbearable itchiness (which is common in new beard-growers) or getting beard dandruff, using a high-quality beard oil can combat both issues by nourishing your dry, itchy skin. This rock star beard care product also works as a styling agent by taming flyaway hairs.
Whether you have a full, bushy beard or you're rocking the designer stubble look, beard oil is an important component in your beard care arsenal. Take care to avoid beard oils with artificial fragrances, which can potentially cause skin irritation in guys with sensitive skin.
Beard Balm
While most bearded guys have heard about beard oil, the same can't be said about beard balm. This is a shame, considering that beard balm can take your facial hair from scraggly-looking to lustrous and stylish in a matter of seconds.
Most beard balms consist of a butter base (shea butters, mango seed butters, etc.) and may share similar ingredients to that of beard oil. They're most commonly used by guys with thick, coarse beards to help style their beards and enhance a fuller, healthy appearance.
Again, just be aware of any artificial fragrances in your beard balm. Many artificial fragrances contain phthalates, a controversial ingredient that may be a hormone disruptor.
According to a 2010 survey from the Journal of Cosmetic Science, certain phthalates such as dibutyl phthalate and benzylbutyl phthalate have been associated with the disruption of the male reproductive tract (see claim: "…toxicological studies indicate an association…between certain phthalate esterdisruption of reproductive tract development in human male infants.")
Beard Wash
If you're guilty of washing your beard with the same shampoo you use on your head, you definitely aren't alone. Many guys out there just don't realize that the hair on their head is different than their facial hair and, thus, deserves a different form of care.
A good beard wash (also called a beard shampoo) is formulated to clean the flakes, dirt and grime from your beard while being extra gentle with the sensitive skin underneath your beard. Believe it or not, your beard is not that dirty and doesn't need a harsh shampoo to keep your facial hair clean and tidy.
In fact, the opposite has been found to be true. According to a 2014 study published in The Journal of Hospital Infection, healthcare workers without facial hair were found to carry more bacteria than those with facial hair (see claim: "…certain bacterial species were more prevalent in workers without facial hair.")
When shopping for a beard wash, seek out ingredients that won't strip the natural oils from your beard (such as sulfates) that may leave it wiry and dry. Ingredients such as glycerin, apricot kernel oil and olive oil will help restore balance in your beard's natural oils to keep it healthy and full.
Take the skin care quiz
Exfoliation Scrub
If you aren't using an exfoliation scrub to remove dead skin cells from your beard, don't be surprised when you start struggling with beard dandruff. The slow buildup of dead skin cells and oil can lead to unsightly flakes in your beard, as well as clogged pores that cause acne breakouts.
Scrubbing your face and beard once or twice a week can remove this buildup, keeping both your skin and your beard healthy and flake-free. One thing to keep in mind is that it's very possible to overdo it on the face scrub. Scrub your face no more than twice a week and be sure to use a gentle face scrub that won't be too harsh on the sensitive skin on your face.
Achieving a Healthy Beard Starts with the Right Products
Any well-groomed guy will tell you that beard care products aren't a waste of time. A little beard oil, some beard balm and a good exfoliation scrub are just a few of the products that can instantly transform the look of your beard. And when you combine these products with your foolproof skin care system, the results are even better.
---
// © Copyright 2023 Tiege Hanley