Subscription
Shipping Address
Order Date

This subscription's skin care system will get replaced.

${ address.name }




${ address.products }

${ displaySubscriptionName(address) }




${ displayProducts(address) }

${ displayAddress(address) }
${ formatDate(address.scheduleDate) }

${ address.name ? address.name : displaySubscriptionName(address)}
${ address.products }
${ displayProducts(address) }
Shipping Address
${ displayAddress(address) }
Delivery Date
${ formatDate(address.scheduleDate) }
This subscription's skin care system will get replaced.
Best Night Cream for Men
Nighttime moisturizing cream for men is one of the hottest products in men's skin care. You'll see a wide range of skin care product ads directed at guys which promise to tighten their skin and make them look years younger, but they aren't all created equally. Tiege Hanley breaks down what goes into the best men's nighttime moisturizing cream.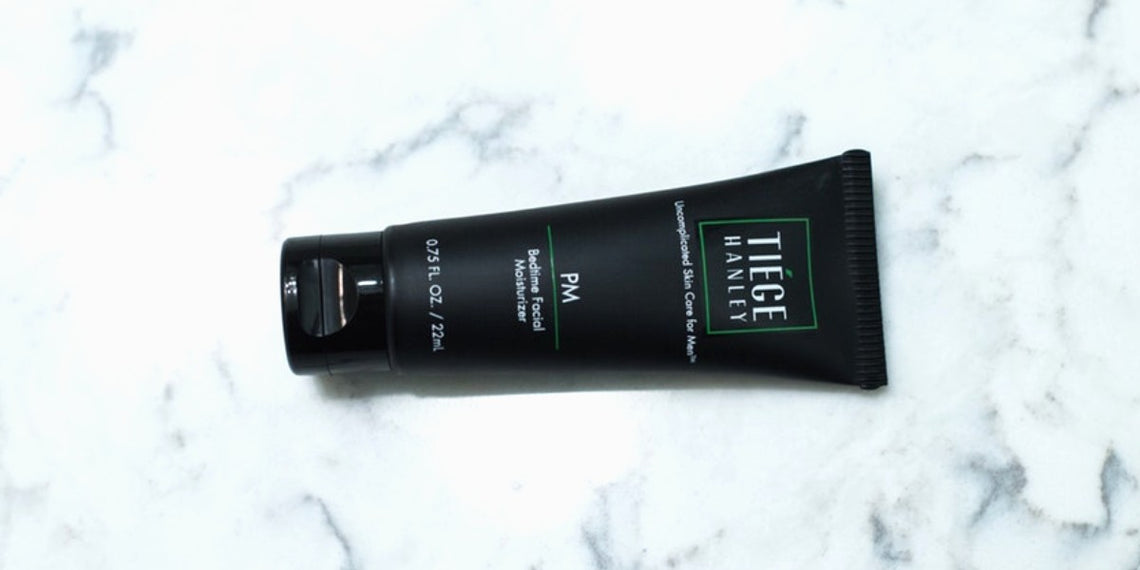 Open any men's magazine or go online to your favorite fashion site, and you will see a wide range of skin care product ads directed at guys, promising to tighten their skin and make them look years younger. Therefore, it's no wonder there are an increasing number of men trying our night cream for the first time—and they love the results!   
Gentlemen, this is a huge departure from the way things were twenty years ago. Back when your father was your age, the view of men's grooming  was different. Few men talked about skin care products, let alone admitted to using anything other than shaving cream or aftershave. Today, the stigma of skin care products for men is fading fast.
Welcome to a new, more enlightened age where using grooming products is no longer seen as "unmanly" primping, but a necessary part of every man's daily hygiene regime. Unfortunately, this rapid change has left a lot of guys in the dark when it comes to understanding which types of products they should use. While most men have mastered the basics of using a facial cleanser and exfoliant, the vast majority of guys still struggle when it comes to night creams. 
Gents, let's start with the basics—what is a night cream? Night creams like PM Bedtime Facial Moisturizer from Tiege Hanley help you repair and rejuvenate your skin while you sleep. When used as part of your regular nighttime routine, they can reduce wrinkles, increase your collagen and hydrate your skin. Sounds pretty good, right? 
CONTROL EYE BAGS
What Makes the Best Cream for Men?
Now is the time for some cold, hard facts—it's not always easy to find the best cream. Some guys think that instead of spending their time and money finding a night cream made for guys, they could just try one their girlfriend's or wife's creams.  After all, her medicine cabinet is already overflowing with tubes and jars of the stuff, right?  
Nope. Don't even think about it. 
You should already know men and women are not the same. And those lovely biological distinctions go much further than the obvious ones which attract the most attention. These differences extend into the cellular composition of the skin.  
One of the largest differences between male and female skin is as clear as the hair on our faces. Those of us who shave every day have a tendency to develop sensitive skin which may react negatively with certain night creams and become overly dry or painful. On the other side of the coin, guys who favor the lumberjack look need a night cream which has the power to penetrate coarse beard hair and reach their skin. 
But besides excessive hairiness, men's skin has several other important biological differences which you need to consider when buying and using a night cream: 
The average guy has 20-30% percent thicker skin and more collagen than women have. Although this helps men to maintain tighter and firmer skin longer than women, once wrinkles begin to appear, they are much more pronounced.  
Men have more sebaceous (oil) glands and bigger pores than women do. This means we produce around double the amount of sebum (an oily secretion of the glands.) This higher level of sebum raises the pH level of our skin and makes it much more oily and prone to breaking out, even as we grow older.  
That's why, even if you use the same skin cream that the woman in your life swears by, it will never give you the same results. You are a man and you need a night cream developed to work for men!
Take the skin care quiz
So Which Skin Cream for Men is Right for Me?
The right skin cream for you is the one which makes you love the way you look. 
We understand the frustrations guys deal with when finding the perfect skin cream which gives them great results, is easy to use and affordable. We have been there, and we hated wasting our time and money on products which over-promised and under-delivered. That's why, when we started Tiege Hanley, our goal was to make it as easy as possible for men to look great and feel confident without going through the same hassle we did. 
We are happy to say—we did it. 
The Tiege Hanley facial care system makes taking care of your skin simple. No matter what type of skin you have, our specially formulated products will work for you. And the results are eye-opening! But what makes our PM Bedtime Facial Moisturizer cream your best option?  
It is simple, and it works. With our PM cream, you know you are getting quality care for every type of skin, whether you are old or young, and regardless of your race or skin tone. How do we do it? It is no secret—quality ingredients. 
Our PM cream is loaded with more goodness than we know what to do with. Here is just a short list: 
Niacinamide is just what scientists call Vitamin B3. Vitamin B3 goes a long way towards helping to increase your skin's elasticity, even out skin tone and conceal hyperpigmentations (just a fancy way of saying dark patches), scars and rosacea. Niacinamide is also an antioxidant and helps cells retain water, prevent skin from drying out and suppress excessive oil production to reduce acne.  
Green Tea Extracts are full of natural bioflavonoids which help keep your skin healthier and looking better by boosting your cell immunity with antimicrobial, anti-inflammatory and antioxidant properties.  
Aloe Vera Extract is famous for its ability to sooth minor skin problems and provide excellent hydration. Whether your skin is sensitive from a close shave or a rough night out, you can depend on Aloe Vera. 
Acetyl Hexapeptide-8 helps decrease the look of wrinkles by reducing the contraction of your facial muscles, which can cause deep lines to show up on your face.  
Soluble Collagen. Collagen is the stuff keeping your skin firm. Over time, our skin loses its natural collagen and tends to sag and create wrinkles. Soluble collagen helps replenish your skin's collagen and returns it to a more youthful appearance.
Hydrolyzed Elastin is a moisturizing protein which helps hydrate your skin.  
Gentlemen, besides offering a high-end nighttime cream which is ideal for every man, we also give you an easy way to make sure you never run out. We offer a subscription-based service to ship our complete system to you each month for one low price. Choose from one of our three subscription tiers to match your individual needs.
---