Subscription
Shipping Address
Order Date

This subscription's skin care system will get replaced.

${ address.name }




${ address.products }

${ displaySubscriptionName(address) }




${ displayProducts(address) }

${ displayAddress(address) }
${ formatDate(address.scheduleDate) }

${ address.name ? address.name : displaySubscriptionName(address)}
${ address.products }
${ displayProducts(address) }
Shipping Address
${ displayAddress(address) }
Delivery Date
${ formatDate(address.scheduleDate) }
This subscription's skin care system will get replaced.
Body Hair Removal for Men—Our Top Five Manscaping Tips
Body hair removal for men is becoming a growing trend. Find out how you can achieve a less hairy appearance without the unwanted pain or side effects.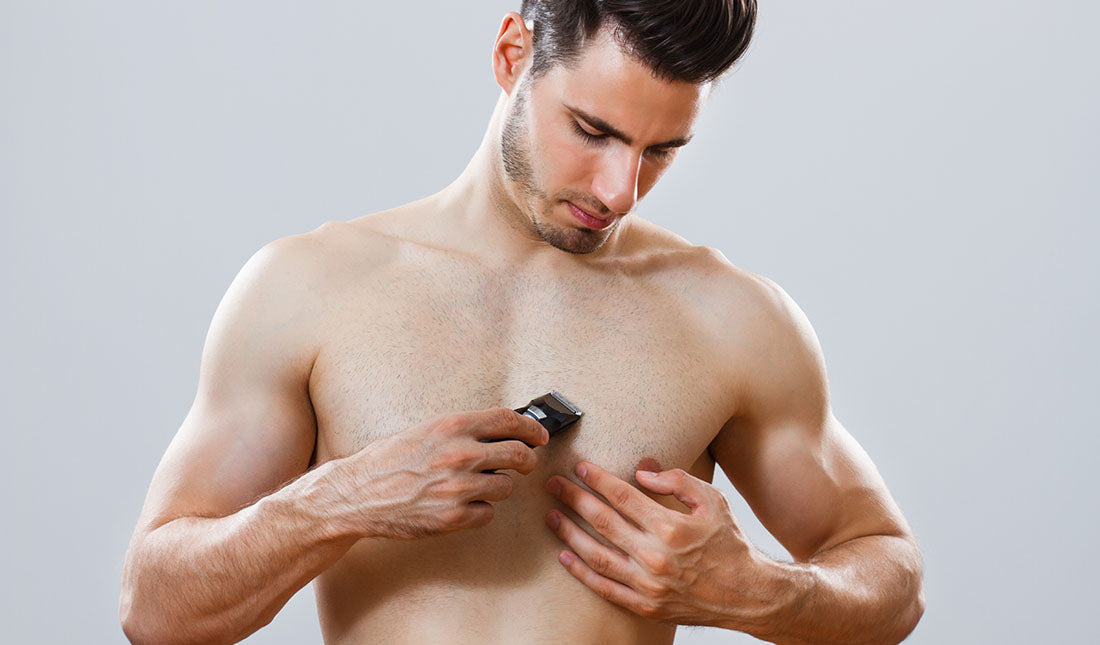 Male body hair was once the ultimate sign of masculinity and vitality. In today's well-groomed society, not so much.
Many guys have come to favor a tidier appearance with their body hair. If you are feeling self-conscious about your hairy chest or need to tidy up your nether regions, you now have plenty of ways to remove your unwanted body hair.
First, we'll talk about why guys are manscaping in the first place before giving you our top five manscaping tips.
Here are three things you need to know about body hair removal for men:
Average guys are removing their body hair to achieve a tidier, well-groomed appearance.
Not all body hair removal methods are created equally. Do your research before choosing a method for a specific body part.
Prepping your skin in advance and following up with a soothing body lotion is crucial for reducing side effects of body hair removal techniques.
Why Body Hair Removal for Men Is Gaining Steam
The hairless look is no longer reserved for swimmers and bodybuilders. More guys are now seeking body hair removal services to achieve a neat and tidy appearance.
What's behind the growing trend? It likely comes down to society's perception of attractiveness.
In a 2016 study published in the Archives of Sexual Behavior, guys with body hair were deemed less attractive than their clean-shaven counterparts (see claim: "Men with body hair were less attractive than when clean shaven…")
Another reason why everyday guys are removing their body hair may have something to do with their hygiene. This is especially a concern with pubic hair, despite the lack of evidence showing that pubic hair is unhygienic.
According to a 2017 study published in the American Journal of Men's Health, 61 percent of men reported their primary reason for removing their pubic hair was to improve their hygiene (see claim: "The majority of men report grooming in preparation for sexual activity with a peak prevalence of 73% among men aged 25 to 34 years, followed by hygiene (61%).")
Five Manscaping Tips for the Well-Groomed Man
Chest, back, groin—no matter which part of the body you're thinking about tidying up, it helps to have some basic manscaping knowledge. Before you start removing or trimming your body hair, here are five tips to keep in mind.
1. Choose Your Weapon Wisely
There is a good reason why guys have several body hair removal methods available to them. Using the wrong method on various parts of your body can be incredibly painful, and perhaps dangerous.
Take your groin area, for example. It has a large number of sensory nerve endings that make even the slightest touch incredibly noticeable. Unless you want to be in for a world of hurt, you should never tweeze or wax your man parts.
2. Prep Your Skin in Advance
To achieve perfectly smooth and hairless results, you should prep your skin the day before you shave. If you're shaving your face or neck, use a men's face scrub to slough off dead skin cells and oil.
If you're shaving your chest or back, apply a men's body scrub to the area and gently work it into your skin. For your back, use a back-lotion applicator or skip the body scrub entirely for this spot and exfoliate carefully with a soft loofah instead.
3. Apply Lotion After Hair Removal
When you shave your face, you may have figured out that applying a daily men's moisturizer is key to preventing painful razor burn. The same general rule applies to body hair removal.
After shaving or waxing your body, follow up with an unscented body lotion. Ideally, it should have ingredients such as Cucumber Extract or Aloe Vera to help soothe inflamed skin.
Take the skin care quiz
4. Trim Hair Beforehand
If you're waxing your body hair, give it a quick trim first. This will help reduce some of the pain that comes with the process of yanking out long strands of hair.
Just avoid trimming it back too much. The wax needs something to stick to in order to get a good, clean pull.
5. Consider Laser Hair Removal Treatments as a Last Resort
When it comes to removing body hair, there is no arguing the convenience of opting for laser hair removal treatments. If you're tired of shaving your back or waxing your chest on a regular basis, laser hair removal is a long-term—though expensive—solution to your hairy problem.
Here's the thing about laser hair removal treatments: Though some hair may regrow lighter, the treatments are generally permanent. Before you commit to an expensive and permanent hair removal treatment, make sure that you're okay with sporting the hairless/semi-hairless look for a long time.
Final Thoughts
Whether you want to show off all your hard work from the gym or stop feeling self-conscious at the beach, removing some of your unruly body hair can make a huge difference in your appearance. By following these body hair removal tips for men, you can achieve the desired results without suffering from too much pain or embarrassment.
---
// © Copyright 2023 Tiege Hanley