Subscription
Shipping Address
Order Date

This subscription's skin care system will get replaced.

${ address.name }




${ address.products }

${ displaySubscriptionName(address) }




${ displayProducts(address) }

${ displayAddress(address) }
${ formatDate(address.scheduleDate) }

${ address.name ? address.name : displaySubscriptionName(address)}
${ address.products }
${ displayProducts(address) }
Shipping Address
${ displayAddress(address) }
Delivery Date
${ formatDate(address.scheduleDate) }
This subscription's skin care system will get replaced.
Concealer for Men: How It Works, How to Apply, Recommend Products
Concealer for men is your secret weapon to restoring your confidence.  Find out how concealer works and how to apply it like a pro, plus a few recommendations.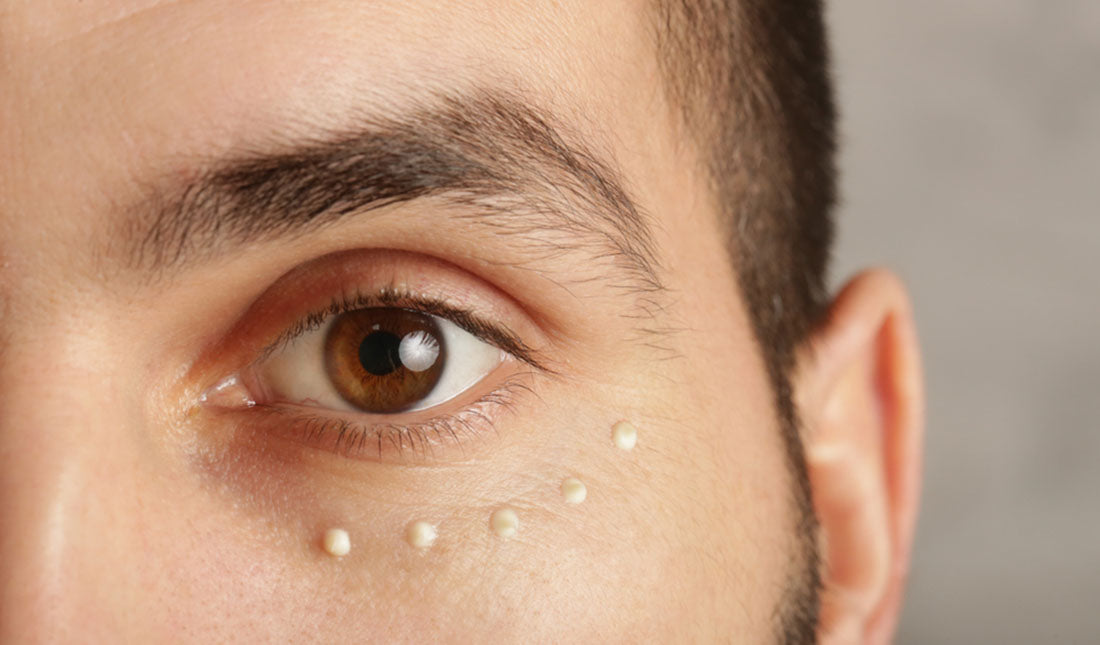 Out of all the makeup products that guys dare to use, concealer is by far the most popular.
It's not difficult to see why.
From covering up huge pimples to disguising dark circles under the eyes, concealer is a fast-acting solution to our most annoying skin care woes.
But like most guys, you probably have a lot of questions about concealer.
For example, is concealer for men actually a thing?
Or are you destined to use your girl's concealer forever?
How does it even work?
We're answering all your concealer questions and dishing on the best concealers for men.
Here are three things you should know about concealer for men:
Concealer is a coverage product aimed at masking unwanted blemishes.
Choose a concealer that closely matches your natural skin tone.
The best concealers for men contain skin care ingredients formulated for a man's skin.
What Does Concealer Do?
Concealer is a color-correcting makeup product (yes, it's technically makeup) that is used to camouflage unwanted blemishes. It works by blending your blemishes into your natural skin tone and making it appear uniform.
Concealer is often used to disguise the following blemishes:
Wrinkles and fine lines
Pimples
Redness
Dark circles under the eyes
Vitiligo
Birthmarks
Age spots
Scars
Concealers come in a variety of shades to match your skin color.
Some concealers are meant to blend in with your natural skin tone, while others contain undertones that are meant to counteract the blemish you're trying to disguise.
There are even some concealers for men that are specifically formulated to disguise and treat acne breakouts.
According to a 2019 study published in the Journal of Dermatological Treatment, dermocosmetics like concealer can improve acne symptoms, hydrate the skin and reduce excess oil on the skin (see claim: "Dermocosmetics are useful treatment adjuncts for acne and have been shown to improve the clinical signs of acne, reduce transepidermal water loss and modify sebum production.")
GOT ACNE?
Concealers for acne can't fully replace your existing acne treatment, of course.
However, they can help disguise your blemishes without making your breakouts worse.
How to Apply
Applying concealer isn't rocket science.
However, it's also not as intuitive as one might think.
Here's how to apply concealer the right way:
1. Prep Your Skin
The first step is to go through your regular skin care routine to prep your skin for the concealer.
This includes washing your face, exfoliating (twice a week) and applying moisturizer.
Do not skip the moisturizer!
Concealer blends better when skin is smooth and hydrated.
2. Choose Your Shade
Word to the wise: Don't ask your girlfriend how to apply concealer for men.
She may unknowingly give you bad advice.
Most women choose a concealer that is one or two shades lighter than their regular skin color and use foundation (another makeup product) to blend the two together.
Unless you're also going to use foundation, do not do this.
Pick a concealer that is as close to your natural skin tone as possible. It will look far more natural.
3. Less Is More
A little concealer goes a long way.
Apply a small dab of concealer on the problem spot to start with.
Use your ring finger(s) to gently massage the product into your skin.
The heat from your fingers will help melt the product for a more even distribution.
If you think you need more coverage, apply a little more and repeat the process.
TAKE THE SKIN CARE QUIZ

Best Concealers for Men
Without further ado, here's the best concealers for men according to your situation:
If your stress pimples have been out of control lately, reach for this anti-blemish concealer by Recipe for Men.
The concealer contains Salicylic Acid, a well-known acne-fighting ingredient that gently exfoliates the skin to reduce breakouts.
It's also water-resistant, which means you don't need to worry about everyone seeing your red spot after you get out of the pool this summer.
The Phyto-Cernes Eclat Eye Concealer has an all-star lineup of anti-aging ingredients—and a price tag to match.
Made in France, this wrinkle-fighting concealer is packed with caffeine, peptides, carrot extract and a handful of other high-quality ingredients.
Got sensitive skin? You're far from alone.
A 2019 study published in Frontiers in Medicine suggests that as much as half the male population experiences some degree of skin sensitivity (see claim: "Overall, ~60–70% of women and 50–60% of men report having some degree of sensitive skin.")
If you count yourself among that group, reach for the Menaji CAMO Concealer.
Formulated specifically for men, this hypo-allergenic and fragrance-free concealer comes in six different shades and is dermatologist-recommended.
The crème de la crème of men's concealers, the Tom Ford for Men Concealer is a twist-up stick that blends effortlessly into the skin.
Natural-looking and easy to use, this men's concealer is practical and won't embarrass you in case one of your guy friends sees it laying on your bathroom counter.
Wrapping Up
Consider concealer for men to be your ultimate skin care weapon.
From red spots to pesky dark circles under your eyes, the right concealer can help restore your confidence.

References
Araviiskaia, Elena et al. "Dermocosmetics: beneficial adjuncts in the treatment of acne vulgaris." The Journal of dermatological treatment, 1-8. 5 Jul. 2019.
Farage, Miranda A. "The Prevalence of Sensitive Skin." Frontiers in medicine vol. 6 98. 17 May. 2019.
---
// © Copyright 2023 Tiege Hanley