Subscription
Shipping Address
Order Date

This subscription's skin care system will get replaced.

${ address.name }




${ address.products }

${ displaySubscriptionName(address) }




${ displayProducts(address) }

${ displayAddress(address) }
${ formatDate(address.scheduleDate) }

${ address.name ? address.name : displaySubscriptionName(address)}
${ address.products }
${ displayProducts(address) }
Shipping Address
${ displayAddress(address) }
Delivery Date
${ formatDate(address.scheduleDate) }
This subscription's skin care system will get replaced.
Deodorant vs. Antiperspirant—What's the Difference?
What is the difference between deodorant and antiperspirant? Find out as we break down the deodorant vs. antiperspirant debate.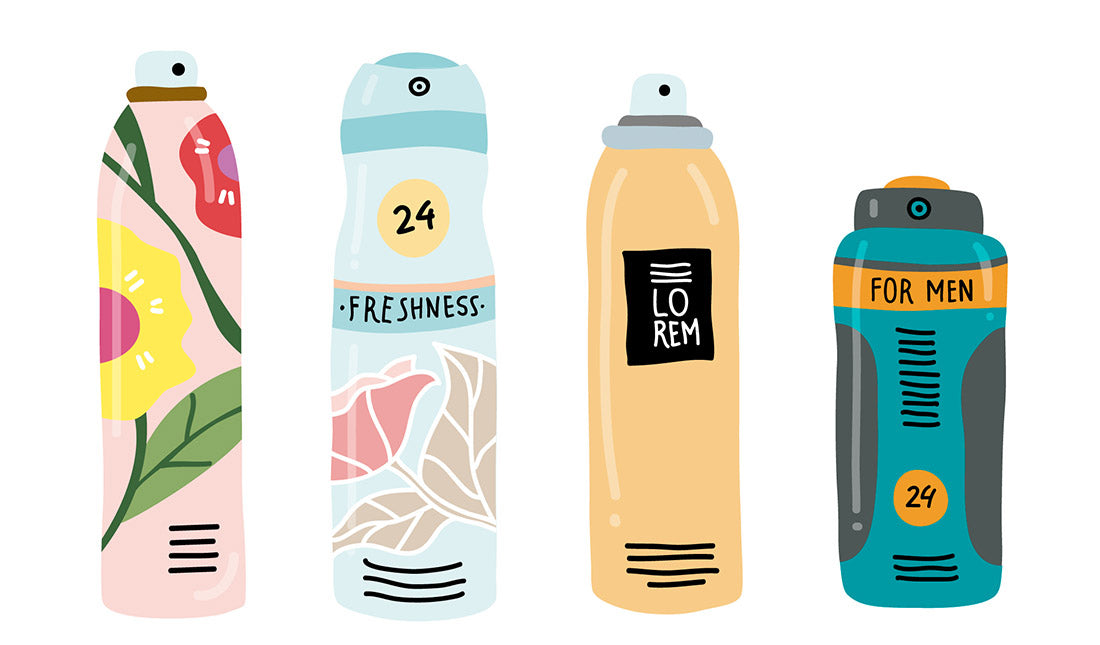 When it comes to battling underarm odor and sweat, most of us rely on deodorant or antiperspirant to stay fresh and dry.
But have you ever wondered what the difference is between deodorant and antiperspirant?
Although many people believe that the two are interchangeable, the truth is that antiperspirant and deodorant do different things.
Deodorants mask the smell of body odor while antiperspirants help control sweat.
If you struggle with excessive sweating or pungent body odor—or both—this distinction matters.
How do antiperspirants and deodorants work and, more importantly, which one is right for you?
Before we dive in, here are three things you should know about deodorant vs. antiperspirant:
Deodorants control odor while antiperspirants block sweat ducts to reduce perspiration
Despite a lack of strong scientific evidence, some people worry that aluminum-based antiperspirants may cause cancer
Deodorant and antiperspirants are both effective at reducing underarm malodor

How Does Deodorant Work?
Deodorants are personal care products that are designed to eliminate unwanted body odor.
They are classified as cosmetics by the Food and Drug Administration (FDA), which means they are regulated but not approved by the FDA.
Deodorants can eliminate odor in several ways.
Many of them contain alcohol, which kills odor-causing bacteria under the armpits and other notoriously smelly areas.
Others have ingredients that can absorb sweat to reduce BO.
Some deodorants are formulated with fragrances to help mask unpleasant odor.
Although fragrances can temporarily disguise BO, keep in mind that they can increase skin irritation in those with sensitive skin.
TRY MEN'S SKIN CARE
Benefits and Risks of Deodorant
Why choose a deodorant over an antiperspirant?
It mostly comes down to personal preference.
Benefits of Using Deodorant
Unlike antiperspirants, deodorants don't block sweat glands—rather, they mask unpleasant odor with fragrance and/or contain ingredients that kill odor-causing bacteria.
Although sweat can be embarrassing, it's important to remember that perspiration plays an important function in the body.
Sweat helps regulate your body temperature, which is particularly beneficial if you exercise regularly.
Risks of Using Deodorant
If you have skin conditions such as eczema or psoriasis, then you probably know that choosing a skin care routine using products with simple ingredients is best for your skin.
The same holds true for your deodorant.
Deodorants may contain artificial fragrances which can cause skin irritation in those with sensitive skin.
If you have sensitive skin, be sure to look for a deodorant that doesn't contain artificial fragrances and other common skin irritants.
Also, keep in mind that some deodorants can also be antiperspirants, which have aluminum-based compounds in them.
Aluminum-based compounds have been known to cause skin irritation in some individuals (see claim: "…the most frequently experienced adverse events are nonspecific irritant reactions and sensitization to compounds contained within the product…")
How Does Antiperspirant Work?
Like its name suggests, antiperspirant works by reducing perspiration.
Most antiperspirants contain aluminum, which blocks sweat ducts and temporarily stops moisture flow from the skin.
Since they're specifically formulated to control sweating, the FDA classifies antiperspirant as both a cosmetic and an over-the-counter drug.
Thus, antiperspirants are subject to drug-specific regulations set forth by the FDA.
Benefits and Risks of Antiperspirant
Like deodorants, antiperspirants have their advantages and disadvantages.
Here is a quick breakdown of the pros and cons of antiperspirant.
Benefits of Using Antiperspirant
If you struggle with excessive sweating, antiperspirant may be the best option for keeping you fresh and dry.
Unlike deodorant, antiperspirants reduce the amount of sweat on your skin, which is key for anyone suffering from hyperhidrosis (excessive sweating).
If you're tired of sweat stains under your armpits, a deodorant alone won't be enough to fix the problem.
Using antiperspirant is one of the most effective ways to reduce sweating and stay dry all day.
TAKE THE SKIN CARE QUIZ
Risks of Using Antiperspirant
The active ingredient in antiperspirant is usually aluminum, which helps block sweat pores.
It's worth mentioning that aluminum has stirred controversy for its potential to cause cancer.
Concerns over aluminum-based deodorant may be unfounded.
According to the National Cancer Institute, there is no strong link between antiperspirants and breast cancer.
However, we encourage you to make a decision that is best for your body.
Deodorant vs. Antiperspirant – Which One Is Better?
In the battle between deodorant vs. antiperspirant, there really is no clear winner.
It mostly comes down to your particular needs and whether you want to reduce body odor or control sweat.
Consider a Deodorant if…
You want to eliminate body odor
Sweat is not a concern
You exercise regularly
Consider an Antiperspirant if…
Excessive sweating is a problem
You have normal body odor
You're tired of sweat stains ruining your clothes
The Takeaway
Both deodorants and antiperspirants are effective at battling underarm stink.
If you have sensitive skin or simply prefer to avoid aluminum-based compounds, a fragrance-free deodorant may be the better choice for your skin.

References
Zirwas, Matthew J, and Jessica Moennich. "Antiperspirant and deodorant allergy: diagnosis and management." The Journal of clinical and aesthetic dermatology vol. 1,3 (2008): 38-43.
Food and Drug Administration
National Cancer Institute
---
// © Copyright 2023 Tiege Hanley