Subscription
Shipping Address
Order Date

This subscription's skin care system will get replaced.

${ address.name }




${ address.products }

${ displaySubscriptionName(address) }




${ displayProducts(address) }

${ displayAddress(address) }
${ formatDate(address.scheduleDate) }

${ address.name ? address.name : displaySubscriptionName(address)}
${ address.products }
${ displayProducts(address) }
Shipping Address
${ displayAddress(address) }
Delivery Date
${ formatDate(address.scheduleDate) }
This subscription's skin care system will get replaced.
Dry Skin Around the Mouth: Symptoms, Causes and How to Treat
Struggling with dry skin around the mouth? Find out how to combat dry, irritated skin around the mouth with a few simple solutions.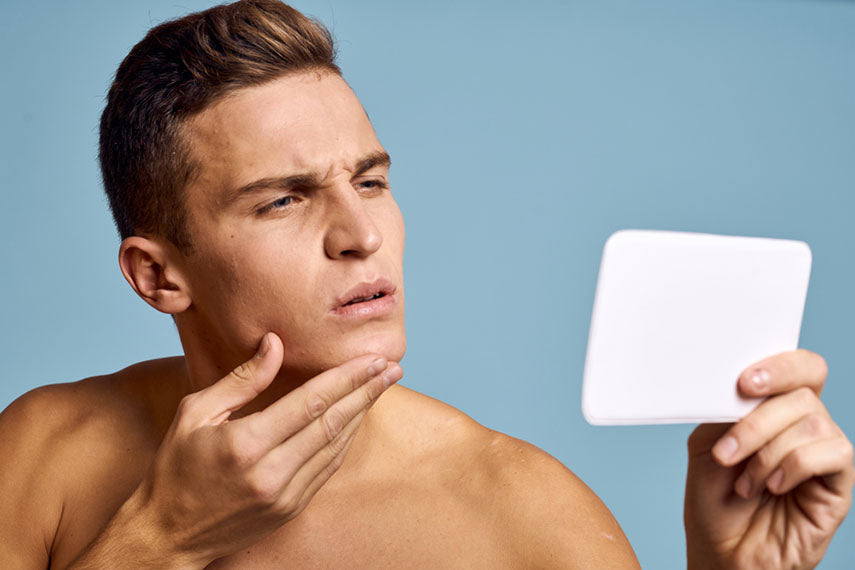 Dry skin around the mouth can be painful, distracting and incredibly frustrating. In extreme cases, it can be a huge source of embarrassment that takes a significant toll on your self-esteem.
From existing skin conditions to harsh weather, there are several causes of dry skin around the mouth. If you're like most guys who suffer from this irritating skin problem, you no doubt want a permanent fix for it as soon as possible. So, what's causing your dry patches to appear around the mouth?
Here are three things you need to know about diagnosing and treating dry skin around the mouth:
Dry skin around the mouth can be caused by dietary habits, weather or underlying skin conditions.
Keeping the area moisturized and protected from the sun will help keep your mouth hydrated while soothing your discomfort.
If dry skin around the mouth persists, see your doctor for a prescription treatment.
Symptoms of Dry Skin Around the Mouth
While symptoms can vary from person to person, there are some clear signs that your dry skin around the mouth is something that may need closer inspection. Here are a few symptoms to watch for:
Scaly, red rash around the mouth
Slight burning and itching of the area
Dry, flaky patches of skin
Small, fluid-containing bumps that resemble acne
In some cases, dry skin around the mouth is an ongoing problem. Even when you apply a moisturizer around the affected area, the issue may persist for months. If you're determined to get to the bottom of it, keep a journal and write down detailed descriptions of your symptoms, along with specific times they occur.
Try Men's Skin Care
Potential Causes
When your skin is prone to dryness around the mouth, even small things can make your condition worse. For example, sleeping with your mouth open can dry out the area and cause cracks in the corners of your mouth.
As frustrating as dry skin around the mouth can be, it's usually nothing too serious. Here are a few other common culprits that could be causing this annoying problem:
Weather—If your symptoms appear most often during the winter, it's likely because the cold, dry air is stealing the precious moisture from your face and causing it to dry out.
Excessive Licking of the Lips—Do you lick your lips frequently? Excessive licking can dry out both the lips and the mouth region.
Allergic Reaction—Some food allergies can cause red rashes around the mouth where the food has come in contact with the skin. Make note of what you eat and when your symptoms occur to rule out this possibility.
Chronic Skin Conditions—Eczema, or atopic dermatitis, is a common skin condition that can appear around the mouth. It could also be an inflammatory rash called perioral dermatitis, which appears as a red, scaly ring around the mouth and chin.
Your dry skin may also be a condition called angular cheilitis, which causes painful cracking and dryness around the corners of the mouth. According to a 2007 study published in Canada Family Physicians, hydrocortisone creams are an effective treatment for angular cheilitis (see claim: "…1% hydrocortisone cream (to counter inflammation) works effectively.")
Take the skin care quiz
Treatment Options
It can be difficult to treat your dry skin around the mouth until you know what's causing it in the first place. The good news is that you have plenty of options, whether it's caused by a skin condition, weather or something else.
Reach for Moisturizing Products—If the weather is causing your mouth region to become dry and flaky, you can use your daily moisturizer and a soothing lip balm to seal in moisture. Be sure to use both overnight for maximum hydration.
Exfoliate—When exfoliating your face, pay extra attention to the areas around your mouth and lips. The Tiege Hanley Facial Scrub contains Cucumber Extract and Menthyl Lactate, which have been shown to cool inflamed skin and restore hydration. It's also fragrance-free, which means that it's great for sensitive skin.
Change Your Diet—Some spicy foods can cause inflamed skin around the mouth. Eat a skin-healthy diet rich in antioxidants and omega-3 fatty acids, which may help alleviate redness and inflammation. According to a 2016 study published in Nutrition and Metabolism, Vitamin D is a common deficiency which has been linked to the body's inflammatory and immune responses (see claim: "…Vitamin D may have a role in inflammatory and immune responses.")
Use Skin-Sensitive Products—If you continue to experience dry skin around the mouth, consider switching to a skin care system formulated for sensitive skin. Avoid using harsh products such as steroid creams on the face unless your doctor gives you the okay to do so.
Limit Time in the Sun—The dryness around your mouth can be worsened by sun exposure. Always use a moisturizer with SPF to protect your face from UV rays and avoid the sun during its strongest hours.
Treating Chronic Dry Skin Around the Mouth
If nothing else seems to work, your best bet is to see a dermatologist for the dry skin around your mouth. He or she may prescribe an antibiotic or diagnose you with an underlying skin condition (such as eczema) that may help you find a more effective and targeted solution.
---