Subscription
Shipping Address
Order Date

This subscription's skin care system will get replaced.

${ address.name }




${ address.products }

${ displaySubscriptionName(address) }




${ displayProducts(address) }

${ displayAddress(address) }
${ formatDate(address.scheduleDate) }

${ address.name ? address.name : displaySubscriptionName(address)}
${ address.products }
${ displayProducts(address) }
Shipping Address
${ displayAddress(address) }
Delivery Date
${ formatDate(address.scheduleDate) }
This subscription's skin care system will get replaced.
Five Tips to Clear Skin for Men
Ready to ditch your dull skin and get a radiant complexion? Check out our five tips to get clear skin for men.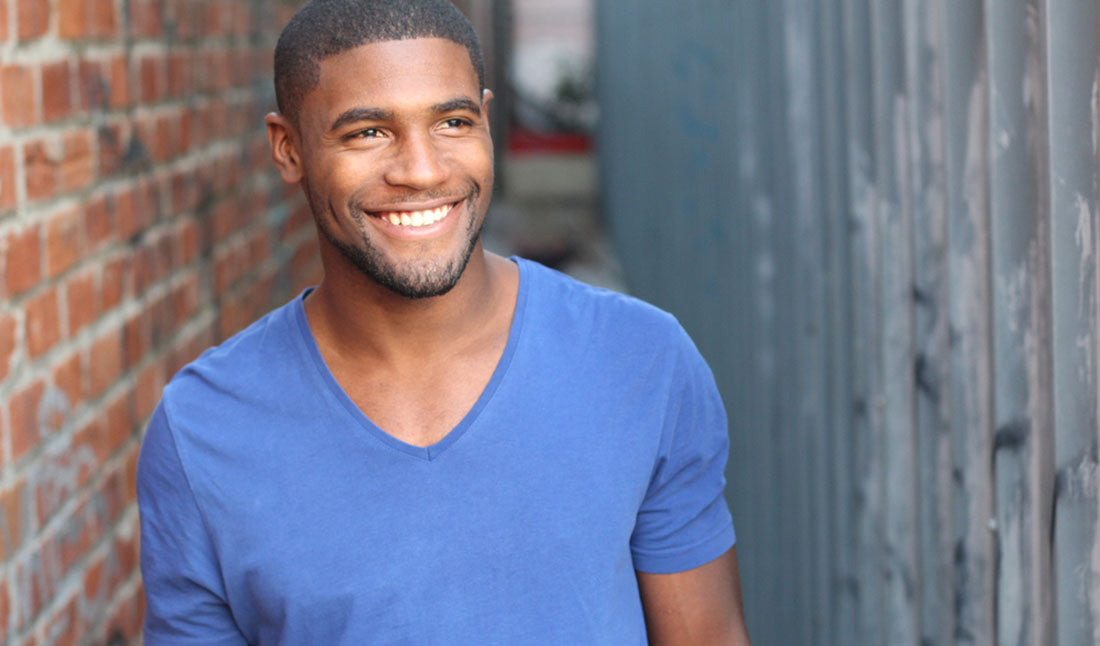 Right now, a lot of guys are walking around with dull, tired-looking skin and can't be bothered to do anything about it. More often than not, it's because they believe there is nothing to be done about their skin's lifeless appearance.
Almost everyone has the ability to achieve a healthy, clear complexion that exudes youthfulness and vitality. If you're ready to finally do something about your dull skin, we have the tips you need to revitalize your complexion and get clear skin.
Here are several things you need to know to achieve healthy, youthful skin:
Regular exfoliation and moisturization are among the keys to getting and maintaining clear skin for men.
Antioxidants are potent skin care ingredients that can refresh tired skin and block free-radicals for a healthier-looking complexion.
Firming up the skin with retinoids can reflect more light from your skin, resulting in radiant skin.
TRY MEN'S SKIN CARE
Tip #1: Exfoliate Regularly
One of the quickest ways to achieve healthy skin is to use a men's exfoliating scrub on your face once or twice a week. A gentle exfoliating scrub will slough off dead skin cells and oil, revealing a healthy and even skin tone.
For radiant skin, look for an exfoliating scrub with topical Vitamin B3, or Niacinamide. Topical Niacinamide is a potent skin care ingredient that has been shown to revitalize sun-damaged skin and improve skin tone.
As an added bonus for guys with acne-prone skin, Vitamin B3 also has an anti-inflammatory effect on acne. In a 1995 study published in the International Journal of Dermatology, patients treated with Vitamin B3 gel experienced a significant reduction in the severity of their acne (see claim: "After 8 weeks…82 percent of the patients treated with nicotinamide gel…were improved.")
Tip #2: Keep Skin Hydrated
Dry skin often goes hand-in-hand with a lackluster complexion. Your skin contains natural enzymes that are normally good at breaking down oil and sloughing away dead skin cells—unless your skin is dry, that is.
When your skin is dry, it makes the enzymes less efficient. To maximize your skin's clarity, make sure that you keep skin hydrated with a daily men's moisturizer.
Because of the gender differences in our skin, it's especially important that you use a moisturizer formulated specifically for a man. This way, you can reap the maximum benefits and achieve healthy, clear skin.
Tip #3: Reach for Retinoids
Firming the skin can help it reflect light, giving you that radiance that everyone desperately wants. To tighten and tone the skin, reach for anti-aging products containing retinoids.
Retinoids can reduce the appearance of wrinkles, even out your skin tone and even help improve your acne. It's a game-changer for a lot of guys who are tired of being told that they look old or tired at work.
To give your skin age-defying clarity, reach for a men's facial firming serum that's packed with skin-tightening ingredients such as Retinyl Palmitate, a derivative of Vitamin A and palmitic acid. With facial firming serums, a little goes a long way, so be sure to use the amount specified on the packaging.
Tip #4: Load Up on Antioxidants
Antioxidants—whether consumed or applied topically—are super beneficial to the skin. They protect your skin against free radicals that can cause premature aging and a dull complexion.
If you want clear skin, loading up on Vitamin C is the way to go. Also known as L-ascorbic acid, Vitamin C is one of the most potent antioxidants for the skin and has been shown to reduce signs of sun damage, improve skin tone and increase collagen.
Vitamin C can also maximize the efficacy of your sunscreen by reducing UV-induced collagen damage to the skin. According to a 2017 review published in the Journal of Clinical and Aesthetic Dermatology, Vitamin C has been shown to block free radicals from the sun that can sneak by sunscreen (see claim: "Vitamin C has been shown to inhibit the activation of AP-1, which leads to a reduction in MMP production and collagen damage.")
Take the skin care quiz
Tip #5: Watch What You Eat
Your diet could be sabotaging the clarity of your skin. For instance, drinking a lot of booze or caffeine can have a dehydrating effect on the skin.
The same goes for sugary drinks and foods that are high in carbohydrates. Not only are sugary foods ruining your chances of clear skin, it could also be speeding up signs of aging.
According to a 2010 study published in Clinical Dermatology, eating too much sugar can produce something called "advanced glycation end products," or AGEs (see claim: "Glucose and fructose link the amino acids present in the collagen and elastin that support the dermis, producing advanced glycation end products or "AGEs.") AGEs can accelerate the aging process and is implicated in a variety of age-related diseases.
The fix is simple: Reduce your glycation load. In other words, cut the sugary junk from your diet, along with other foods rated high on the Glycemic Load Index.
A Foolproof Solution for Clear Skin
If you want to achieve and maintain clear skin, the best way to do that is by getting on a regular skin care regimen. Tiege Hanley's revolutionary skin care system for men is formulated specifically for men and works for all skin types.
After a couple of weeks on the Tiege Hanley system, you'll notice a huge difference in your formerly dull-looking complexion. Just don't be surprised when everyone starts asking you about your secret to clear skin.
---
// © Copyright 2023 Tiege Hanley