Subscription
Shipping Address
Order Date

This subscription's skin care system will get replaced.

${ address.name }




${ address.products }

${ displaySubscriptionName(address) }




${ displayProducts(address) }

${ displayAddress(address) }
${ formatDate(address.scheduleDate) }

${ address.name ? address.name : displaySubscriptionName(address)}
${ address.products }
${ displayProducts(address) }
Shipping Address
${ displayAddress(address) }
Delivery Date
${ formatDate(address.scheduleDate) }
This subscription's skin care system will get replaced.
5 Ways to Get Rid of Smelly Feet Instantly
Get rid of smelly feet, pronto. Learn about a few foolproof tricks and tips for combating foul-smelling feet fast.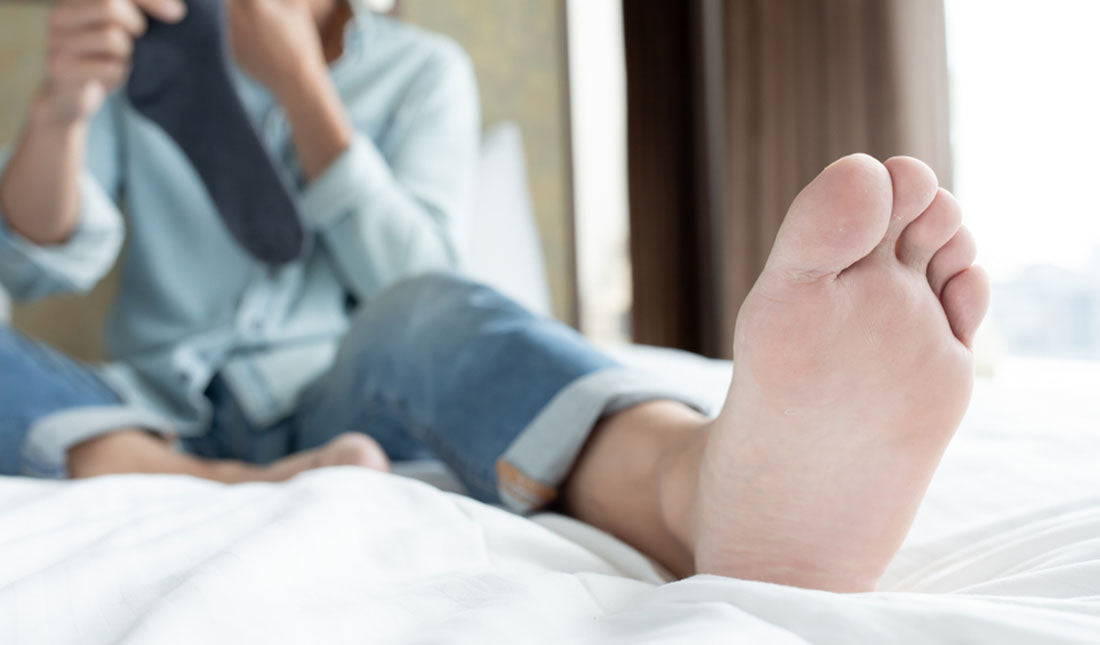 Nothing feels better than kicking off your sweaty socks and shoes after a long day. Unfortunately, the people around you may not appreciate the foul smell that fills the air the second you take off your sweaty shoes.
Smelly feet, which is known medically as bromodosis, is an embarrassing problem for many. It may be the result of hyperhidrosis (excessive sweating) or a simple lack of foot hygiene.
Regardless of the cause, you probably want to know how to get rid of smelly feet fast before someone comments on your relentless stink. Luckily, there are a few tried-and-true methods for combating foot odor.
Here are a few things you need to know about how to get rid of smelly feet:
Your feet have hundreds of thousands of sweat glands that perspire throughout the day
Bacteria on the skin break down the amino acids in the sweat on your feet, producing a foul odor in the process
Smelly feet can be alleviated by foot powders, vinegar soaks and better foot hygiene
Smelly feet don't need to be a long-term problem. Here are a few easy ways to nix foul-smelling feet fast.
TRY MEN'S SKIN CARE
1. Wash and Scrub Your Feet
Think about your daily shower routine for a second. You probably wash your face with a gentle cleanser and clean the rest of your body with body wash. But how often are you washing and scrubbing your feet?
If the answer is "never," then you're definitely not alone. The feet are an easy area to overlook in the shower.
To make foot odor a thing of the past, be sure to wash your feet daily with an antibacterial soap. Scrub them a couple of times a week with an exfoliation scrub to remove dead skin cells and keep feet healthy.
2. Apply Antiperspirant
You probably use antiperspirant to get rid of smelly armpits, but did you know that it can work just as well on your feet? It's true. Antiperspirant works by blocking sweat glands, which can help reduce foot sweat that odor-causing bacteria love to feast upon.
All you need to do is spray some antiperspirant on your feet before you put on your shoes. Just be careful when walking barefoot on slippery surfaces after applying the antiperspirant, as this can increase the risk of slips and falls.
3. Soak Your Feet in an Apple Cider Vinegar Solution
Beauty experts use apple cider vinegar for just about everything these days, from combating acne blemishes to dulling age spots and, yes, fighting foot stank. But can apple cider vinegar actually get rid of smelly feet?
As it turns out, yes. According to a 2018 review published in Science Reports, apple cider vinegar has several antimicrobial properties which can inhibit the growth of bacteria (see claim: "ACV has multiple antimicrobial properties on different microbial species, affecting microbe growth…")
However, it's important to note that apple cider vinegar is extremely acidic and may cause skin irritation. To reduce the risk of negative side effects, you should always dilute the apple cider vinegar with water.
4. Use Foot Powders and Antibacterial Insoles
To nix foot odor fast, apply a foot powder directly to your feet. OTC foot powders, corn starch or talcum powder can all absorb the odors from your feet, reducing the overall stench.
If foot powder isn't enough to get rid of smelly feet, you might try replacing your shoe's insoles with odor-absorbing insoles. Check out Dr. Scholl's and Odor Eaters, two brands which have antibacterial insoles designed to combat stink.
Take the skin care quiz
5. Try Essential Oils
Let's face it, you're either completely obsessed with essential oils or approach them with a solid dose of healthy skepticism—there really is no in between. If you're part of the skeptical camp, then you may be interested to know that there is some compelling evidence that the antimicrobial properties in certain essential oils can help combat foot odor.
In a 2018 study published in Planta Medica, researchers analyzed the effects of various essential oils on foot odor. Their results showed that a combination of Juniper and Benzoin had the most promising potential to combat foot odor (see claim: "The results reported here confirm the promising potential of the majority of these oils and selected combinations in treating and controlling bromodosis.")
If you want to give essential oils a try, just massage the oils into the skin on the bottoms of your feet. After you're finished, cover up your feet with a pair of breathable socks to give yourself some traction on slippery surfaces.
The Bottom Line
If none of these tips seem to eliminate the foul odor coming from your feet, consider seeing a doctor. Your smelly feet may be a side effect from medications you're taking or an underlying medical condition. By seeing a medical professional, you can get to the bottom of your smelly feet and eliminate it for good.

References
Yagnik, Darshna, et al. "Antimicrobial Activity of Apple Cider Vinegar against Escherichia Coli, Staphylococcus Aureus and Candida Albicans; Downregulating Cytokine and Microbial Protein Expression." Scientific Reports, vol. 8, Jan. 2018. PubMed Central.
Orchard, Ané, et al. "Antimicrobial Essential Oil Combinations to Combat Foot Odour." Planta Medica, vol. 84, no. 9–10, July 2018, pp. 662–73. PubMed.
---
// © Copyright 2023 Tiege Hanley