Subscription
Shipping Address
Order Date

This subscription's skin care system will get replaced.

${ address.name }




${ address.products }

${ displaySubscriptionName(address) }




${ displayProducts(address) }

${ displayAddress(address) }
${ formatDate(address.scheduleDate) }

${ address.name ? address.name : displaySubscriptionName(address)}
${ address.products }
${ displayProducts(address) }
Shipping Address
${ displayAddress(address) }
Delivery Date
${ formatDate(address.scheduleDate) }
This subscription's skin care system will get replaced.
How Do I Stop Excessive Sweating in the Groin Area? Advice for Men
If your groin sweat is borderline excessive, it's time to do something about it. Read on for our best advice for men on how to stop excessive sweating in the groin area.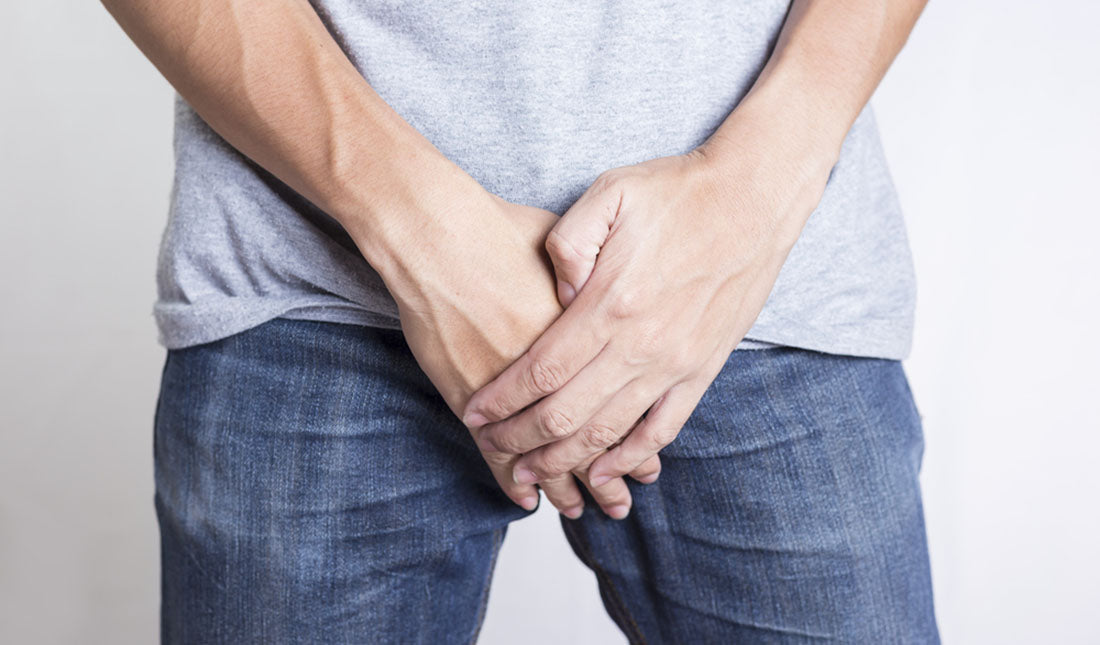 Groin sweat is basically inevitable when you exercise or work outdoors in a humid climate. For some unfortunate individuals, sweat around the groin is far more than just a slight annoyance.
You don't need to put up with excessive groin sweat forever. If you're struggling to control your sweat around your nether regions, there are several things you can do to help combat the problem.
Here are several things you need to know about sweat around the groin area:
Excessive groin sweat may be due to underlying health conditions such as hyperthyroidism or obesity.
Antiperspirants and deodorants can be used to stop sweat and control odor in the groin area.
If OTC treatments are ineffective, talk with your doctor about treating excessive groin sweat.
1. Rule Out Underlying Medical Conditions
Certain medical conditions may cause you to sweat more than usual. This is known medically as hyperhidrosis.
If your excessive sweating is due to an underlying health condition, it's known as secondary hyperhidrosis. Secondary hyperhidrosis may be caused by the following:
Hyperthyroidism
Diabetic Hypoglycemia
Anxiety
Obesity
Endocarditis
If you're bothered by your excessive groin sweat, see a doctor and get your annual physical examination. This will help rule out underlying health conditions that may be exacerbating the problem.
TRY MEN'S SKIN CARE
2. Antiperspirant/Deodorant
Antiperspirants and deodorants aren't just for your armpits. You can also apply them to your groin area to stop excessive sweat or mask the unpleasant odor stemming from your nether regions.
Just be careful when applying these products to the sensitive skin around your groin. Avoid using products with artificial fragrances and other ingredients that are known to cause irritation and redness.
3. Start Manscaping Down Below
Keeping your pubic hair trimmed and tidy can help maximize air flow to your nether regions, providing greater ventilation for your groin area. The good news is that if you decide to go this route, you certainly won't be alone in your grooming efforts.
According to a 2017 study in the American Journal of Men's Health, around half of guys already report grooming their public hair on the reg, so you won't be alone in your efforts (see claim: "…4,198 (55.4%) men completed the survey…of these men, 2,120 (50.5%) reported regular pubic hair grooming.")
Of course, most guys aren't grooming their pubic hair for better ventilation. More often than not, it's an attempt to impress their girlfriend or improve their dating life.
In any case, it can potentially reduce annoying groin sweat while also providing a few additional benefits to your love life. Just be careful to avoid painful waxing methods that can damage the skin.
4. Try OTC Treatments
Over-the-counter treatments are available for excessive sweating. In addition to OTC antiperspirants and deodorants, some patients have reduced their groin sweat by taking an oral medication called Oxybutynin.
Oxybutynin is an OTC medication that's commonly used to treat focal primary hyperhidrosis, the medical term for excessive sweating in a specific area (such as the armpits or groin). According to a 2014 study published in Clinics, 70 percent of patients reported a significant improvement in their sweating after just six weeks of using Oxybutynin (see claim: "After six weeks, 70% of the patients reported moderate/great improvement in sweating.")
5. Wear Loose Clothing
Wearing clothing that's too tight will trap heat and sweat close to your body, making your problem much worse. Opting for looser clothing of the moisture-wicking variety will help your skin breathe and allow sweat to dissipate.
Besides, ditching your tight-fitting clothes will no doubt be beneficial to your skin as well. If you have acne-prone skin, wearing looser clothing (on top of using an acne cream for men) can help clear up your stubborn blemishes.
Take the skin care quiz
6. Consider Botox
You've probably heard about guys using Botox to erase fine lines and wrinkles. Did you know that it can be used to treat excessive sweating as well?
Though the FDA has only approved Botox for the treatment of armpit sweat, it's commonly used for "off-label" areas such as feet, hands—and yes, the groin. The biggest downside of using Botox to treat excessive groin sweat is that it will need to be repeated.
While it might be an expensive form of treatment, it could be worth it to stop excessive groin sweat. Talk with your dermatologist and your primary care doctor to see if this treatment is right for you.
Combating Excessive Groin Sweat
If nothing you do seems to effectively control your groin sweat, talk with your primary care doctor. You aren't the only guy with this problem, and they may have an effective solution that will provide the relief you're desperately seeking.
---
// © Copyright 2023 Tiege Hanley